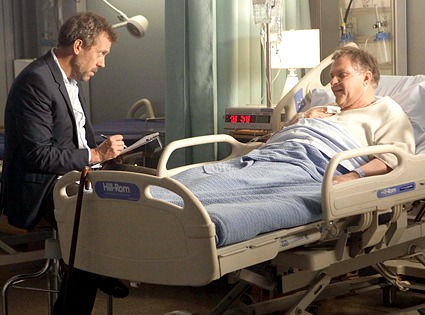 Adam Taylor/FOX
Singer-actor Meat Loaf accomplished two things by guest starring on Monday's House: (1)He got to work on his favorite show with his favorite actor, and (2) he just might have landed a guest piano player for his new album. Yep, we're talking about multitalented Hugh Laurie.
"I love House. I love Hugh. I love his character on the show," said Meat Loaf. "I was so excited and very nervous, I might add. I was very nervous because I love the show so much. If I didn't like the show and I never watched it, I probably wouldn't have been so nervous. I get nervous every time I go onstage. I'm a nervous person."
Meat Loaf, whose acting credits include The Rocky Horror Picture Show and Fight Club, wasn't too nervous to ask Hugh for a little favor, though. Read on to find out what made Hugh say to Meat Loaf: "Are you kidding me?!"
Inspired after seeing Hugh play piano on an old episode of House, Meat Loaf dropped the actor a note attached to a demo of a new song slated for his next album and asked him to lend his piano talents to the track.
"I wasn't going to go up to him and say, 'Did you hear the demo?' " says Meat Loaf. "But the next day on the set, he walked up to me and said, 'Are you kidding me? Yes. I'll play.' And so I'm hoping that happens." Of course, Hugh hasn't just tickled the ivories on House. He also plays in the all-star Band From TV with House's Jesse Spencer, Heroes' Greg Grunberg, Desperate Housewives' James Denton and others.
Unfortunately, Meat Loaf couldn't shed any light on what happens in the episode outside of his storyline except to say that "the whole storyline is about redemption and my character just ties into that really well." As for his character, he plays a man dying of heart failure whose wife collapses from respiratory failure, leaving the team to solve a double medical mystery.
But surprisingly, he did share that he learned to "play sick" by watching Ted Danson on Damages. "I will confess that I was watching Damages. I love Damages. Ted Danson was in a hospital bed, so I rolled it over and over and over again and I just kind of watched Ted Danson. Oh, he looks really sick. So I just studied him for a little while."
Check out the video clips from Monday's episode, "Simple Explanation," below and sound off in the comments about what you think of Mr. Loaf's intense performance.