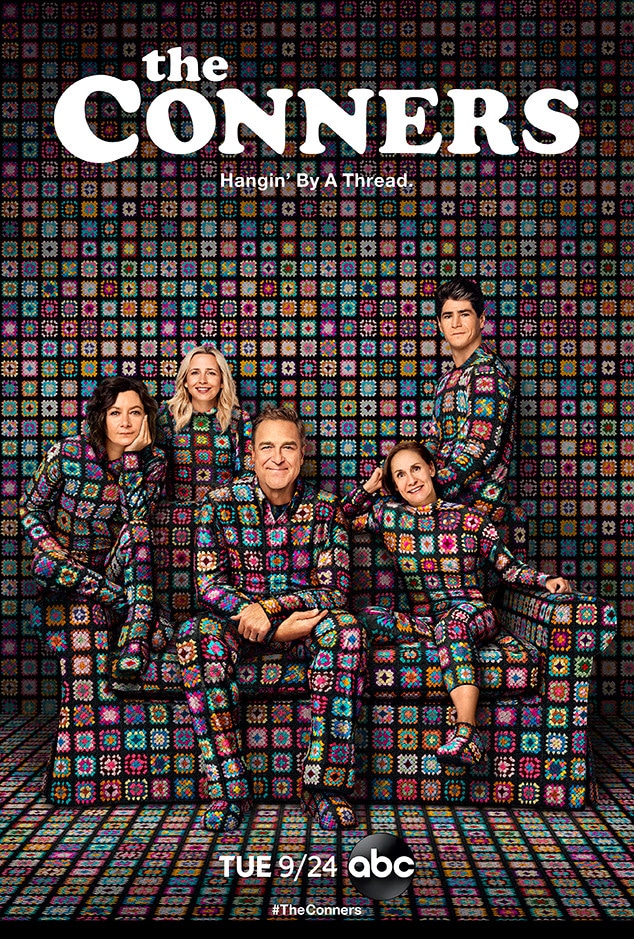 ABC
You've seen the Conners, the TV family at the center of the appropriately titled The Conners. You've seen their iconic couch quilt. But you've never seen the Conners and their quilt like this before. Prepare your eyes for one mind-mending new photo.
E! News as your exclusive first look at The Conners season two key art and it features the iconic family—Dan (John Goodman), Jackie (Laurie Metcalf), Darlene (Sara Gilbert), Becky (Lecy Goranson) and DJ (Michael Fishman)—wearing the quilt, on the couch, with the quilt as the background. Your eyes may not recover. The season two tagline? "Hangin' by a thread."
Get it? Quilts, threads, the family always constantly struggling...
In the season two premiere, Jackie steps in after Emilio's deportation and helps Becky prepare a birth plan, but things never go as planned for this TV fam. Meanwhile, Darlene's love triangle continues with David (Johnny Galecki) and Ben (Jay R. Ferguson), and Harris (Emma Kenney) is caught up in problems of her own.
Early season two stories also include Mark (Ames McNamara) getting in trouble at school after a photo of him kissing his boyfriend goes viral, Jackie avoiding her own problems by meddling in her family's lives, Becky giving birth and struggling with the costs of raising a baby.
Season two guest stars also include Lucy Punch, James Pickens Jr., Estelle Parsons and a Blues Brothers reunion for Goodman with Dan Aykroyd.
The Conners returns on Tuesday, Sept. 24 at 8 p.m. on ABC.