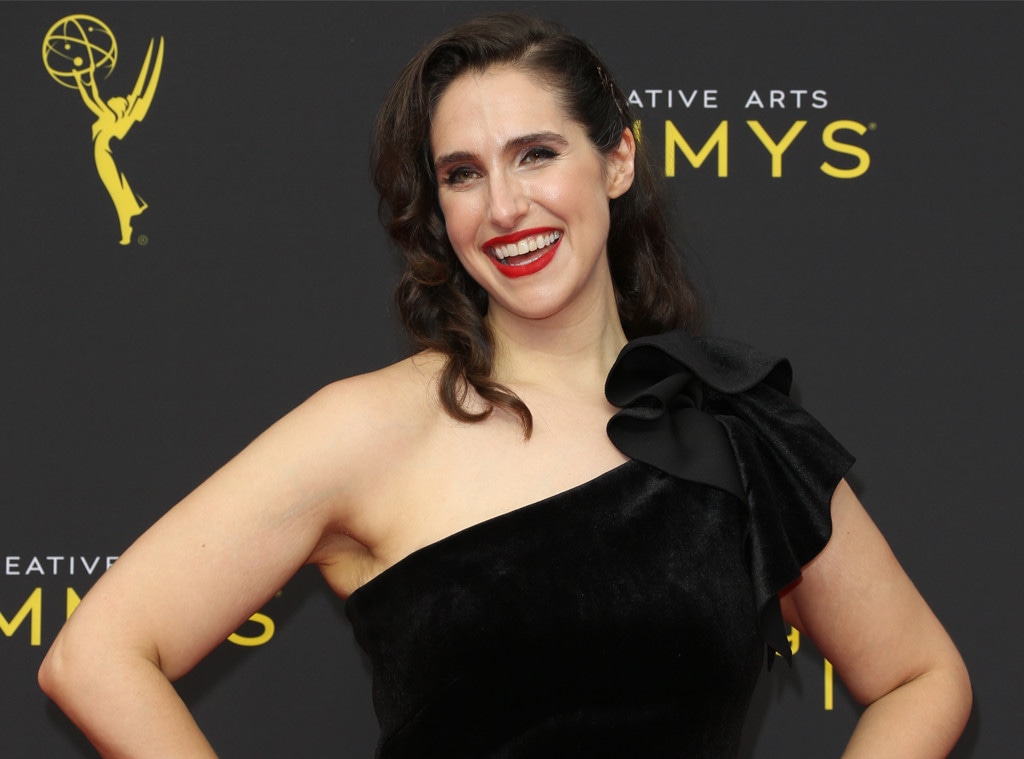 Paul Archuleta/FilmMagic
Despite her now-multiple Emmy losses (truly sorry), Megan Amram is living her dream.
The Good Place writer and co-executive producer, who is also the An Emmy for Megan star and creator, was up for an Emmy, again for her aforementioned web series, but lost to State of the Union. So, does that mean season three is coming? It was never her plan to even do the second season.
"At first I did season one. It took a lot of effort and time and money and I was like, 'I can never do this again, even if I lose,'" she told E! News in a phone interview. "And then I lost, and I had so much fun, I was like I guess I have to do it again."
Now, An Emmy for Megan will continue...probably. "I think I'm all in forever until I win. So, really, I'm begging people to please give me an Emmy. It's the least you can do, and it will save me truly so much emotional strain 'cause I'll get to stop doing it," Amram said in an interview conducted before her loss.
Even without an Emmy, Amram is doing what she always hoped she'd do.
Growing up, Amram, who acted "a ton" in musical theater before becoming a comedy writer, knew she wanted to be in the entertainment industry in some capacity. The writer role would come to her later. "I've always loved writing and have always admired writers, because, not to toot our own horns too much, but it's like, without the writers and without the idea of the thing, they don't exist and that appealed to me," she laughed.
As a kid, Amram said she was "very obsessed" with TV and movies, specifically The Simpsons from fellow Portland, Oregon writer Matt Groening. She developed an "encyclopedic knowledge" of The Simpsons trivia, which later came in handy because she actually joined the long-running animated series as a consulting producer and penned two episodes in between The Good Place seasons. That gig "was a true dream come true."
"It's crazy," she laughed. "It all happened pretty randomly. But when I was a kid, my dream was sort of to become a Simpsons writer." However, she assumed it wouldn't happen for her because who expected The Simpsons to last for over 30 seasons.
The Simpsons dream ticked off, there's still the Emmy dream to accomplish. There's still a chance Amram could walk away with an Emmy in 2019 because The Good Place, NBC's afterlife comedy about dead folks learning to be better people, is up for Outstanding Comedy Series.
The series, starring Kristen Bell, Ted Danson, Jameela Jamil, Manny Jacinto, William Jackson Harper and D'Arcy Carden, was created by Michael Schur, whom Amram first started working with on Parks and Recreation. Before she started writing words for Leslie Knope and Ron Swanson in season five of the series, Amram cut her teeth as a staff writer on A.N.T. Farm, a Disney Channel series. She called her Disney time a "great learning experience," despite it not being the type of job she moved to Los Angeles for, but it was Parks that was a formative experience.
"I will never forget the day that I got hired for Parks and Rec, because it was one of my favorite shows before I got hired," Amram said. "And it just was so funny, it radiated this warmth and all the writers on that show were really close as well. And a bunch of us ended up working on The Good Place too, which shows you how much we want to keep hanging out with each other."
Parks and Rec was where Schur first got a taste for Amram's knack for puns. The Good Place features some of the best food puns on TV, with credit going to Amram. The writer tweeted an abridged version of the full list she turned in to Schur in 2017.
"At some point [Schur] realized that I kept quietly saying puns under my breath in the writers room of Parks and Rec and he was like, 'You just gotta say 'em all out loud. Clearly you're stopping yourself from doing this and you need to relieve the pressure.' And I was like, 'OK, well, you're not going to like it because I do them all the time,'" Amram explained. "So now he's encouraged me to just say literally every pun that comes to my head, which is thousands a day."
The puns everyone's come to know on The Good Place really started in earnest in season two in "Dance Dance Resolution," an episode Amram penned, featuring the afterlife neighborhood constantly rebooted. Each reboot required new restaurants with clever names. "We just wrapped the show, very sad, and I forgot that I wanted to try and steal one of the signs, so now I have to go figure out how to get one," she said.
Over its four-year run, The Good Place cast and crew became a family. Bell described the series, specifically its ending, as the most beautiful thing she's ever been part of.
"It sounds hyperbolic, but I absolutely agree," Amram said. Most of the writing staff were part of the show from the start to finish, a rarity in Hollywood, and many came from Parks. That fostered a different kind of TV environment.
"We all care so much about each other and so much about the message of the show, that by the time the finale rolled around, I, for one, was crying for like three weeks straight at work, both because the finale is so beautiful and also just the thought of having this really special thing with all of our best friends is very emotional," she said. "But I'm also very easy to cry."
Just don't ask Amaram to pick her favorite joke from the show because "there are so many amazing things in this show."
"I would say of my own, this popped into my head the other day, which is at some point Jason says, 'I'm too young to die and too old to eat off the kids menu. What a stupid age I am,'" she said. "Maybe it's lame to pick your own joke, but I feel like it's lamer to single out one other joke of someone." However, she eventually did, singling out a joke written by executive story editor Andrew Law. There's a season three line from Tahani where she describes a smell as "the curtain closing between first class and coach on a plane," Amram said. "I felt it was so deeply specific and perfect," she added.
Greg Doherty/Getty Images
Working on The Good Place not only forged unbelievably tight bonds, but "absolutely" also made Amram rethink quite a bit about her life. "Like, you could not ask for a greater gift from your job, which is that it affects the way you look at the world," she said. "We talk at length in the writers room of the show about how can we make our impact in the world a more positive thing."
How is that accomplished?
"I would say it comes down to I've become much more cognizant of every choice that I make in my day to day life. It's easy to go on autopilot and do things that are convenient or are the same things you've always been doing. But since working on this show, I've tried to make the more ethical choice every time I can, whether that's where you're buying something from or the food you're eating or any number of things. It doesn't mean you have to be perfect. It just means you have to try to be a little better than you used to," she said.
"It's very useful, I think in, like, very scary, upsetting times, to know that you personally can make your little world a little better than it was and that that is still impacting everyone for the better, even if you're not, like, curing the world," Amram continued.
With The Good Place wrapping up this year, Amram said she's most proud to hear viewers say the show comforted them.
"I think that you'll leave this final season, hopefully having learned something, but also feeling as if you are less alone, assuming you're a good person, like I think we are, who made the show. And just knowing that no one really knows what they're doing, but there are ways to steer yourself more in the right direction," Amram said. "And also if there's anyone watching the show who is maybe like, 'I'm not that smart,' then they can watch Jason and be like, 'Oh, this person is way dumber than me,' so they can feel better."
The Good Place returns Thursday, Sept. 26 at 9 p.m. on NBC.
(E! and NBC are both part of the NBCUniversal family.)
Watch E! News tonight at 7 p.m. for a recap of the biggest moments from the 2019 Emmy Awards!