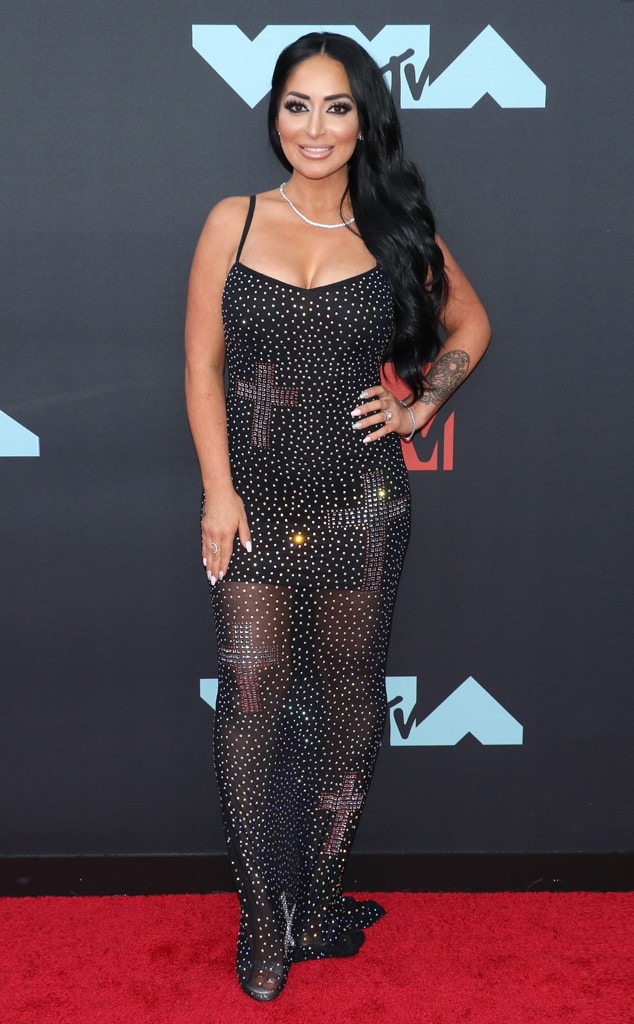 Jim Spellman/FilmMagic
UPDATE: Angelina Pivarnick has reached a $350,000 settlement in her sexual harassment lawsuit against the City of New York, E! News confirms. 
The Jersey Shore star told E! News in a statement, "I said when the case was filed that it had nothing to do with television or entertainment and that remains true. Sexual harassment is serious and has devastating consequences for so many women. It has for #MeToo. Although I experienced horrendous treatment at EMS, I'm pleased with the resolution of my case and I look forward to using my voice to speak about the need to protect all women from sexual harassment." 
The New York City Law Department also confirmed the sum she will receive, with a spokesperson sharing, "The FDNY takes allegations of sexual harassment seriously. Ms. Pivarnick's claim was fully investigated, and the appropriate corrective action was taken. This settlement was in the best interests of the city."
Read more about the reality TV star's legal battle below. 
______
Jersey Shore star Angelina Pivarnick is taking legal action against a lieutenant within the New York City Fire Department.  
According to court documents obtained by E! News, Pivarnick, who works as an EMT in Staten Island, is suing Lt. Jonathan Schechter and the City of New York for sexual harassment. In the complaint, Pivarnick claims two of her supervisors, including Schechter, subjected her to a "sexually hostile work environment" for more than a year between 2017 and 2018. 
"The sexual harassment that Pivarnick experienced included repeated and unwelcome sexual advances, degrading comments about her body, vulgar sexual comments, inappropriate questions about her private relationships and, in one instance, the groping of an intimate part of her body without her consent," the lawsuit states.
Following two separate incidents in 2016 and 2017, the 33-year-old claims in the suit that she suffered a workplace injury, which resulted in her being assigned "light duty" at the station. During that time, another supervisor by the name of Lt. David Rudnitzky allegedly harassed Pivarnick on multiple occasions.
In 2018, Pivarnick filed a complaint regarding Rudnitzky's alleged behavior with the FDNY's Equal Employment Opportunity. Pivarnick then received a letter indicating Rudnitzky would receive "appropriate discipline" for his actions, but according to the documents, he "has not suffered any significant consequences for his treatment of Pivarnick, and he continues to work as a Lieutenant at the Rossville Station." 
The lawsuit also details several inappropriate text messages allegedly sent to Pivarnick by Schechter around that same time. 
"Your ass looked amazing and I wish I wasn't working or in uniform because I definitely would've kissed those amazing lips," the suit claims he texted her at one point. 
During another alleged incident in May 2018, Schechter groped Pivarnick's buttock and "made contact with her vaginal area" in a parking lot outside the station. Pivarnick then filed a separate complaint against Schechter. 
As a result of coming forward with the allegations, Pivarnick claims she has been subjected to retaliation by the leadership of the station. 
Pivarnick, who is seeking monetary damages for mental anguish and humiliation, also released the following statement to E! News: "I have filed a complaint in federal court because I suffered severe sexual harassment while working for EMS and was retaliated against by my management when I complained internally. It should go without saying that what I experienced has nothing to do with television or entertainment. Like all women, I am entitled to be treated with dignity and respect at work, and I should not have to accept unwanted sexual advances, crude comments about my body, or physical assault. Going forward, at the instruction of my lawyers, I will not be commenting about this case further except as required in court."
The FDNY declined to comment on the matter.
(This story was originally published on Tuesday, Sept. 19, 2019 at 6:25 p.m. PST)