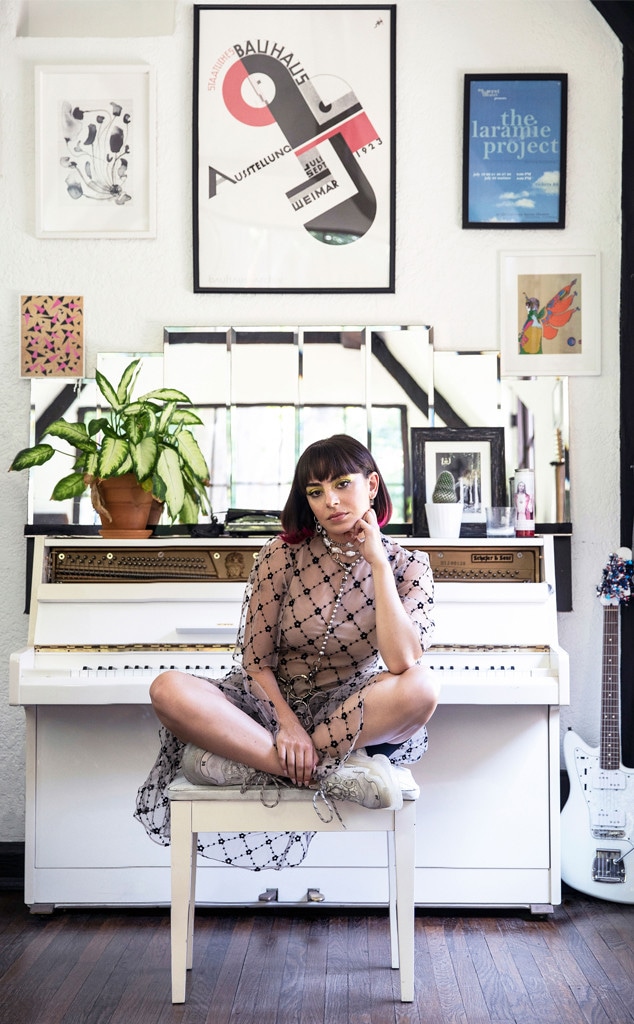 Tim Hirschmann/ArchDigest.com
Charli XCX's Hollywood home is anything but ordinary. 
The 27-year-old pop star invited Architectural Digest into her historic, bohemian-inspired mansion, and E! News has an exclusive look at the issue. 
Built in 1927 and nestled below the Hollywood Sign, Charli—who shares the space with two roommates—said it was the home's quirkier elements that first piqued her interest when she moved in four years ago.
"It's funny that I moved across the world and still ended up in an archetype of a British house," Charli remarked, referencing her U.K. roots. "I liked that this was an old place and immediately loved it. I love the dark wood. I love that it's a little creepy and weird. It just felt really right for me."
Charli is the first to admit her design aesthetic is "quite jumbly," but there's something to be said about the way she's perfected the art of high/low interiors. 
For example, the "1999" songstress' guilty pleasure is picking up candles from the "dollar store." Upstairs, however, is where she keeps her "bougie" candle collection.
Tim Hirschmann/ArchDigest.com
But in other corners of her four-bedroom home you'd find high-brow pieces of art from the most cutting edge of artists and photographers.
As Charli explained, "I use my house for everything. We work here and we do shoots. We throw a lot of parties here—well, we used to throw more parties. I just like the house to feel busy; I like that this house has just seen a lot of stories and fun things happen."
Tim Hirschmann/ArchDigest.com
The performer, whose latest studio album Charli dropped last week, is also a fan of vintage decor and tchotchkes.
"I do love antiques stores," she said." There have been estate sales that I've gone to in Palm Springs, which are particularly good. Palm Springs is where all the amazing older gay men with great taste move to—and I just want everything they have!"
Tim Hirschmann/ArchDigest.com
But as the old saying goes, a house is not a home without those you love the most. 
"I feel like it's the people in your home that make it a home," Charli shared with AD. "The house feels very full and lively, so we get to meet a lot of other creative people just through the house. I really enjoy that, and I think that's part of the reason why the house is what it is."