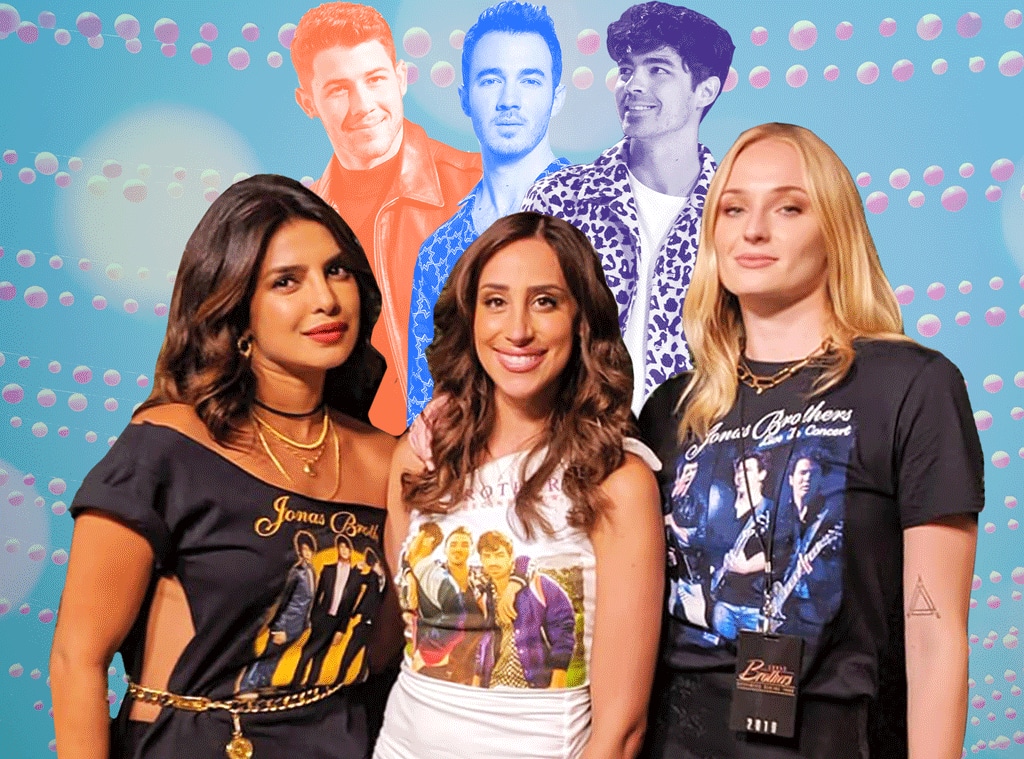 Getty Images; Instagram/E! Illustration
There's a cliche about popular bands that persists to this day: When the (usually male) members begin to pair off, romantically, with outside forces, that's when the trouble begins. Look no further than Yoko Ono and the idea that she singlehandedly broke up The Beatles after John Lennon fell for her.
And while we all know now that the Jonas Brothers in 2013 was a result of a deep sibling dysfunction after years in the spotlight tethered to one another, initiated by youngest brother Nick Jonas, who wanted to break free, at the time, there were those who wondered if maybe oldest bro Kevin Jonas' marriage to wife Danielle Deleasa, whom he met while both of their families were vacationing in The Bahamas in 2007 before wedding in 2009, was at least partially to blame. In fact, middle bro Joe Jonas was one of those people.
In the band's recent Amazon Prime doc Chasing Happiness, which chronicled the JoBros road to reunion, the former DNCE frontman was brutally honest about how he and Nick viewed Kev's commitment to Danielle and his young family during those fraught few years. 
After being confronted with Kevin's pain at witnessing his younger brothers taking several JoBros gigs in 2015 without him, Joe admitted that he and Nick felt their older brother had been "holding us back."
"I think there were moments that Nick and I wanted to do our own thing and we felt like your focus was not in it anymore and it wasn't a priority for you, starting the family was," Joe explained of Kevin's marriage and eventual fatherhood—he and Danielle, who celebrates her 33rd birthday on September 18, welcomed first daughter, Alena Rose, in February 2014 and second, Valentina Angelina, in October 2016—and his focus on their E! reality show, Married to Jonas, which debuted in 2012 and ran for two seasons, that, according to Kevin, Nick and Joe were "kinda forced" to participate in. "Your guitar playing kind of, like, fell in the backseat. And I think we both wanted to continue doing music. And I think that we had these gigs in front of us."
Instagram / Priyanka Chopra
As Joe continued, seeing his brother committed to something outside of the Jonas Brothers felt like something of a betrayal. "All of those years, our first love was music, our first love was the band," he said. "And so for me, as a teenager and a young adult, to see you prioritize anything but was bad."
But that was then and this is now, as they say. And as both Joe and Nick found their own loves of their lives in actresses Sophie Turner and Priyanka Chopra, respectively, they found their perspective on Kevin's priorities shifting. "It took me time to understand having someone in my life that I'll do f--king anything to see Sophie for an hour," Joe told his brother. "It took me a long time to understand that. You found love very young."
As Joe told Harper's Bazaar in June, it was his now-wife and the healthy relationship she shared with her family that allowed him to get over the hurt feelings he continued to harbor over the band's split and eventually find his way back to his brothers. "It encouraged me to see she had such a great relationship with her brothers," he told the publication. "That was really a big thing for me to be able to look at, and say, 'I gotta get my s--t together.'"
In Chasing Happiness, Nick, who married Priyanka in a lavish three-day extravaganza last December, conceded that the time apart was necessary because it not only helped him pursue "different creative avenues," but it "led me to find something even greater than I could ever imagine. Love. And this love has changed my life forever."
"In finding myself, I was also able to find a partner," Joe added. "The impact of falling in love has made me want to be a better man, a better person. And, ultimately, made me a better brother."
And luckily for everyone involved, the J-Sisters, as they affectionately refer to themselves, have formed a bond to rival that of their husbands. They turn up to support their husbands, whether its in the stylish "Sucker" music video, the opening night of the band's current tour, or at this year's VMAs, and regularly pop up in one another's Instagram Stories. 
"I've never had a sister," Priyanka told ELLE UK in August," so it's really nice to have Danielle and Sophie, and just inheriting the family by proxy."
There's a reason why the youngest JoBro called the J-Sisters "the biggest piece" of the band's puzzle in Cigar Aficionado's September/October cover story. And it's because without them, we might not have ever even gotten this comeback at all.