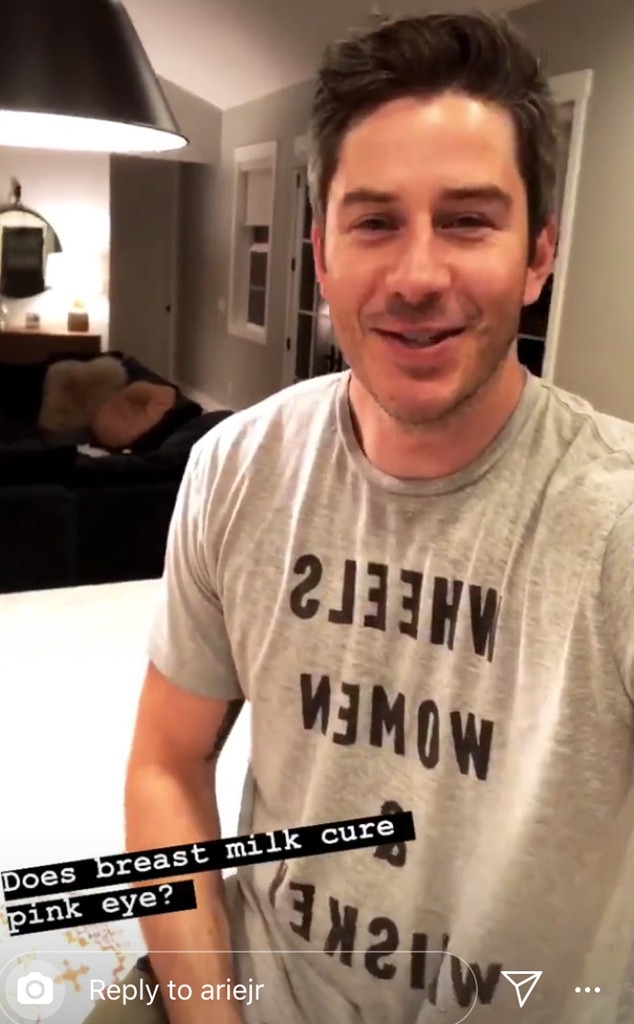 Instagram
Don't try this at home kids.
Fans of The Bachelor know that Arie Luyendyk Jr. loves to document his family life on social media. But on Monday night, the reality star alerted his followers that he may have pink eye.
"This is a bit of a sensitive subject. I don't know if I have pink eye but my eye is red. You can't really see it because it's dark in here," the new dad shared on Instagram Stories. "But Lauren said that breast milk is actually a remedy for that."
So what's a guy to do? Ask his wife Lauren Luyendyk for help.
"Does breast milk cure pink eye?" he asked his leading lady on Instagram Stories. "I'm going to give it a shot…what do you guys think?"
Who cares what we think! But seriously, is this really a good idea?
The couple documented the home remedy on social media with mixed results. "This is after one attempt where she missed and poured breast milk all over my face," Arie detailed when showing off his face. "@LaurenLuyendyk is waaay too excited to try this."
Excited but also hesitate to believe this could actually work.
"I tried to talk him out of it," she warned. "It says for kids and babies but he's convinced."
So did it work? Perhaps we have to keep checking Instagram Stories later today to find out. What we do know is the fact that life is pretty sweet for this Bachelor Nation couple who continue loving every moment with their baby girl.
"Today she's holding her bottle on her own, tomorrow she's driving off to college!" Lauren recently shared on Instagram. "I know, I need to not get ahead of myself. She may be little miss independent, but I still have to make sure she is taken care of."
You're doing great mama! But remember: When in doubt, just ask a doctor.