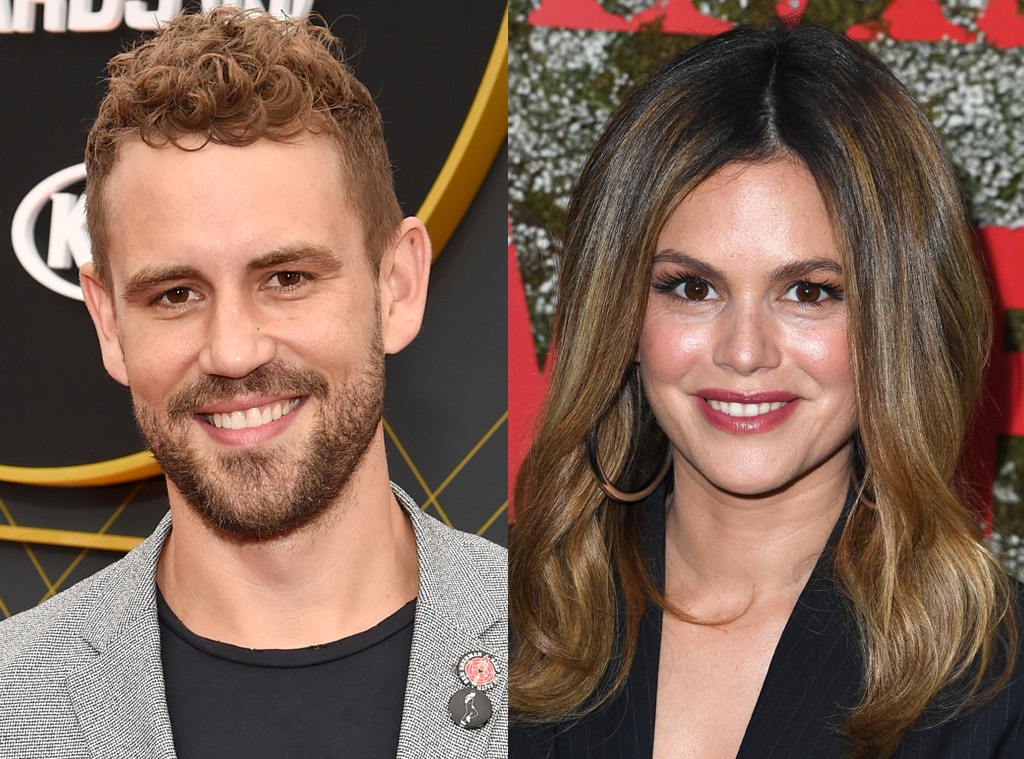 Michael Kovac/Getty Images for Turner Sports, Steve Granitz/WireImage
It looks like Nick Viall's journey to find love isn't over yet.
The Bachelor alum has sparked romance rumors with Rachel Bilson. 
While neither star has commented on a relationship status, social media sleuths have picked up on a few potential clues—some of which date back to earlier this summer.
Back in July, Viall interviewed Bilson for an episode of his podcast The Viall Files. During the episode, the season 21 star admitted he "professionally" slid into The O.C. alumna's DMs and invited her to be on the show.
"I knew that Rachel was a big Bachelor fan," he said. "I've been a fan of Rachel for some time. I had noticed throughout, maybe the past couple of years, there was one time I think you might have commented on my Instagram and I noticed it. I was like, '[Gasp!] Really?'"
"You didn't slide into my DMs then," she replied.  "You could have told me you were excited then."
To promote the episode, both celebs posted pictures from the interview on their respective social media channels. Viall, for instance, shared a picture of the two chatting and captioned it "Will we choose to forgo our individual rooms…" Bilson then added her own response in the comments section.
"He slid into her….dms," she wrote. "#SheAccepted." 
The actress also posted an image of herself looking surprised and captioned it, "When he tells you he's actually been on The Bachelor shows 4 times..."
Viall then added, "And you call yourself a Bach fan."
However, the flirty exchanges didn't end there. In August, Bilson posted a picture of herself rocking a red dress.
"Cute dress," Viall replied.
The reality TV star also wrote "nice foliage" underneath Bilson's photo of a plant and wrote "nice mountains" underneath a photo of the actress sitting on a rock.
In addition, Bilson joked Viall "took the plunge..er" after watching his Charmin ad with Becca Tilley and poked a little fun at his contestant style.
"Sweet cuffs," she wrote in the comments section underneath a photo from his Bachelor days.
Fans also noticed she liked a photo of Viall that showed him staring off into the distance.
"Checking her out knowing she's with me," he captioned the cryptic post.
Then again, Bilson may have her eyes set on another Bachelor contestant. Back in July, she noted she's "team Tyler."
This wouldn't be the first time Viall has been romantically linked to a celebrity. In 2018, there were rumors that he dated January Jones. However, she soon shut down the speculation.
What do you say, Rachel? Do you accept Nick's rose?