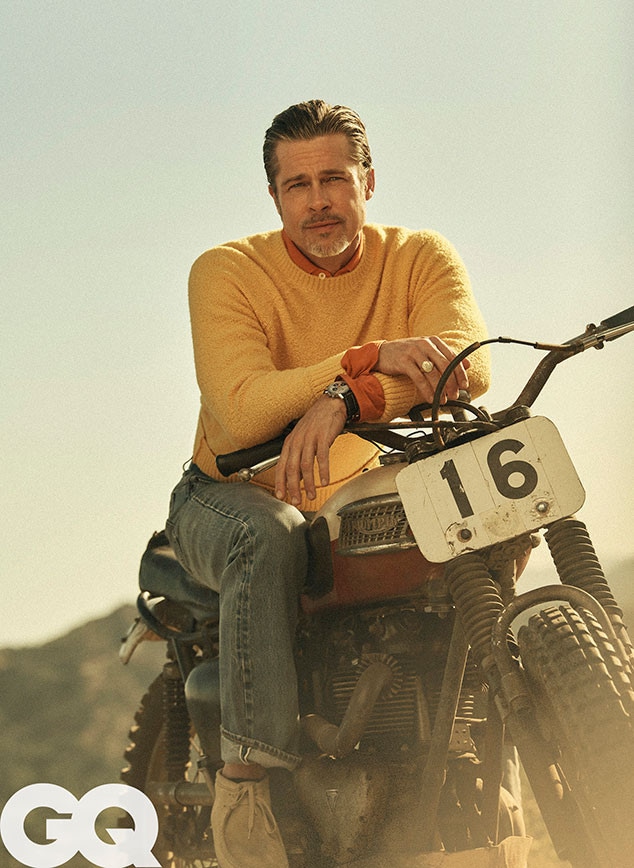 Lachlan Bailey for GQ
No Hollywood A-lister is a fit for every role—just ask Brad Pitt.  
The Oscar-winning actor and star of the upcoming Ad Astra has a laundry list of roles to his name in the course of a megawatt career spanning three decades. Yet, as he acknowledged to GQ, every actor comes with their own strengths. In fact, it's what has dictated Pitt's career choices. 
"It's been my question the last 15 years: 'If I'm gonna do the role, what can I bring to it that someone else can't?'"
Of answering his own question, Pitt explained, "Well, it's about bringing my personal experience, my personal humor, my personal, um, embarrassments, and my personal pains."
And those are all different from, say, his Big Short co-star Christian Bale or Tom Hardy. "When I watch Bale or Hardy, I can't do what they do. I love watching them. And I couldn't step into that role," he told GQ. "I want to do the same thing on my end."
While his end has involved less acting over the years, the Once Upon a Time in Hollywood star has been doing more living. 
"There was just too much emphasis on finding interesting characters. I went, 'F!$k me, man. Live an interesting life and the rest will take care of itself.' Like, 'You go out and you…live an interesting life. Get out and have real experiences.' And that is what informs the work. Not going to find the interesting work and then trying to make it up. I just became more conscious of how I was living versus what I was living for," he explained. 
Blame that professional shift on aging. "It's just getting f#@king older!" he told GQ. "How you become more aware of time, and you've had more experience, good and bad, with people. And your own wins and losses—the older you get, they don't seem like so much of a win or so much of a loss. Who you spend your time with, how you spend time—it has just become much more important to me."
The October issue of GQ hits newsstands on Sept. 16.