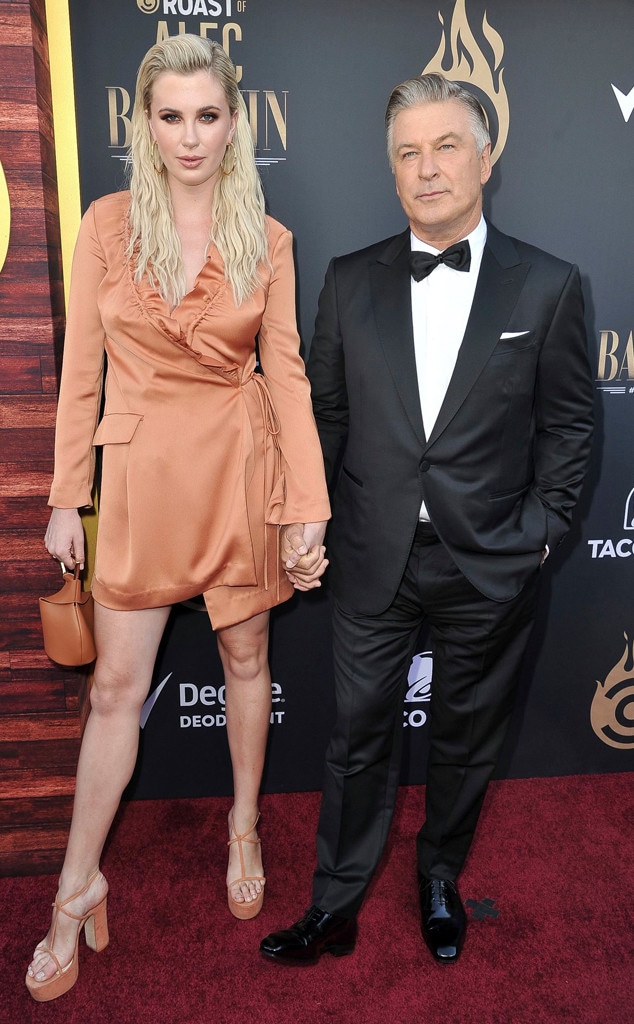 Richard Shotwell/Invision/AP/Shutterstock
Kids say the darndest things, especially when they get to roast their parents.
On Sunday night, Ireland Baldwin didn't hold back when it came to teasing and poking fun at her famous father, Alec Baldwin. As soon as the 23-year-old star took the podium for Comedy Central's The Roast of Alec Baldwin, no topic was off limits, including a joke about her dad's infamous voicemail in 2007.
Oh yeah, she went there.
"Dad, I'm Ireland," the model quipped and turned to look at the 61-year-old actor. "It's good to be here. I almost didn't even know about it because I haven't check my voicemails from my dad from the last, like, 12 years."
During his divorce and custody battle with ex-wife Kim Basinger, the Emmy Award winner called his then 11-year-old daughter and left a voicemail, where he said she was a "rude, thoughtless, little pig."
Despite apologizing publicly after the incident, the two had an estranged relationship for many years. However, it seems like they are able to laugh about now.
If anything, this isn't the first time Ireland has made the voicemail joke. In 2017, 10 years after it happened, she roasted her father over it for Spike's One Night Only special.
Richard Shotwell/Invision/AP/Shutterstock
Of course, for Comedy Central's episode, she had some new material, because the 23-year-old model didn't stop there. After bringing up the notorious voicemail on Sunday night, she added, "I actually have a lot in common with the people in this roast, because like them, I don't really know you that well either."
However, she got the biggest laugh from her dad when she said, "Well, a lot of people know my dad as that guy from the Mission Impossible movies or that guy from 30 Rock, I know him as that guy from half my birthday parties."
Others joining in on the roasting fun were Blake Griffin, Caitlyn Jenner, Ken Jeong, Nikki Glaser, Caroline Rhea and Adam Carolla (to name a few).
While Basinger didn't participate in the roasting of Alec, Ireland made sure to poke fun at him for her mother. "It hasn't been easy being the daughter of an iconic movie star," the model quipped. "But I'm not here to talk about my mother... or her Oscar."
And that's how it's done, ladies and gentleman.