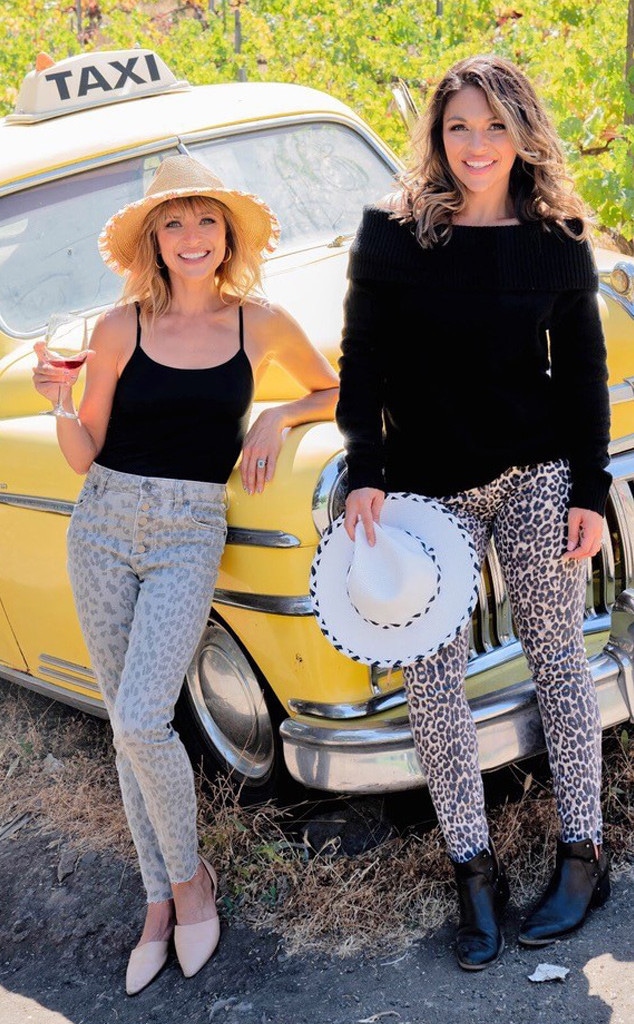 @kutfromthekloth
We love these products, and we hope you do too. E! has affiliate relationships, so we may get a small share of the revenue from your purchases. Items are sold by the retailer, not E!.
When you become a parent, the car becomes your very close friend.
Whether you need to take kids to their activities or run some errands before nap time, the amount of time you spend in a vehicle with four wheels suddenly becomes much more important and necessary.
So perhaps it's a brilliant idea that The Bachelorette's DeAnna Pappas Stagliano and Step by Step star Christine Lakin decided to develop a digital series titled Moms in Cars where they talk to fellow mothers and try to escape for some peace and quiet.
As the pair continues to create new episodes, we decided to ask the proud parents to share their must-have items for fellow moms who are always on the go. Take a look at their picks below.
dpHUE Apple Cider Vinegar Hair Rinse
"I love dpHUE's ACV rinse—apple cider vinegar, non foaming shampoo replacement. I've used this solely for the last few years and it has turned the texture of my fine hair into something manageable. Plus, I only have to wash twice a week, so for us moms, that's pretty much standard fare." —Christine
Mabel's Labels Little Kid School Combo
"I have used Mebel's Labels since Addison was born. I find joy in labeling everything in our home so these awesome things help fuel my obsession! One thing I learned when my kids started school....EVERYTHING has to be labeled. I find pure joy in labeling each sip cup and backpack! I use their clothing stamp, too!" —DeAnna
VitaCup Slim Blend Coffee Pods 16ct
"Who can remember to take their vitamins?! Never us. Who can remember to drink coffee every morning? Basically... the only thing that gets us out of bed. VitaCup is so genius because it combines that morning brew with a dose of vitamins—gotta love a two-fer! They have several kinds—ones with probiotics, beauty blends with collagen, genius blends with ginko… extra dose of that please. #MOMbrain" —Christine
LaCroix Grapefruit Sparkling Water
"Cutting out soda and sugar has been a big part of our household and LaCroix is the go-to beverage now. So many great flavors, it makes it easy to get extra hydration in during the hot end of summer days. Plus, they make a pretty good mixer for a cocktail… just saying!" —Christine
REBBL, Maca Mocha Elixir 12 oz (3 Pack)
"I love REBBL's Protein drinks...mocha is my go to. These things are packed with 12 grams of plant protein! They aren't super cheap so I only purchase these for the days when I know I will have little time for a meal or when I will be working and might not have time to eat a substantial meal. They are low in sugar and packed with fiber! Yay for a healthy gut!" —DeAnna
Write to Me Family Gratitude Journal
"I have started a nightly routine of talking with our family at dinner time and sharing about our day. I recently started the Family Gratitude book and we all take turns sharing what we are grateful for as well as what the best part of our day was. I love this line of books because it is helping me to create lasting memories for our family that we can look back on for years to come." —DeAnna