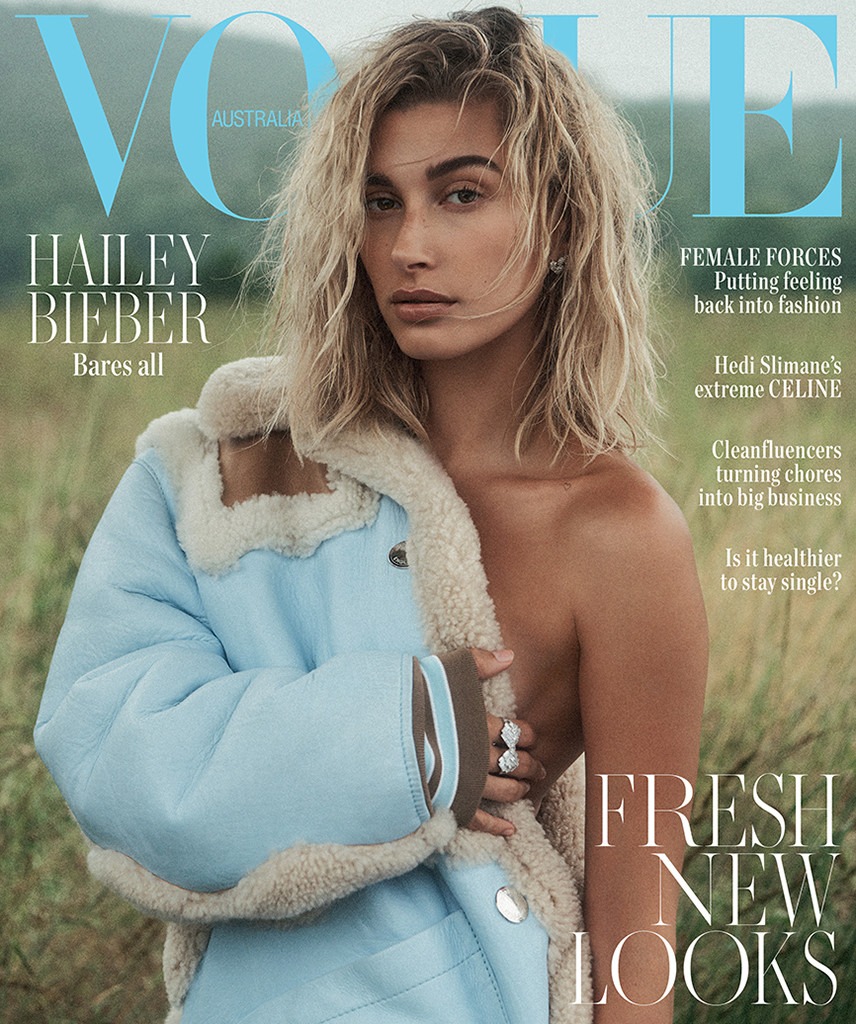 Lachlan Bailey / Vogue Australia
One year ago, on Sept. 13, 2018, Justin Bieber and Hailey Bieber, then known as Hailey Baldwin, shocked the celebrity world when they tied the knot in a seemingly impromptu courthouse ceremony in New York City.
The surprise move came just two months after they got engaged amid a whirlwind romance they had rekindled not long after Justin and longtime on-again, off-again Selena Gomez called it quits for good. Now, as the Biebers celebrate their one-year anniversary, they continue to deal with critics, skeptics and haters who question and even oppose their marriage.
"Nobody from the outside really knows what's going on between us," Hailey said in an interview with Vogue Australia, which features her on its October 2019 cover. "I wake up every morning with this person. I'm the only person that has direct dialogue with this person. This is my relationship. What's so tricky about mental health is that it can be easy to let people convince you of something that's not real."
"When I had hundreds of thousands of comments bombarding me with: 'He's never going to this,' 'You're never going to that', 'You'll be divorced by then,' you can't help but wonder: 'Does someone see something that I don't see?'" the 22-year-old model continued. "It starts to mess with your mind. But the only two people in a relationship are the two people in it. I've been working on retraining my thought process to understand that."
Lachlan Bailey / Vogue Australia
Lachlan Bailey / Vogue Australia
"I said that when we had first married," she said in her Vogue Australia interview. "Look, marriage is always going to be hard and I think good relationships are the relationships that you put the work into. Specifically, I said that when there were a lot of new things. I had never lived with someone before. I never had to cohabit with somebody in that way, so I was learning how to share space with someone for the first time. We were trying to bend in each other's direction and learn what was comfortable."
Lachlan Bailey / Vogue Australia
"We have a house there. In L,A,, it's always kind of chaos, and every time we try to go somewhere it's not easy," she said. "In Canada, we have a really private place, a big property, and Justin's from there so I feel like he feels more comfortable. We have a bunch of four-wheelers and it's quiet and we just hang out. We spent Thanksgiving and Christmas there last year, because the winter is especially pretty. I cook a lot."
 The Vogue Australia October 2019 issue is on sale on Monday, September 23.