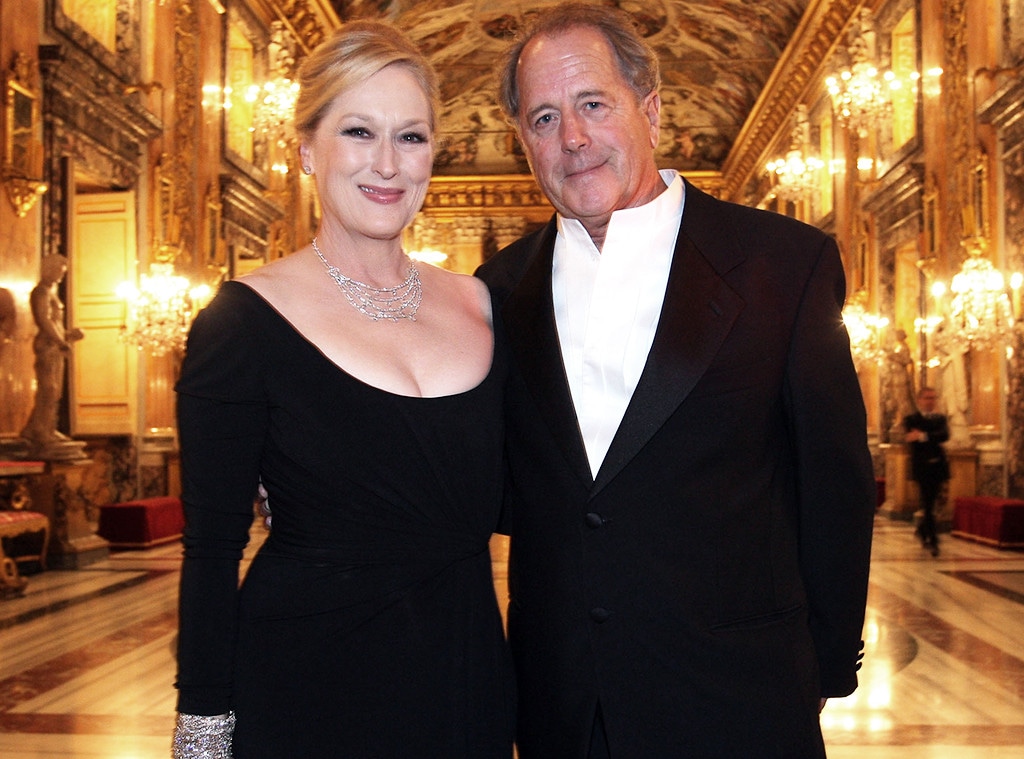 Venturelli/WireImage)
Meryl Streep can play any role, any time and on any screen, big or small.
But for all the accolades she's received—21 Oscar nominations and three wins; 32 Golden Globe nominations and eight wins, plus the Cecil B. DeMille Award; three Emmys; two SAG Awards and countless other prizes, all for acting—and amid the attention inevitably paid to her more than to anyone else in any given project, Streep has managed another, perhaps mightier achievement.
She's managed to have a four-decade career in which the focus has remained almost entirely on her work instead of what she's up to off camera, when she's just playing Meryl. These days especially, that sounds like a far more difficult task than mastering accents, channeling historical figures and disappearing into characters.
But it's not as if Streep's personal life started out charmed. Rather, she suffered a crushing heartbreak, after which she almost accidentally fell into Mr. Right's arms after a series of unlikely events.
Streep met John Cazale when auditioned to play opposite her in a Shakespeare in the Park production of Measure for Measure. He got it, and she fell in love with the actor, best known for playing unfortunate brother Fredo in The Godfather but whose entire cinematic repertoire consists of Best Picture Oscar winners or nominees: two Godfather films, The Conversation, Dog Day Afternoon and The Deer Hunter.
But Cazale, only 42 years old, got sick, and for five months Streep was by his side as he underwent treatment at Memorial Sloan Kettering Cancer Center, while they were shooting The Deer Hunter. And she was right there when he died on March 12, 1978, shortly after they finished filming.
Devastated, Streep left New York to stay with a friend in Canada, only to find upon her return that she was being evicted from the loft she shared with Cazale. According to Michael Schulman's 2016 biography Her Again: Becoming Meryl Streep, her brother Harry showed up to help her move, and he brought a friend, a sculptor who Meryl had met a few times but barely remembered.
The nice fellow offered to keep whatever boxes she didn't have room to store at his studio.
Streep went to Maryland to shoot The Senator and the sculptor, about to leave the country, offered her the use of his loft when she got back to New York. Rattling around the nice fellow's apartment, she thought a lot about him and they started writing to each other.
That sculptor was Don Gummer, and Sept. 30 is their 42nd wedding anniversary.
Don, an artist originally from Louisville, Ky., had been married once before, briefly, to his high school sweetheart. He got his MFA from Yale, at the same time Streep was attending the School of Drama. When their letters took a turn for the serious, a still-grieving Streep wasn't sure she was ready for a new relationship. But a recently widowed friend encouraged her to simply spend time with Don, if she liked him.
She liked him so much she married him on Sept. 30, 1978, in an Episcopal ceremony in the garden of her parents' home on Mason's Island, in Connecticut. Even Meryl's mother wondered, "What is she thinking about?" theater director Joe Papp, who had just worked with Streep on Taming of the Shrew, told Schulman.
Whatever she was thinking, she was right.
"I hate seeing myself pontificating," Streep said to the New York Times in 1994 on the subject of doing interviews. "I can't bare it, as if I'm an expert on anything. I'm barely in control of my own life. And there's the pressure to be articulate. With motherhood, you can barely put the subject before the predicate and make a sentence."
She could't help it that she continued to come off as so wise that people wanted to hear from her any chance they could get. For the last 26 years she has continued to give interviews sparingly and never divulges much about her family—though she will do her press when need be and will talk at length about causes she's passionate about. 
Of course, technically she's more passionate about her family than anything else, but they remain off-limits for good reason.
"Motherhood, marriage, it's a balancing act," Streep told Good Housekeeping in 2008. "Especially when you have a job that you consider rewarding. It's a challenge but the best kind of challenge."
Regarding the family life she keeps so private, she explained, "Robert Redford taught me that when they were babies: 'They are not your props.' I really admired the way he protected his family. It's something I consciously emulated." 
You don't mess with the role of a lifetime.
(Originally published Sept. 30, 2019 at 3 a.m. PT)