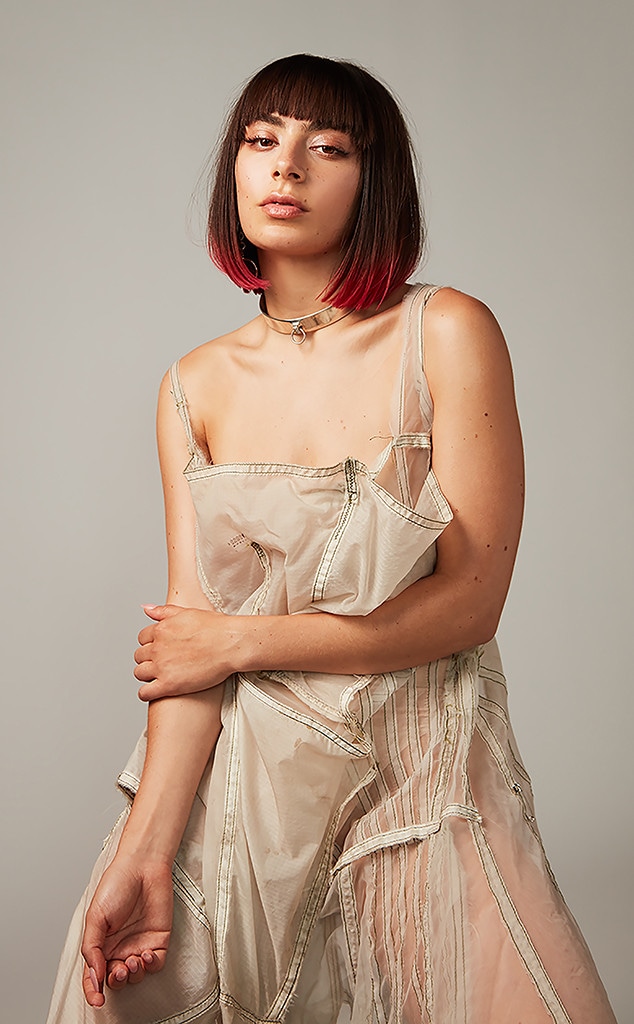 Marcus Cooper/Atlantic Records
The last time Charli XCX released an official studio album, the world was a very different place.
The year was 2014. Bachelor in Paradise had only just aired its first season, Andrew Garfield was still Spider-Man, and Zayn Malik hadn't even quit One Direction yet. And when Sucker, Charli's second studio album, dropped in December, it became her first album to enter the Billboard 200 chart, debuting at No. 28. Rolling Stone named it the best pop album of the year and declared the artist formerly known as Charlotte Aitchson "the pop star 2014 was waiting for."
In the years between Sucker and this week's release of her third studio album, the self-titled Charli, on Friday, Sept. 13, the pop star hasn't exactly been silent. No, she's maintained a rather ubiquitous presence in the music scene, releasing an EP (2016's Vroom Vroom), two excellent full-length mixtapes (2017's Number 1 Angel and Pop 2), and a handful of one-off singles ("Boys," "After the Afterparty" and "Girls Night Out," to name a few), while also helping write songs for artists like Selena Gomez, Camila Cabello and Shawn Mendes. She even opened for Taylor Swift during her Reputation Stadium Tour in 2018. To put it mildly, she was busy.
And yet, her third album still eluded her. But after an unfortunate leak of most of the songs planned for her third album in 2017 sent her back to the drawing board—"My email got hacked and people leaked most of it, so I think I'm just going to start again," she told Noisey that November. "But that's fun for me, anyway. I write fast so I'm not really worried about anything"—and a seemingly never-ending string of promo that saw her unveiling collaboration after collaboration from the forthcoming album, each one more exciting than the last, Charli the album has finally arrived. 
And for as much as the world was a different place five years ago, so too was Charli the artist.
"I've grown up as a human being and as an artist," the 27-year-old told E! News via email about what she's learned over these last five years. "I've learned to be more confident in my decisions and to trust my instincts. I've also learned how to pretend I'm compromising without really doing it!!! Hahaha. I've also learned to stay calm and try not to let my emotions get the better of me - although I'm still working on this." 
While one gets the sense Charli (understandably) doesn't want to downplay the artistic achievements she made between Sucker and Charli by way of her EP and mixtapes—"Releasing a body of work is always exciting, no matter what it is," she told us. "I put my all into everything I do - mixtape or album - so that is the same."—she did shed some light on why this collection of 15 tracks is special.
"This is the most personal body of work I will have released," she explained. "I cover ground I have covered before, but I also delve into my own mental health, which is a new thing for me. It just felt like the right time to discuss it."
And discuss it she does. Across tracks like "Gone," which features French singer Christine and the Queens, "February 2017," which includes guest vocals from Clairo and Yaeji, and the album's latest single, "White Mercedes," Charli bares bits of her psyche and her soul in ways that might've seemed unfathomable half-a-decade ago. It's hard to imagine the same girl singing "Boom Clap" telling a lover "You know it's so hard to admit/But the only good inside of me is you" as she does in the heartbreaking "White Mercedes."
But this still a Charli XCX album, so there's plenty of fun to be had, too. In previously released singles like "1999," featuring Troye Sivan, and the luminous "Blame It On Your Love," featuring an inimitable verse from Lizzo, as well as standout album cut "Shake It," a twerk track for a future when the robots outnumber humans (we mean that as a compliment) that features verses from a murderer's row of talent including Big Freedia, Cupcakke, Brooke Candy and Pabllo Vittar, there's the same bit of joyously raucous insanity that we've come to know and love from Charli.
For an album rife with collaborations—nine of the 15 tracks feature one, if not more, guest vocalist—Charli, understandably, has a hard time playing favorites. "Every artist on the album is special. That's why I wanted to work with them," she told us. "I'm inspired by them. I feel like all the artists on the album are truly unique. Like, no one can do what Christine and the Queens does apart from Christine and The Queens. Same for Lizzo, same for Troye, same for Kim [Petras,] same for everyone. They're all iconic!"
The most important thing when picking the perfect collaborator is that it "not feel like an orchestrated first date," Charli explained. "I need to know them; understand them, as people and artists. There needs to be a level of friendship there for the collaboration to be real and genuine." 
With Charli now out in the world, Charli turns her attention to her headlining world tour, entitled "Charli Love." Beginning in Atlanta on Sept. 20, the tour includes 21 dates in the U.S. and 19 in Europe, where it will come to a close on November 28 in Moscow. About the tour, the singer would only tease, "Ahhhh let's just say I AM VERY INTO LAZERS!!!!"
The last question we asked Charli was what one piece of advice she'd give to the younger version of herself just releasing Sucker those five years ago, and her answer—well, it was quintessential Charli.
"Don't be so angry, party hard and have fun with life and music," she said, "[because] it's an amazing ride you're on."
Charli is available now at all streaming services and retailers.