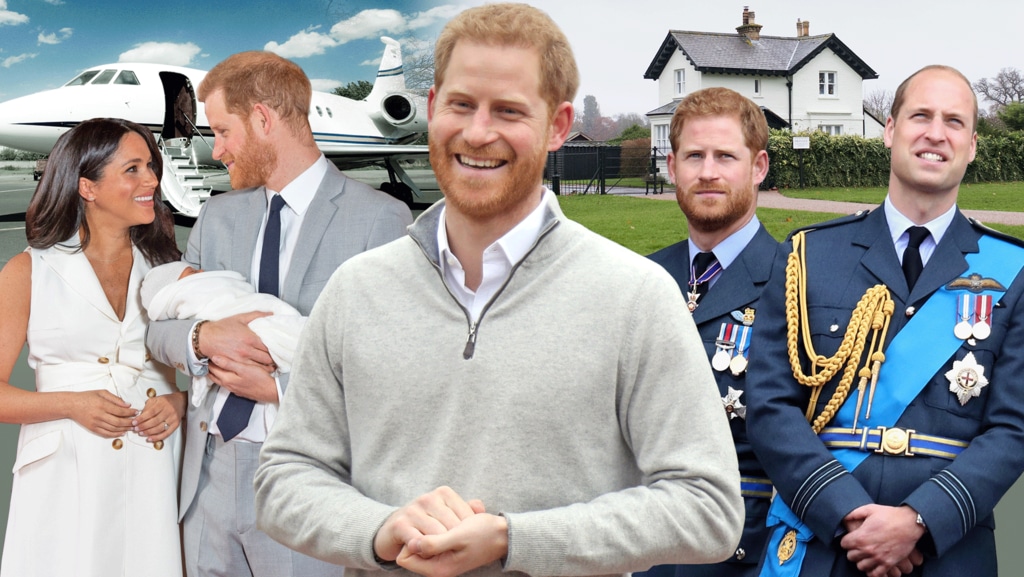 PA Wire/Getty Images/Shutterstock; E! Illustration
On the bright side, Prince Harry probably doesn't know just how tumultuous a year he's had.
For the 35-year-old royal, who's celebrating his birthday Sunday, it's simply been the most transformative year of his life, 2019 being the year in which he and wife Meghan Markle started their family, welcoming son Archie Harrison Mountbatten-Windsor in April.
But then the Duke of Sussex happened to mention that he and Duchess Meghan were probably just going to have a small family—not because he only has one brother and it's been great for him, or because a lot sounds like too many, but because it was the ecologically responsible thing to do.
And all hell broke loose, as it has countless times over the course of the year since Harry's 34th birthday, the last birthday he spent as a resident of Kensington Palace, part of the Royal Foundation and a man able to enjoy a full night's sleep.
As has happened with even more frequency since Meghan joined the family, Harry was lambasted by the usual suspects for what was perceived as a high-and-mighty (or low-and-hypocritical) comment—made to primatologist and conservationist Jane Goodall in a Q&A for British Vogue—about thinking two children, "maximum," was enough.
The Daily Mail was quick to run down the handful of times since the previous September that he and Meghan had flown by private jet, air travel not exactly the world's leading cause of climate preservation. (And that was before it was reported that Harry had traveled via private jet to Sicily for the exclusive Google Summit, where's said to have given a speech while barefoot about the drastic measures needed to combat climate change.)
But first, the whole British Vogue thing had the local press in a tizzy in the first place, with Meghan's loyal critics further digging into their position that the Duchess of Sussex allocates her platform as a member of the royal family in exactly the wrong way—paying far more lip service to the outside world and not devoting enough of herself to Britain and, incidentally, the royals themselves and those who have always expected a certain level of U.K.-first fealty from the family.
"A guest editorship of Vogue featuring a list of inspirational women, half of whom no one's ever heard of," columnist Sarah Vine wrote in the Daily Mail when the issue was revealed. "You fail to nominate the one truly inspirational woman in your life, the Queen, whose years of selfless devotion to this country knock all of the others into a cocked hat."
The September 2019 issue's cover touting the theme "Forces for Change" showed 15 women of all ages who have been influencing culture and working to effect change for years with their art and activism, such as Jane Fonda, or who are poised to have a major impact. 
"I don't know who is advising you, but I suggest you ask them to stop," Vine wrote. "Because it's clear they have very little understanding of the way the relationship between royalty and public works in this country."
Not surprisingly, Vine also found Meghan's quick trip to New York (flying commercially) to watch Serena Williams play in the U.S. Open Women's Singles Championship rather scandalous, questioning the duchess' priorities both as a royal and, even less palatably, as a mother.
So obviously there's no line the more hawkish Meghan watchers won't cross in criticizing her, as if 4-month-old Archie wasn't with his father and the best help the pound sterling can employ while she was gone for barely 48 hours.
But what wasn't picked at this year, from the fancy baby shower Meghan's friends threw for her in New York, the birth plan that was too private, the christening that was too private, the withholding of Archie's godparents' names, the birthday wishes that weren't mushy enough, and security asking Wimbledon goers not to snap surreptitious photos of Meghan while she wasn't in the Royal Box (a request the duchess was apparently unaware was being made on her behalf and was distressed to hear about), to the recent decision not to join some of the other royals at Balmoral last weekend—which according to the Mail on Sunday, left the queen disappointed.
Sources insisted to the Mail, meanwhile, that skipping the weekend in Scotland was not a snub, that Harry sees his grandmother more often than most, now that he and Meghan live near Windsor Castle.
Really, it's impressive that Meghan and Harry, who spoke at the Invictus Games Foundation's 5th anniversary event on Thursday and visited Lealands High School in Luton to check out the Rugby Football Union All Schools program on Friday, have time to get anything done what with all those perceived stumbles and missteps.
But once again, unless Harry and Meghan are consumed with reading their press clippings, it's nice to think they don't know such columns exist; or that Piers Morgan is over her because he feels Meghan snubbed him once and then doubled (or quadrupled) down when he felt she snubbed President Trump; or that Elton John's word doesn't hold much sway among Internet trolls. 
Really, so long as the external grievances don't reach the queen, they don't have to worry much about them at all. It's been the summer of discontent for the press, not proud new parents Harry and Meghan, who are also looking forward to a trip to Africa this fall with Archie and have countless other projects on their plates.
Alas.
The palace has had, not quite an annus horribilis yet, but a busier time than the 93-year-old Queen Elizabeth II may have wished. They've had to issue multiple statements in defense of Prince Andrew, who remains in the hot seat for his past friendship with disgraced businessman and convicted sex offender Jeffrey Epstein, who committed suicide in jail in August. Then MP and House of Commons Leader Jacob Rees-Mogg was dispatched to Balmoral, where the queen was trying to enjoy a little R&R, to ask for her permission for Prime Minister Boris Johnson to suspend Parliament ahead of the looming Brexit deadline.
And she said yes, as expected, because asking is really just a formality—because the queen otherwise doesn't get involved in politics. But that certainly landed her face on the cover of a few newspapers.
Then Harry and Meghan came under fire (again) for flying with Archie on a private jet—after the hullabaloo over their two-kids-max plan, and after roughly $3 million of public money was spent to renovate their house in Windsor—to visit Elton John's vacation home in the south of France and then to Ibiza.
Buckingham Palace usually doesn't concern itself with everyday tabloid speculation, unless an especially pernicious rumor just won't quit, but it will get involved occasionally to help the greater good. For instance, in March they issued social media guidelines for followers of the royal accounts in an attempt to cut down on vicious trolling, and in May the palace "acknowledge[d] and welcome[d] the formal apology from Splash News and Picture Agency" after Harry successfully went after them in court for supplying aerial photographs of a cottage in the Cotswalds that he and Meghan rented that were published by The Times. 
The Mail on Sunday reported that the queen, prior to Meghan's trip to the U.S. Open (instead of going to Balmoral), was already "'baffled' by Meghan and Harry's inability to steer clear of PR calamities, and is concerned that her beloved grandson and his new wife are failing to listen to their team of advisers." (Sarah Vine, on the other hands, had guessed that they were being advised, just badly.) 
John, who was a close friend of Harry's mother, Princess Diana, spoke up for the couple, explaining that he paid for their trip and made a donation to offset the carbon emissions from the journey.
"I feel a profound sense of obligation to protect Harry and his family from the unnecessary press intrusion that contributed to Diana's likely death," the singer, tired of the "untrue assassinations on their character that are spuriously crafted on an almost daily basis," also wrote. 
Obviously well intended, but some folks were not having the Diana mention, accusing John of missing the point entirely with a shameless namedrop.
"We can all do better," Harry acknowledged in bowing to pressure for a response to the backlash while giving a speech on Sept. 3 in Amsterdam to announce the launch of Travalyst, the first Sussex Royal Foundation initiative.
"And while no is perfect, we are all responsible for our individual impact. The question is what we do to balance it out," he continued. Noting that he flew commercial to the Netherlands and traveled that was "99 percent" of the time, "occasionally there needs to be an opportunity based on a unique circumstance to ensure my family are safe and it's genuinely as simple as that. But as I said in my speech, for me, it's about balance."
"Let's be clear, all members of the Royal Family use private jets, they all use helicopters," Chris Ship, ITV Royal News Editor, said on Yahoo UK's The Royal Box, noting that sometimes it does come down to security matters for the family.
The Sun's former royal editor Duncan Larcombe, however, thinks the couple should be more mindful of how their actions make them look.
David Fisher/Shutterstock
"A couple that have put themselves out there to lecture us all on needing to do our little bit to save the environment are going on holiday on private jets all summer," he said on The Royal Box last month. "Do they think that we're all mad?" (In addition to the trip to Nice and Ibiza and Harry's Google Summit, they each took a private round trip in February, Meghan to New York and Harry to the Arctic Circle.)
Larcombe also insists that Harry and William hardly ever flew privately back in the day, and he remembered Harry even taking a no-frills easyJet flight with mates on a ski trip.
"[Harry] was a people's prince," he lamented, "and he's now become some hypocritical, preachy, detached, slightly confused young prince and he'll lose his popularity because of that and I think that's a tragedy because I think he's a great guy."
But let's not lower the flag to half-mast for Harry just yet.
True, William and Kate Middleton's budget flight to Scotland last month did make bigger headlines than usual simply because it wasn't a private jet (though the real question is, did William make the 70-minute trip with a bag of his own blood?). But the pitting of these two couples against each other is nothing new.
Royal fans were rocked this year by the diverging of Harry and Prince William's household and charitable endeavors, with Harry and Meghan breaking off from the Royal Foundation, established by the brothers in 2009, to plot their own course. William and Kate Middleton now preside over the Royal Foundation of the Duke and Duchess of Cambridge.
Harry and Meghan also moved out of Nottingham Cottage, their perch at Kensington Palace, where William and Kate live in the grand Apartment 1A, and relocated to Frogmore Cottage near Windsor Castle, where the aforementioned pricey renovation took place to update the 19th-century home for the present day.
Wow, it has been a jam-packed year.
As the Sussexes prepared to establish themselves as a duo instead of perennially part of a foursome, no matter how fab, the drummed-up Kate vs. Meghan feud was almost (almost) swept under the rug by rumors that William and Harry were through, or at least navigating over a major bump in the road that had been fulminating at least since William didn't have the desired reaction to Harry's intent to marry Meghan that the younger sibling wanted him to have, if not before.
All of which was speculation, of course.
Watch:
Prince Harry Joins Meghan Markle in Breaking Royal Tradition
More measured royal experts observed that it was perfectly natural for Harry, now a married man, to want to do his own thing—both out of his brother's shadow and, in a way, out of his light.
William is the future king, after all, and while all falls under the queen's umbrella, that leaves Harry with substantially more freedom. (Besides, who's supposed to hang out with their brother all the time?)
After lots of speculation that predated Meghan that the younger son of Princess Diana and Prince Charles may choose to distance himself from the monarchy, at least for awhile, he ultimately became a full-time royal, meaning his appearances and engagements will be counted accordingly and the end-of-year tally—Who went out the most?! Princess Anne again?!—will be duly reported on year after year.
Meghan, who first met the prince on a blind (on his end, anyway) date in 2016, has enthusiastically joined him as a full-timer—one who, unlike her sister-in-law, a future queen, also has the freedom to be choosier about the causes she devotes her energy to. 
Though she joined the family at the Trooping of the Colour in June, her first public appearance since giving birth (minus the requisite "meet Archie" photo op in April), her maternity leave officially concluded on Thursday when she appeared in London at the launch of her Smart Set capsule collection, a collaboration with Smart Works, one of her patronages, which provides job-seeking women with free work-appropriate clothing and interview training.
And from the other end of the spectrum, you can hear the applause.
Because while the criticism is louder, and utilizes many more words, a lot of people just love Meghan and appreciate everything that she's doing expressly because it's different from what has always been done. Her work with British Vogue? Inspiring. Her quest for a tad more privacy than has been customary? Justified. Still wanting to see the friends she had before she was royal? You go, Duchess.
Fashion designer and longtime Meghan friend Misha Nanoo called the barrage of nastiness that's been directed at Meghan "unjust," saying on Today, "I think that people should really focus on the good work they do. A good example of that is this is her first official engagement after having had her baby, it's all about empowering women, all about what she has essentially always sought to do."
At the Smart Set launch Thursday, wearing Jigsaw black trousers and a crisp white Misha Nanoo shirt, both pieces from the collection, Meghan "looked beautiful and relaxed and comfortable, and I think it's really essentially who she is," the designer said.
Chris Allerton/SussexRoyal
"As women, it is 100 percent our responsibility, I think, to support and uplift each other," Meghan said at the launch, held at John Lewis on Oxford Street, "to champion each other so we aim to succeed, to not set each other up for failure, but instead to really be there rallying round each other and say 'I want to help you.'"
She also said, "It's also the same vein of work my husband and I will continue doing—really strong community-based projects, and this is something we will be excited to share more about next year when we launch our foundation Sussex Royal in 2020."
But she could only give so much of herself to the cause that day.
"I've got to get back to the baby," Meghan concluded. "It's feed time!" 
So while Prince Harry's year leading up to his 35th birthday looked especially zany from the outside, he's hardly going to remember 2019 as anything more than the year his first child was born.
The whole family is off to Africa soon, as well, "a region of the world that over the past two decades has been a second home to me," Harry shared on Instagram in August. "Our team has helped create a meaningful program that we're so excited to share with you. On a personal note, I can't wait to introduce my wife and son to South Africa! We'll see all of you very soon."
Just not today. It's the prince's birthday, after all.