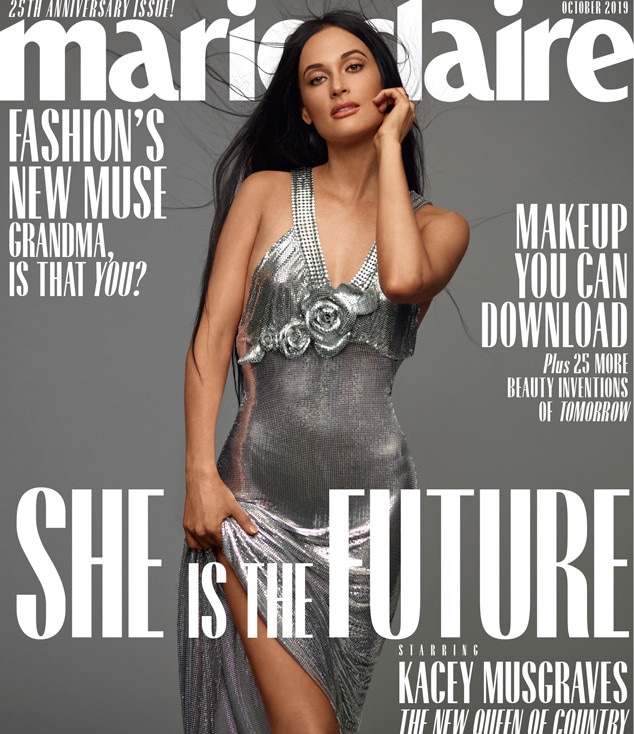 Thomas Whiteside
Kacey Musgraves isn't afraid to go "down in flames" for being true to herself.
The Grammy winner, who has reached new heights with her Golden Hour album, is speaking out about her personal and professional life. The 31-year-old singer joins Megan Rapinoe, Awkwafina and Lilly Singh as one of Marie Claire's cover stars for the magazine's October issue. In her cover story, Musgraves reflects on her career and standing up for what she believes in.
"From the get-go, I wasn't going to sign a record deal unless I could completely do it on my terms," the star tells Marie Claire. "And yeah, there've been moments when I've been asked to change lyrics or to do things I wasn't into. But I'm not going to bend in hopes that it's going to reach more people or whatever. It's just not worth it."
Looking back on Golden Hour, Musgraves shares the inspiration behind her song, "Oh What a World."
"It was based on this idea that while I was sitting on the tour bus, somewhere plants were popping out of the ground and northern lights were changing colors up in the sky," Musgraves explains. "We don't know why we're here, how we got here. And it's beautiful, because it's one thing we all have in common."
When asked about her metaphysical spirit, Musgraves is very open with the magazine about experimenting with psychedelics.
"They've brought me closer to our planet and to humanity," she shares. "I've walked away with a lot of little gifts."
Musgraves also talks to Marie Claire about self-love and finding her confidence.
"Going through my 20s and not being in the right relationship made me put up some walls," Musgraves, who is now married to singer-songwriter Ruston Kelly, explains. "You put walls up. You're not happy. Being on the other side of that, I feel more self-confident. I don't feel daunted putting myself out there. I feel a bit of softening to myself but also to the world."
Musgraves, who is a big fan of RuPaul's Drag Race, says she feels her best "when I basically look like a drag queen."
Watch:
Kacey Musgraves Is Life-Size Barbie at Her Met Gala Debut
And when it comes to the future, Musgraves shares, "There are a lot of things that could make me happy. The future is wide open."
However, as she explains, "If I go down in flames for being me, well then, hey, I f--king tried. At least I went down in flames for something that I was rather than something I wasn't."
She adds, "I have a soft place to land."
Marie Claire's October 2019 issue hits on newsstands Sept. 19.