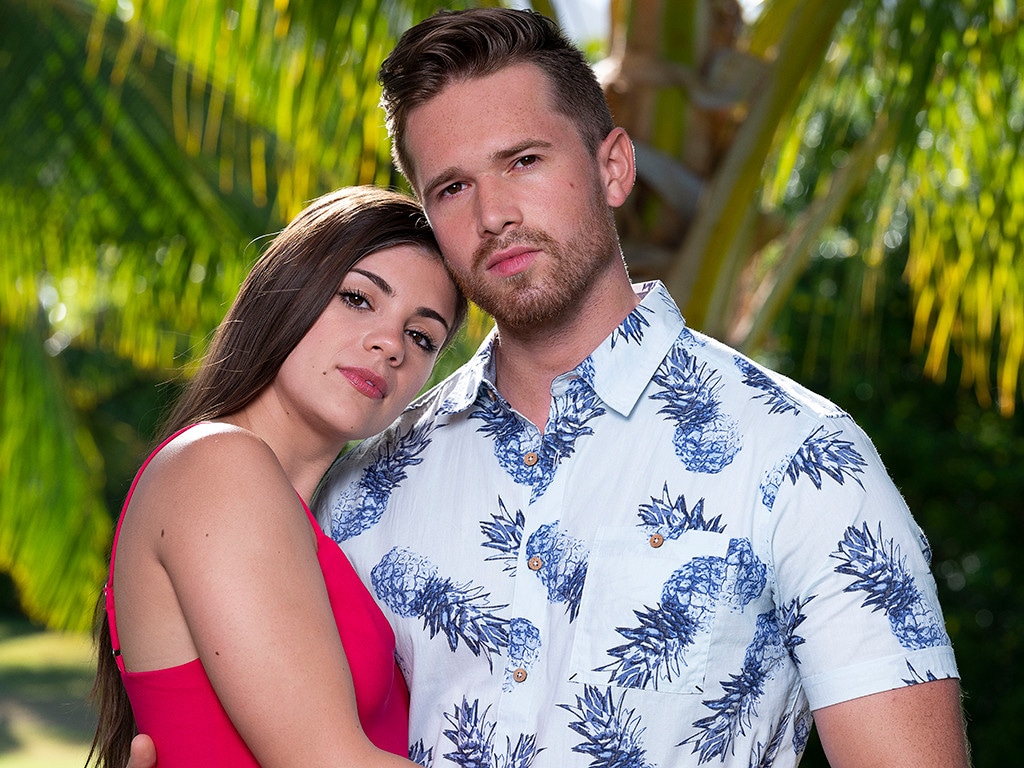 USA Network
Saying goodbye is hard, but it's even harder when you're saying goodbye ahead of the biggest test your relationship will ever face. 
Temptation Island is returning to USA for season two in just a couple of weeks, and we have your exclusive first look at two of the couples' final moments together before being separated and sent to live with other singles to see if they're truly meant to be. 
The first couple, Ashley and Casey, are already having a bad time. The couple has been struggling with his party boy past, and so when Casey admits that some of the single women are attractive and would be totally cool with it if Ashley found some of the guys attractive, she's not thrilled. She doesn't find any of the guys attractive, and she's not exactly trusting of her boyfriend. 
"Why is this a problem for you?" he asks. 
"Do you understand why I'm like that? You know!" she says. 
"But if we want to be happy together, you can't be like that," he tells her. 
"I know and that's why we're here, right? That's why you brought me here, right?" 
By the end of their chat she's hoping she can get to a place where she trusts him more, but that's not a great sign. 
The clip also features Kate and David, who have struggled with infidelity in past relationships and now have some walls to get past. 
Kate is feeling intimidated by the single women, many of whom are David's type, and thinks the single guys aren't talking to her because her boyfriend is intimidating to them. David tries to tell her it's the same for the women. 
"Half of the girls said the same thing about you. Half of the girls said that you're super attractive..." he tries to say. 
"Half of them? F--k them!" Kate says. 
She's also having trouble trusting, which is, in the end, the point of this show, and we cannot wait to see how this plays out. 
Last season, first impressions of the couples gave us very little indication of how the couples would fare. 
Kaci and Evan seemed to be on completely the same page whereas Shari and Javen couldn't stop arguing, and by the end, Evan had found someone new, and Shari and Javen were only more in love. Anything could happen on Temptation Island! 
Temptation Island returns October 10 on USA Network. 
E! and USA are both part of the NBC Universal family.