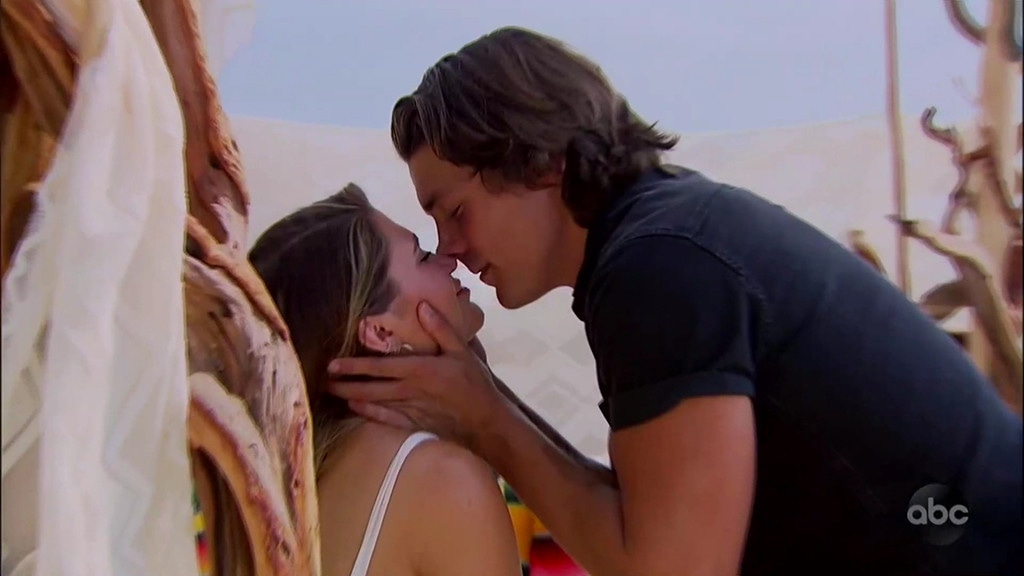 ABC
Is it weird that we sorta miss Dean Unglert's mustache? 
We actually now get to miss all of Dean, and Caelynn, as they've both left Paradise together after a loooooong talk. He promises he's changed, and he misses her, and he'll drive her from San Diego to LA in his van. 
The rest of the beach bums watched in a small amount of horror as Caelynn and Dean kissed, and Connor was left to wander away sadly. Caelynn had to tell him her heart was just pulled toward Dean, and Connor had to accept that he'd been blindsided, and he was never going to be Caelynn's choice. 
Meanwhile, Katie was watching Dean and just wondering why Chris couldn't just be more like that, like the guy who left, shaved his mustache, and returned for his love, or something. 
Meanwhile, Blake made a last ditch effort for love, and Demi and Kristian dealt with some insecurities. As we head into the second to last episode of the season, just a few couples remain, so let's take a look: 
Katie and Chris
Katie watched Dean come back to profess his love for Caelynn and wondered why her man couldn't be more like that. There are a lot of issues with that particular wonder, but Chris was able to open up a bit when they went on a date, so now she's feeling much better. 
Demi and Kristian
Turns out Kristian is quite the flirt, and while Kristian got mad at Demi a few episodes ago for flirting with JPJ (who is, after all, JPJ), Demi had some anxiety over Kristian getting flirty with other girls, admitting there was some resentment there that Kristian probably had no idea about. 
They had a long heart to heart on a date and talked things out and they'll probably be fine. 
John Paul Jones and Tayshia
JPJ threw Tayshia a prom since she never went to hers, and you could almost see the hearts in her eyes. He's fully smitten, and she's getting there too. 
Matt Donald and Bri and Sydney 
Who knew it would be old Matt Donald in one of the last love triangles of the season? 
Blake and Kristina
Blake tried to convince us all that he's deeply in love with Kristina and sees her as the mother of his children and he couldn't believe she had been right there under his nose this whole time! He even faked a little date card for the two of them, only to have his likely imaginary bubble burst by Kristina herself. They're not in love, and they probably just want each other because it's safe, and they probably should just leave Paradise. Blake claimed it was karma, but really it was more just like...reality. 
Clay and Nicole
Living their best life, still very into each other, though the theory is that Clay's not "there yet" in terms of being in love. Nicole's totally there, though. 
Dylan and Hannah G
Dylan and Hannah are still there, making out in the pool probably, deeeeeply in love. 
Connor and Revian
Revian arrived on the beach and reminded us all that she's from Colton's season, and she pretty quickly asked the newly heartbroken Connor on a date. They had a fine time, but we're still wondering why on earth new people are coming in at this stage of the game. 
Chase and Angela
They are there, and they "connected pretty well." 
Haley and Luke are also there, but for how long?? 
Bachelor in Paradise continues tomorrow night at 8 p.m. on ABC.