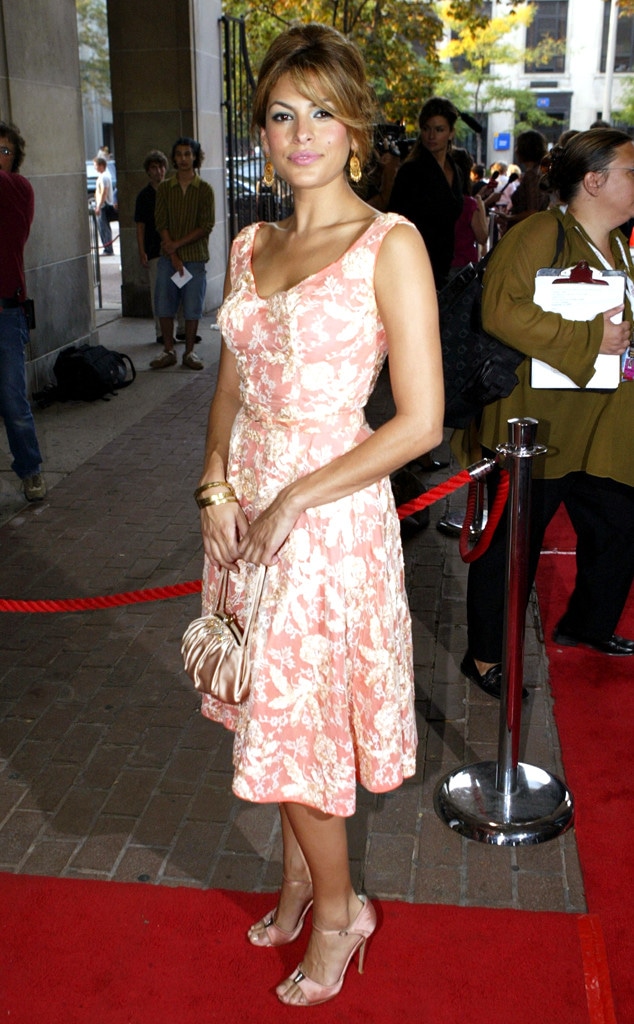 Donald Weber / Getty Images
Eva Mendes is taking a walk down memory lane.
The 45-year-old actress is no stranger to wearing the latest and greatest designs from top fashion brands. In fact, as a designer herself for New York & Co., Mendes is always en vogue. However, she recently recalled a time when she didn't have a stylist or access to the newest collections hot off the runway. With the 2019 Toronto International Film Festival in full swing, the Lost River star decided to reminisce over her first red carpet at the industry event.
"My first time at TIFF. No stylist. Dressed myself," she captioned her Instagram, alongside a photo of her vibrant coral dress that featured dazzling white embroidery. "This vintage dress cost me like $15. My own bag and jewelry."
She continued, "I wasn't doing a "red carpet pose". No I don't long for that time, I just liked the simplicity of it all."
While the Hollywood star has focused on her two daughters, which she shares with longtime love Ryan Gosling, and her fashion endeavors, it's rumored she's thinking about returning to the big screen. Late last month, US Weekly reported she's been "auditioning again."
Eva's last film was Lost River, which was directed by her beau. It premiered in 2014.
Watch:
Why Eva Mendes Feels Pressure as a Mother and Designer
Whether or not the rumors are true, as of late, the 45-year-old star has enjoyed motherhood and spending time her special man. Just this week, the notoriously private couple was seen having a fun date night in Los Angeles. The two were seen enjoying a two-hour dinner and walked out of the restaurant holding hands.
"They arrived together at the restaurant at 8 p.m. and left around 10 p.m. They were both pretty happy to be going out for dinner," an eyewitness told E! News on Thursday. "They held each other's hand pretty tight from the restaurant to their car by the valet."
During her date night, Eva dazzled in a flowy floral mini dress that she paired with brown heels and gold statement earrings.
Whether she's on or off the red carpet, one thing is clear: the Hollywood star knows how to rock a dress.