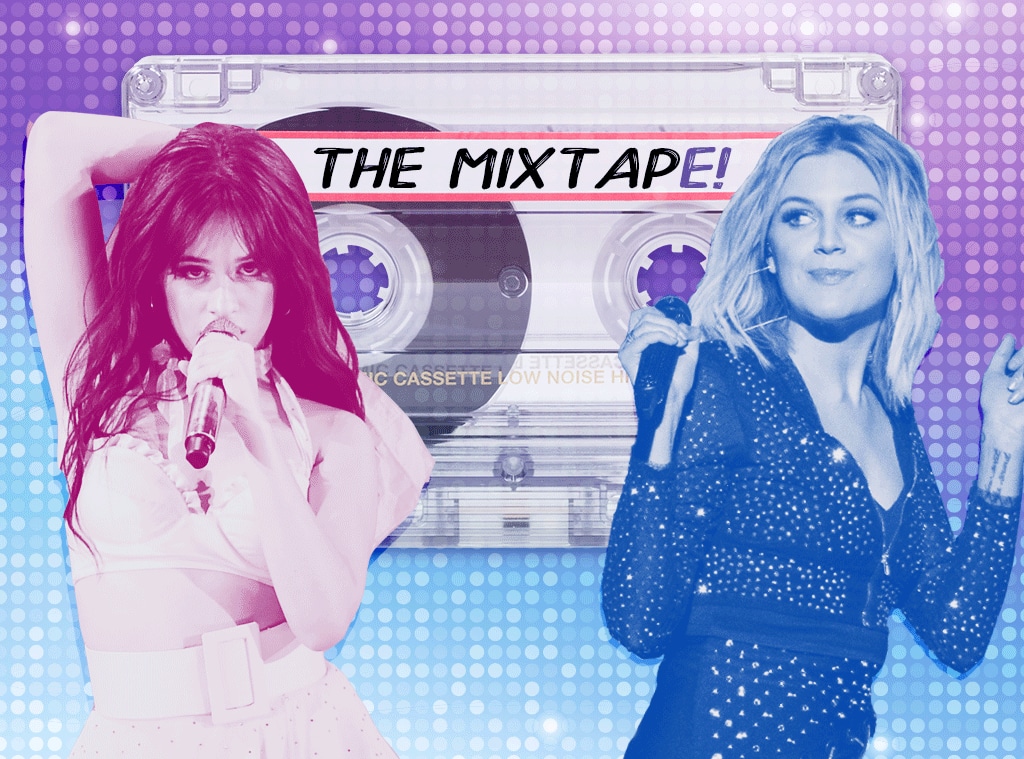 Getty Images/E! Illustration
Fridays really are the best day of the week, aren't they?
Not only do they mean we can finally look forward to a two-day respite from the grueling demands of work, school, or whatever else it is that eats up all your time during the week, but they also see the arrival of more new music than any one person would even know what to do with. New Music Fridays are a weekly holiday for music lovers, but they're a bit daunting because, honestly, who has the time to sift through the seemingly endless new albums and singles to find what's worth adding to our playlists as we head into the weekend? 
We do, as it turns out.
Welcome to The MixtapE!, our weekly gift to you. We've done the hard work and listened to practically everything the day has to offer, and what follows are our picks for the best of the best. You're welcome.
Camila Cabello — "Liar"
After ruling the airwaves this summer with "Senorita," her sultry duet with ongoing PDA partner Shawn Mendes, Camila is roaring into fall solo. At least, as far as her music is concerned. This week, she gave us a taste of her upcoming sophomore album Romance courtesy of the twin releases of "Shameless" and "Liar," and while the former was the one to get the knockout music video treatment, it's the latter that found its way to the top of the MixtapE! this week. Don't get us wrong, both songs are great, but there's something about the Latin vibe of "Liar" that quickly worked its way under our skin. And anything that samples Ace of Base's "All That She Wants" is immediately a winner in our book.
Kelsea Ballerini — "homecoming queen?"
Coming off her recent induction into the Grand Ole Opry in April, making her their youngest current member, Kelsea kicks off promo for her upcoming third studio album with this intimate track, co-written with her "Music" collaborators Nicolle Galyon and Jimmy Robbins. Over the delicate strumming of an acoustic guitar, she reminds everyone—herself included—that "not everything pretty sparkles and shines and even the homecoming queen cries." It's a gentle reminder to stop pursuing perfection in spite of yourself, sung beautifully by the one who might've needed to hear the message the most.
Post Malone feat. SZA — "Staring At The Sun"
Posty's third studio album, Hollywood's Bleeding, is finally here, along with the news that he's not only set a record for the most pre-added albums in one week on Apple Music, but that he's surpassed an astounding five billion streams on the service worldwide. And while the 17-track album has plenty of features that are generating attention (Future, Halsey, Ozzy freaking Osbourne), we're stuck on this gorgeous collab with SZA. Over a synth-pop production, the two trade verses about a doomed relationship. "Give me a chance, I will f--k up again," Posty promises. "I warned you in advance, but you just keep on staring at the sun."
Tove Lo feat. Kylie Minogue — "Really don't like u"
When Tove revealed the track list for her forthcoming fourth studio album, Sunshine Kitty, we nearly lost our minds when we saw that she'd landed the incomparable Aussie pop princess for a feature. And now that the track is here, we were right to be excited. "I know I've got no right," the two sing during the shimmery bop's chorus. "Really, I just don't like you/You look prettier than I do tonight/You make it hard to have a good time." Who hasn't been there? 
The Highwomen — "If She Ever Leaves Me"
In what must be a country music first, Brandi Carlile takes lead on this track off her newly-formed supergroup The Highwomen's debut album, delivering a "Jolene" for the lesbian community. Co-written by fellow Highwomen Amanda Shires, her husband Jason Isbell and Chris Tompkins, the track finds the openly gay Grammy winner warn off a dude who has his eyes on her lady. "If she ever leaves me/It won't be for you," she asserts in the chorus before later promising, "That's too much cologne/She likes perfume." It's a sumptuously traditional country ballad that also happens to push the genre into more inclusive territory, and it deserves to become just as beloved as Dolly Parton's classic track.
Adam Lambert — "Superpower"
We're just a few short weeks away from the release of Velvet: Side A, the American Idol runner-up's first album in four years. And after releasing a few one-off tracks that hinted at the new, '70s funk-rock sound he'd be embracing this time around, Adam has released the first official single, "Superpower." On the empowering and endlessly funky track, he makes it clear he isn't messing around. "There's something missing, and I'm pissed. And I've got something to say," he begins. "All of the witches and the demons better get out of my way." Just try not to stomp along as he sings about taking back his superpower. It won't be possible. We promise.
Gallant feat. Sabrina Claudio — "Compromise"
Summer may be on its way out, but this collab between two of R&B's most exciting voices is here to make sure that the tropical vibes last well into fall. This romantic track is so damn lush, it feels like a three minute vacation. Pardon us as we find a way to live inside it forever. 
Oh Wonder — "Hallelujah"
For their first new song since 2017's Ultralife, the London-based alt-pop duo comprised of friends-turned-lovers Anthony West and Josephine Vander Gucht return with this infectious ode to self-acceptance in the face of life's many doubters. "There's a crown covered in glitter and gold," the two croon on the track, written, recorded and produced in their home studio. "And I'm gonna wear it, whether you like it or not." You'll be singing "Hallelujah" right along with them by the end. Guarantee it.
Kindness feat. Robyn — "The Warning"
For their third full-length album, Something Like A War, Kindness (aka English producer and singer Adam Bainbridge) linked up with the likes of Jazmine Sullivan and Seinabo Sey, but it's their collaboration for alt-pop queen Robyn that's the true standout here. The cinematic, string-laden trip-hop track puts the Swedish singer's vocals front and center as she yearns for some answers from a former lover. "So will you tell me/Did you ever care?" she asks. "I need to know that/The play was fair/Please just tell me that it hurts." It'll break your heart in all the right ways. 
Francis and the Lights feat. Bon Iver and Kanye West — "Take Me to the Light"
For the second collaboration between these three artists, following 2016's "Friends," the trio gathered a true murderer's row of music talent. Not only does the track feature uncredited vocals from Chance the Rapper, but it counts Benny Blanco, Cashmere Cat and Jeff Bhasker among its writers and producers. It's an embarrassment of riches that all comes together for synth-heavy, uplifting track that wouldn't be out of place at one of Kanye's Sunday Services, where Francis has been known to appear. "We know there are stars above us, like we know we're alive," Francis sings. "And though times are changing and we can't see the other side, two points still form a line and you still take me to the light." 
Bonus Tracks:
Louis Tomlinson — "Kill My Mind": After a very tragic start to 2019, the former One Direction star is back with a new track, the second single of his forthcoming debut solo album. Co-written and co-produced by Louis himself, the track sees the singer try early 2000s indie pop-rock on for size—and to great success. It's a great fit for his voice that immediately set him apart from anything anyone else in pop music—his former bandmates, especially—is doing at the moment.
Ryan Beatty — "Dark Circles": The frequent Brockhampton collaborator is back with his first solo single since the release of his stunning debut album, Boy in Jeans, last year. And between the modulation on his voice and the way the instrumental shifts on a dime, it's unlike anything else we've heard in a while. 
Cashmere Cat — "For Your Eyes Only": Two years after releasing his gonzo debut album, the superstar writer and producer ("Senorita," "Nightmar") is almost ready to release his sophomore effort, Princess Catgirl. And if this song, the second single to be released, is any indication, we're in for one hell of a ride.
Danny Brown — "Dirty Laundry": Come for Danny's endlessly unique flow. Stay for the legendary Q-Tip's fantastic production. With the A Tribe Called Quest MC on board as executive producer, Danny's forthcoming album U Know What I'm Sayin? is going to be an event.
Melanie Martinez — "Strawberry Shortcake": K-12, the long-awaited follow-up to The Voice finalist's excellent debut album, sees the endlessly inventive vocalist advance her Cry Baby story line in an even darker direction. And this track, co-written by frequent Chainsmokers collaborator Emily Warren, is an instant standout, with its devastating exploration of rape culture. "Instead of making me feel bad for the body I got," Melanie sings, "Just teach him to keep it in his pants and tell him to stop."