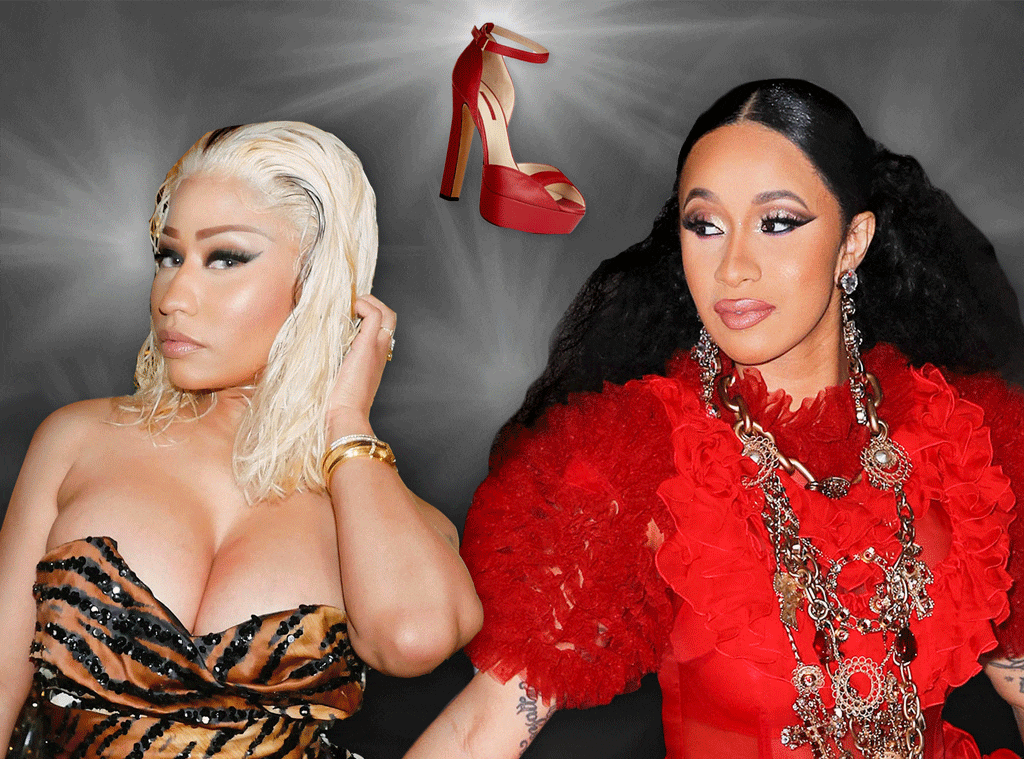 Getty Images/Shutterstock; Melissa Herwitt/E! Illustration
Missing: An Elie Saab platform sandal
Missing Since: 9/7/18
Color: Red
Height: 5+ inches
Worth: $537.50
Last Seen: Flying in the air at Harper's Bazaar Icon party at The Plaza Hotel during New York Fashion Week. 
It's been 365 days since Cardi B and Nicki Minaj got into their infamous fight during NYFW, with footage of the altercation making its way around the Internet faster than you can say "Okurrr."
Cameras caught Cardi bending down to remove and then throw her heel—a repeat of a move she made on the 2017 Love & Hip Hop reunion—during their encounter on the second floor balcony just as Christina Aguilera was beginning her performance inside the event. 
"It was so fast!" an eyewitness shared with E! News. "I heard someone screaming—everyone recognized Cardi's voice—people either got out of the way or took out their phones and started filming. Nicki was surrounded by a bunch of guards and barely even looked at her. Next thing you know, shoes were flying and Cardi was on her way out."
Cardi would end up being escorted out by security with her team in tow, exiting with just one shoe on (and a sizable lump on her forehead above her left eye). 
Both rappers have since sounded off on the headline-making battle and what caused the showdown that caused police to arrive on the fashion scene.
"For a while now she's been taking a lot of shots at me," Cardi told W magazine, explaining she felt Nicki had been making comments about her capabilities as a mother. "I spoke to her twice before, and we came to an understanding. But she kept it going."
She continued, "I love my daughter. I'm a good-ass f--king mom. So for somebody that don't have a child to like that comment? So many people want to say that party wasn't the time or the place, but I'm not going to catch another artist in the grocery store or down the block."
Nicki, meanwhile, chose to address the feud on her Queen Radio show on Apple Music's Beats 1.
"The other night, I was a part of something so mortifying and so humiliating to go through," she explained. "The way they passed by looking at this disgusting commotion, I will never forget. I was mortified."
She went on to deny making comments about Cardi as a mother, saying, "I am not a clown. That's clown s--t." She also offered $100,000 to pay $100,000 for surveillance footage of the incident. 
Cardi and Nicki's feud has continued to play out in the year following their infamous fight, but there's one party intimately involved in the incident that has remained silent: the red Elie Saab platform heel Cardi B ended up throwing across the room at Nicki, a shoe that would become so infamous that Ellen DeGeneres referenced it on her show's Halloween episode and the fight would be referred to as "Shoe-gate."
Kevin Mazur/MG18/Getty Images for The Met Museum/Vogue
The wearer and thrower of The Shoe knew how infamous it had become, taking to Instagram on Sept. 10 to subtly reference the pop culture artifact. 
The "Please Me" rapper posted video from Beyoncé and Jay-Z's On the Run II concert while the crowd sings "Bodak Yellow" before the show. The lyrics? "These expensive, these is red bottoms / These is bloody shoes."
On Sept. 16, nine days after the fight, Cardi's stylist Kollin Carter posted another 'fit shot, but cropped the photo at the Hustlers' star's ankles. (His post on Sept. 8 showed a side view of the platform, though it wasn't the first image.) 
His caption made no mention of The Shoe. And his first post about the look on the night of the altercation also didn't address The Shoe, with Carter noting the dress' designer and crediting the hair and make-up team. 
Requests for comment on the whereabouts of The Shoe made to Carter, who still works as Cardi's go-to stylist, have gone unanswered. (After the incident, he took to his Instagram Stories to defend her, writing, "For everyone asking yes I still work with Cardi lol that's my love," he wrote. "And if it's up to me I always will. We grew so fast together. She's more than a client she's family. Shade her and you get blocked. Period.")
After reaching that dead-end, the next plausible stop on our investigation was contacting the authorities, as police did arrive on the scene after the fight. 
No police reports were ultimately filed, with TMZ reporting both women chose not to file one. While that saved them a lot of time and energy, it made our endeavor harder, obviously.
Our requests for comment and inquiry about whether or not the shoe was taken into evidence did not receive a response.
Another dreaded dead end. 
Dimitrios Kambouris/Getty Images for Harper's Bazaar
Finally, we looked into the designer of the Shoe: Elie Saab.
We discovered the platform in question is from the Spring/Summer 2018 collection, which means it's likely The Shoe wasn't loaned out by the designer as it wasn't from a future collection. The pair retailed for $1,075. 
Alas, we never heard back from the designer's rep. It's almost like they are in the middle of a very busy week in fashion or something.
While we've yet to solve one of pop culture's biggest missing person cases, we're not giving up and will continue to fight for The Shoe that gave so much to so many one year ago.