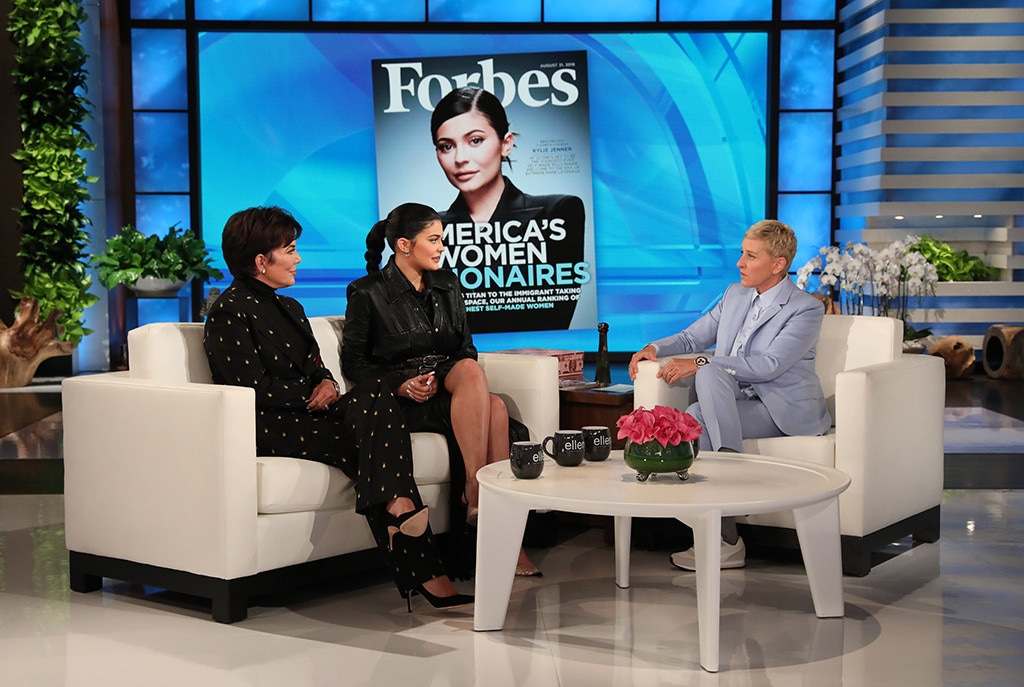 Michael Rozman/Warner Bros.
How do Kylie Jenner's siblings really feel about her billionaire status? The Keeping Up With the Kardashians star spilled the tea on The Ellen DeGeneres Show.
Ellen DeGeneres asked the Kylie Cosmetics head if her famous family members ever give her a "hard time" about her bank account.
"It's only when we, I don't know, when we're, like in a group chat talking about where we should go on a group trip, and then everyone's like, 'Kylie? Are you going to pay for it?' Or, just stuff like that," the makeup mogul replied.
However, the 22-year-old celebrity insisted they "just joke with me" and there's nothing but "sister love."
"They're really proud of me, for sure," she added.
The talk show host also asked if they really expect her to cover the bill.
"No, they don't really," Kris Jenner, who joined her daughter for the interview, said. "Just my stuff. As long as she pays for my stuff."
DeGeneres also joked that Kylie must be Kris' "favorite child."
"Well duh," the momager replied.
Back in March, Forbes named Kylie the youngest self-made billionaire ever. Of course, her sisters have plenty of successful businesses of their own. For instance, Kim Kardashian has her makeup line KKW Beauty, and Khloe Kardashian has her fashion brand Good American. In addition, Kourtney Kardashian has her lifestyle site Poosh, and Kendall Jenner is one of the highest-paid models in the biz. Their brother, Rob Kardashian, has launched businesses, too—including Arthur George and Halfway Dead. 
In addition to talking about her siblings, Kylie spoke about her daughter Stormi Webster. When DeGeneres asked if the little one took after the reality star or Travis Scott, Kylie claimed her baby girl "is the perfect mixture of both of us." 
"She's definitely like a little rager," she said. "She loves music."
In fact, Kris said Stormi started dancing in the dressing room backstage after seeing the audience do so on a monitor. She also said her granddaughter looks "like a little Kylie."
"It's really wild," she added. "It's like sometimes she looks as you and you think—I have to remind myself, 'No, that's my granddaughter, not Kylie.'" 
"You're starting to lose it, huh?" DeGeneres quipped. "That's the age that's kicking in."
The comedian then teased Kris about how she's forgotten her children's names when talking about her family. 
"Yeah, there's time when she's yelling at me, and she's like 'Khloe, Kourtney, Kim, Kylie!'" Kylie added. "Like, she can't get it together. I'm like, 'Do you even know my name?'"
Fans can see Kris and Kylie's full interview on The Ellen DeGeneres Show's season 17 premiere this Monday.