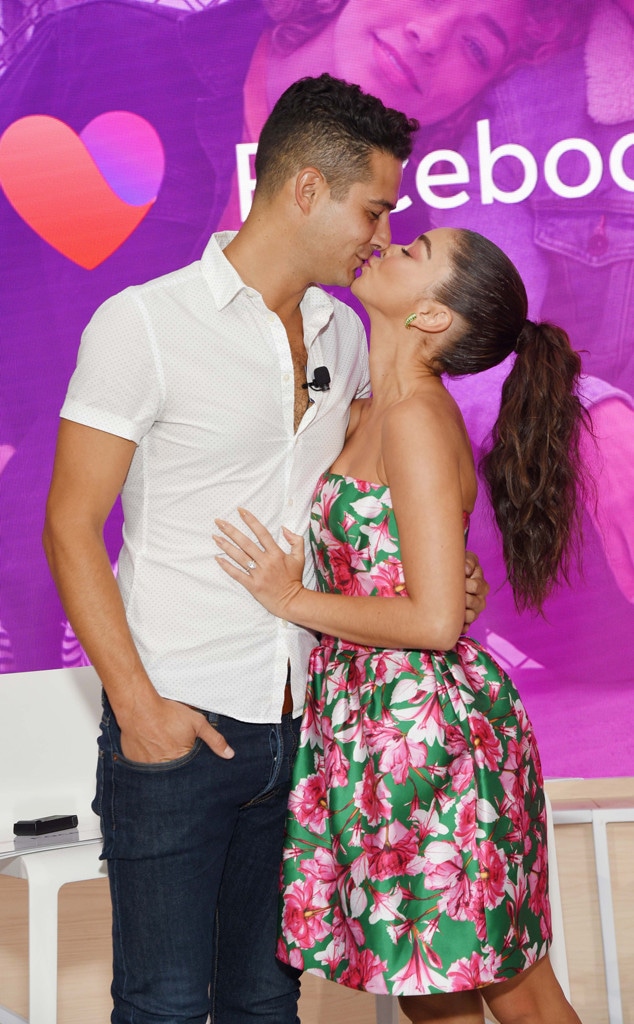 Michael Simon
Sarah Hyland and Wells Adams are opening up about engagement life.
The Modern Family actress and the Bachelor Nation star, who first sparked relationship rumors in 2017, are one step closer to marriage after Hyland accepted Adams' proposal earlier this summer. So, what's different about their relationship now that they're engaged?
"Now I have a f--king rock on my finger!" Hyland told E! News at the Facebook Dating launch event Thursday.
"And I have less money in my bank account," Adams laughed. "We have to call each other something different."
Adams went on to ask Hyland, "Do you feel a huge difference between when we were living together as boyfriend girlfriend and now?"
"Not for us, I think people's opinions of us," Hyland replied. "Like I went to BevMo! to get a friend a nice bottle for their birthday, and they were like, 'Do you have an account with us?' And I said, 'No, my fiancé does but he's out of town.' And he said, 'Oh well you can use his telephone number to use it.' And I feel like if I just said 'my boyfriend' he'd be like 'OK great cool,' but because I said 'fiancé,' it's like, oh that's never going to go away. It's like really official."
Adams then joked, "You heard it here first kids, get engaged and get discounts at BevMo!"
The newly-engaged duo also dished to E! News about the launch of Facebook Dating.
"I think it's cool, the Secret Crush thing is a really cool feature, it's like where you can manifest your hopes and desires," Adams said. "And obviously Facebook is huge and everyone's on it, so the fact that you can take the groups you're a part of on Facebook, like a running group or a shopping group, and you can find the common denominator in those things to hook you up with people is cool and I think it will make dating a whole lot easier."
"I think it will make it easier for people who work so much and don't have time to go to the bar, or a coffee shop or someone at the grocery store," Hyland added. "I think it will be a lot easier for people to actually meet people, and to meet people that you have mutual friends with that your friend never thought to set you two up. To already have people in common, it's kind of already having the icebreaker of conversations, you already have similar groups or interests."
In addition to the United States, Facebook Dating has also launched in Argentina, Bolivia, Brazil, Canada, Chile, Columbia, Ecuador, Guyana, Laos, Malaysia, Mexico, Paraguay, Peru, the Philippines, Singapore, Suriname, Thailand, Uruguay, and Vietnam. It will also be available in Europe by early 2020.