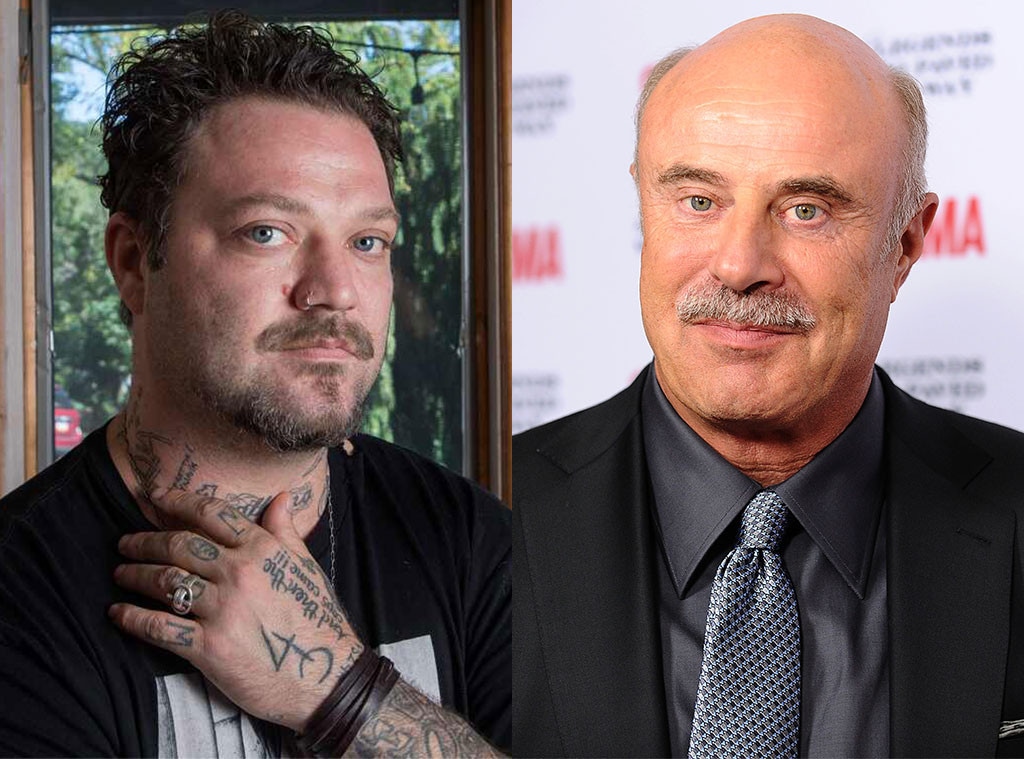 Charles Fox/The Philadelphia Inquirer via AP, Jason LaVeris/FilmMagic
Dr. Phil addressed his intervention with Bam Margera on Wednesday's episode of Jimmy Kimmel Live!.
Back in August, the Jackass star took to social media to open up about his trips to rehab and ask the talk show host for help.
"He started posting things, I guess, on Instagram or whatever," Dr. Phil recalled to Jimmy Kimmel. "He was down in Austin in a hotel room, kind of, on his own. He started saying 'I'm in trouble, and I don't trust anybody except Dr. Phil.' Like, no pressure. He says, 'I'll talk to him. I'll do anything he says.'"
Just a few days later, E! News confirmed the pro skateboarder sat down with Dr. Phil for a filmed session that is set to air Sept. 9. After the meeting, Dr. Phil put him in detox. However, he claimed Margera left without permission just a day later. During this time, the 39-year-old celebrity got a tattoo of Dr. Phil's name. 
"He's a fan, but I would have preferred he stayed where he was," Dr. Phil said.
Later that month, Margera was arrested for alleged trespassing. He was released on his own recognizance. Dr. Phil claimed Margera then went back to treatment and stayed for a "couple days" before heading "out again and back again." Near the end of the month, Margera announced he was in rehab getting treatment and that he would be unavailable until Sept. 6. He was then hospitalized for edema a few days later.
Still, Dr. Phil told Kimmel Margera is keeping his "head down and working hard."
"Now, I think he's really making a concerted, sincere effort to turn things around, which I really hope he does because he's got a lot of young people that really look up to him," he said. "But I gotta say: It's not a success-only journey. He's in rehab. Look, when you really have a problem with drugs or alcohol, it's not unusual for there to be six or seven relapses before you finally get a grip on it. So, who knows if this will be the time."
Watch the video to see the interview.