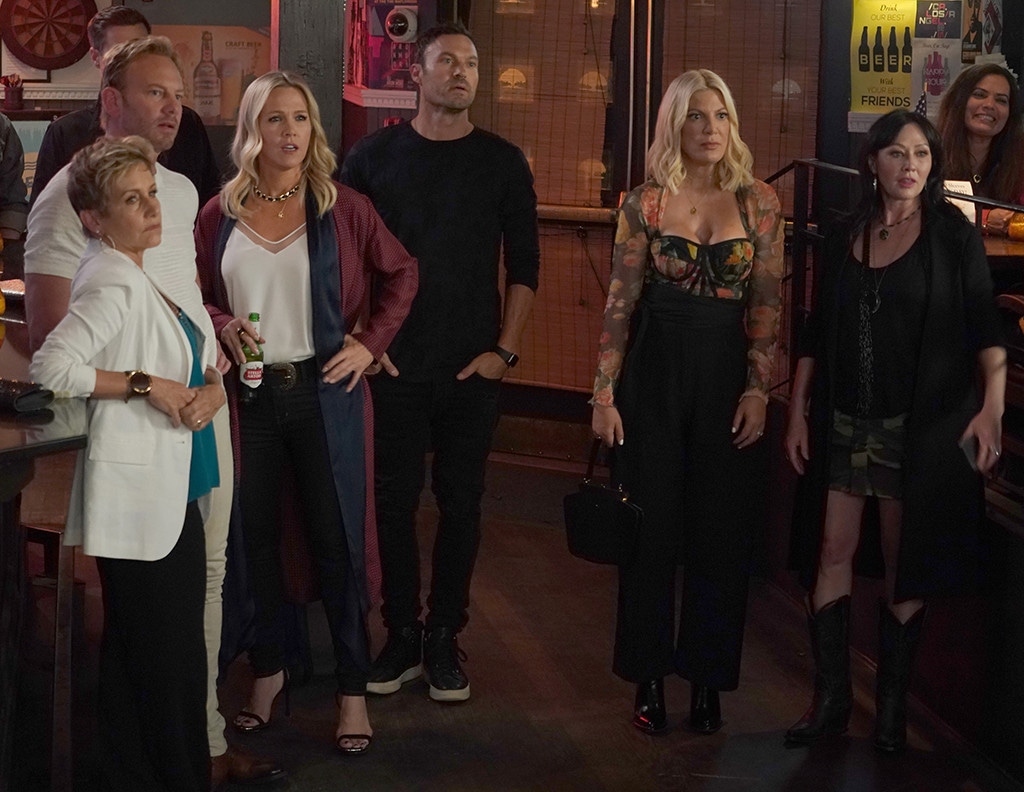 Fox
The cast of Beverly Hills, 90210 has got a stalker. 
After finding figurines of themselves in various states of being dead and then having their sets burned down alongside a threatening message, tonight's episode of BH90210 found the cast of Beverly Hills, 90210 trying to figure out who could possibly be trying to ruin the reboot they were struggling so hard to get off the ground. 
Before they got even close to figuring out what was actually going on, everyone sat around a table and simply listed all of the people who might hate them enough to set that fire, and it was by far the best scene of this show so far. There's no word on if any of these potential enemies are potentially real, but boy would we be thrilled if at least one or two of them were real. 
We also are absolutely going to need the 125 they apparently listed before the scene even started. We need them all!!
Here's the incredible list that we did get: 
Christina Aguilera, because Jennie might have accidentally given her side-eye when she played the Peach Pit after dark. 
Ivanka Trump, because she had it out for Ian when he did The Apprentice. 
Wayne Newton, very sore loser. 
Cheryl Burke, because she danced with Ian on Dancing with the Stars. 
Vanilla Ice, and he knows why. 
The prop guy from the first two seasons of 90210.  
All of Jennie's exes. 
Ben Kenobi, with no explanation from Brian. 
Jerry Seinfeld, because Shannen stalked him for a really long time, because he's hot, and she's still talking him, to be truthful. 
Cole Hauser, because he hates Jennie, but also who is he? 
Everyone on Saved by the Bell. 
Mike Meyers, with no explanation from Shannen. 
Paris Hilton, who was nice to Ian when they may or may not have had sex, which Ian could not confirm. 
Anakin Skywalker, who hates Brian Austin Green. 
Corey Feldman, who appeared on The Surreal Life with Gabrielle. 
Tori quickly thought it must have been Jamie Walters, who played Ray Pruit (with one T) in season six ("There was a season six?" wondered Shannen), and who got endless hate mail for pushing Donna down the stairs, and was known for singing the song "How Do You Talk To An Angel?" (All of this is accurate.) 
They all met up at one of Jamie's shows, and discovered that this was not accurate, but it did give Shannen the opportunity to ask Siri how many seasons there were of 90210. (We unfortunately didn't get to see her reaction when she found out there were a full 10.) 
In the end, the police arrested some super fan of the show we had never met, but an investigator was still stealing DNA from Brian Austin Green's apparent son so we're going to guess it's not the guy we don't care about and it probably is somebody else, who we'll find out about in the finale. 
In other news, the new writer asked Ian to "Netflix and chill" with her because it's three years ago, and the reboot of Beverly Hills, 90210 finally shot its first and only scene so far, which was a sex scene between Tori and Brian. What that could possibly mean for how this thing is going to end remains to be seen, but we'll find out next week! 
BH90210 airs Wednesdays at 9 p.m. on Fox.