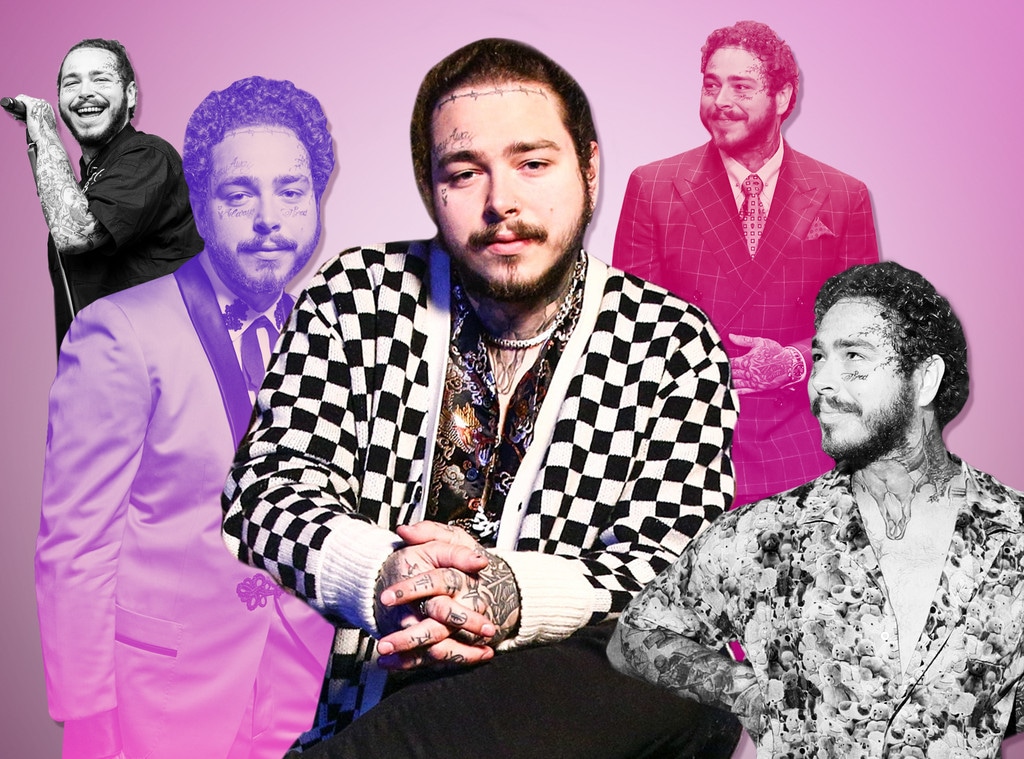 Getty Images; Shutterstock; Melissa Herwitt/E! Illustration
Clogs? Generally for comfort only. Scraggly hair? A sign that no effs have been given. Grills? Obnoxious. Face tattoos? An acquired taste, at best. 
But Post Malone has somehow made it all work. 
Since he burst onto the mainstream scene a few years ago, the debate has been raging wherever opinions are shared as to whether the "Rockstar" artist is, indeed, hot. 
"I think Posty is hot in a pug way. Kinda ugly but still cute at the same time," wrote one Reddit user in 2018. "It's all personal preference of course but I think his messy look is super hot."
Added another fan, "He's cute, chill, adorable and talented with a bubbly positive personality. I think he's hot because of all of the above, not like if you just look at him, you know? And that mullet, man! I hate it! I love it when he wears the manbun!"
Just last month The Cut concluded, "Post Malone—Yes, Post Malone—Is Totally Kind of Hot." Dazed Digital has pronounced him "the epitome of male beauty." And Rita Ora dressed up as him for Halloween.
Sounds as though the ayes have it.
"being handsome is not dope u have to be ugly to have #swag everyone knows this," Malone tweeted last summer. "But you're beautiful," replied an adoring fan.
Whether your brain automatically registers him as a paragon of hotness or not, there is a direct correlation between appeal and personality—and Malone has that in spades. Moreover, it's a scientific fact (trust us, we've done all the research) that talented musicians tend to register high on the sexiness meter, no matter how many times over you'd show their non-musical counterparts the door if they showed up with braided bangs and "Always Tired" tattooed on their face.
"It's not right. I got a face for radio anyways, so why not?" Malone quipped to Capital XTRA last year—a comment that, incidentally, made us want to rush toward him with arms open to assure him, "no, Post, don't say that, you're adorable."
Because well-timed self-deprecation, combined with a sprinkling of self-awareness and a healthy lack of concern for what most people think, gets us every time. And it's not as if the Grammy-nominated, platinum-selling star isn't perfectly cute. It's just that he's buried his face in tats and gold caps.
None of which, incidentally, has managed to mask a certain amiable sweetness, an infectious likability that has won over more than a few skeptics who were prepared to be turned off rather than charmed by Posty's overall package.
Speaking of masking, there's the odor issue: word got around that the singer-rapper smelled the way he sometimes looked—i.e. unwashed—leading to a Twitter campaign to have Queer Eye's Fab Five take him up as a project. When Malone explained to an inquiring Karamo Brown that some "just think I'm ugly and smell lol," but "Love the show tho guys, keep crushing it," Brown tweeted back, "You keep killing it too. I personally love you [sic] style and music."
Going undercover on social media in a video for GQ in 2018, Malone came across the question, "What does Post Malone smell like?"
To which he typed back, "I smell good. I smell like a normal person. A lot of ladies say that they love my musk. I won't wear any deodorant or anything, but I have a musk, and it's just kind of, like, naturally enticing to females."
"But I don't smell bad," Malone added. "That's a common misconception."
And, of course, there's the music.
"All I can say is that I'm not [a gimmicky white rapper]," he told Vice in 2015. "I'm just making music. Everybody's gonna have their own opinion."
Born Austin Richard Post in Syracuse, N.Y., before his family moved to Texas when he was 9, Postmates' best customer has proved pretty adept at making and selling records. His 2016 debut album, Stoney, made it to No. 4 on the Billboard 200 and his follow-up, Beerbongs & Bentleys, debuted at No. 1 on its way to being nominated for Album of the Year, one of four Grammy nominations Post had in 2019.
Kevin Winter/Getty Images for The Recording Academy
He also, for all you what-sort-of-music-is-that naysayers out there, performed a stripped-down version of "Stay" at the Grammys that showed the soulful singer underneath all the extra (as well as the 21 Savage shirt underneath the suit jacket, in tribute to his "Rockstar" collaborator who was in ICE custody at the time).
At the American Music Awards in April, Malone's trademark dark nail polish was accentuated all the more by the red solo cup he toted on the red carpet.
Because booze can be an accessory, too, if it's an authentic love for booze you're flaunting. (We could do without the cigarettes, though, TBH.)
Scott Dudelson/Getty Images for Coachella
"I don't like Bud Light, but I like that he likes it," a Cut staffer noted in the group discussion that went into the aforementioned "Post is kind of hot" article. "Like, there is something so beautiful in his inability to like anything highbrow. I feel like I'd meet him in a mall food court and we'd go hang out at Hot Topic before prom or something."
Hence the limited-edition Bud Light-branded merch he launched in August—all sold out, which is why formerly $75 hoodies are now going for $300 online.
"He loves beer pong, everyone knows that. He plays it all the time, he's really good," his stylist, Catherine Hahn, told E! News in April, commenting particularly on a shirt sporting a print of beer cups with pingpong balls floating on top that he wore during a Super Bowl weekend performance. "I get inspiration from what he's doing like the Super Bowl party. There's beer, so that becomes the inspiration. He's the inspiration for everything. It's all stuff that he likes."
As for the gem-encrusted, bubble-gum pink jacket and pants he wore on the Grammys red carpet: "The fact that he wears these things and he looks amazing in them and he's so confident," Hahn explained, "not many guys would be like, 'Sure I'll wear a pink leather suit covered in diamonds.' He does, he looks amazing and no one else is wearing a pink suit covered in diamonds."
Malone's everyday, lounging-around style may be almost slovenly—he's hardly alone in that respect—and white socks paired with white Crocs is like wearing mayonnaise for shoes. But his seal of approval and stamp of originality were also enough to have a line of signature Crocs sell out instantly last year and leave Madonna wanting more.
"I wear Crocs everywhere from the bar to the stage and I felt it was the perfect collaboration to get together with Crocs and give the fans what they've been asking for," Malone stated when the collection launched.
He quipped to Rolling Stone in late 2017 about the little Postys he had already seen running around trick-or-treating, "On Halloween, they came dressed up like me, which is easy: Just look homeless." At the same time, he cheerfully called a $1,700 pair of Louboutin loafers in his massive shoe collection "super-ignorant."
So basically he's up for wearing anything, so long as he likes it. And he has balanced out his embrace of the fuglier side of fashion with well-tailored and often personalized suits, some with a Nudie-reminiscent flair, and standout (closed-heel) footwear. He's having fun, so it's hard not to appreciate that, or to dismiss the hours that go in to creating a bejeweled boot.
Today his angst-and-romance-tinged third album, Hollywood's Bleeding, drops, a few days after the new video for "Circles" featured Post donning armor while searching for his Rapunzel-haired lost love in a medieval setting. (Following "Goodbyes," it's also his second straight video in which he comes back from the dead.)
Malone in "Circles" has almost an Ed Sheeran wistfulness about him, with a key difference.
"Tattooing your face has become a prerequisite for alternative male beauty," Dazed Digital wrote regarding the trend taken up by Malone, "it's what separates the same Hot Topic clothing from the sugary emo singers of yore and updates it for a hip-hop loving, streetwear-copping alternative audience."
Malone actually didn't have any tattoos (he guessed correctly that it would hurt) until he was inspired by his pal Justin Bieber, figuring if the "Sorry" singer was tough enough to get inked all over his body, then he could handle it. He now has around three dozen.
His first ever was a Playboy Bunny on his left forearm—and it was a little mottled from the get-go because Bieber ran into it during a game of basketball when the ink was fresh. "Justin did apologize, but he's gonna have to buy me a new one," Malone told GQ in 2016. At the time his right hand sported a bear mid-roar, Johnny Cash was pictured mid-brood on his arm, and portraits of musical heroes Dimebag Darrell, John Lennon, Kurt Cobain and Elvis Presley graced his fingers ("very rock star life," he described hand tats)—but his face and neck were bare.
His most painful tattoo so far, he said, was a teeny-tiny Cartier love bangle logo on his middle finger, right below the nail bed. 
But then he got the idea in him to irritate his mother, and what better way to do that than to etch her baby's face with permanent ink?
The Claymore sword (William Wallace's weapon of choice) he now sports down the right side of his face was inspired by his love for medieval props—so his "Circles" video was an artistic dream come true. He also has a sword collection (open sword carry is legal in Texas, though not in bars or at sporting events), and that suit of armor may have been his own—he said in an interview that he happened to have one, and it only cost $1,200.
"I put it on—and I look f--king cool," he assured Capital XTRA's Tim Westwood at Wireless Festival 2018.
Meanwhile, in addition to spelling out "always tired" under his eyes, the ink above his right eyebrow warns "stay away."
Again, he wanted to piss Mom off, but "I love you so much, Mama, you're the best, I'm sorry," he told TMZ when that one was fresh. "Nah, I figured, how ignorant can I be, just f--kin' tattoo my face," he said with a smile. "You know what I mean? You only live once, man."
Having moved to Salt Lake City, he also joked to Westwood, "I like to piss off the Mormons and ride around and make all the old people mad, so, you know." He shrugged. "It's natural. Gotta make the neighbors mad."
Surely he kids. More like, any adverse opinions his neighbors may have about his lifestyle don't concern him at all.
"There's a lot of people that are super dope and are just scared to believe in themselves, and I think it's important to just be yourself and express yourself no matter what nobody says," Malone earnestly told Westwood, talking about the message of self-acceptance he had just conveyed to his audience at Wireless Fest, "because, you know, I was scared too, but you just got to keep on f--king rocking and rolling and be yourself, and you never know who's listening."
And there's no point in just following the crowd.
"You've got to make the trends yourself, you know, and figure them out," Malone said. "You never know how dope you are until you just express yourself and then someone's like, 'yo, that's f--kin' dope, that's new, that's unique, I never heard or seen that before."
A rebel who seizes the day, doesn't kowtow to the masses and loves his mom? And he's a rock star?
So long as he keeps his musk in check, that all sounds pretty hot.