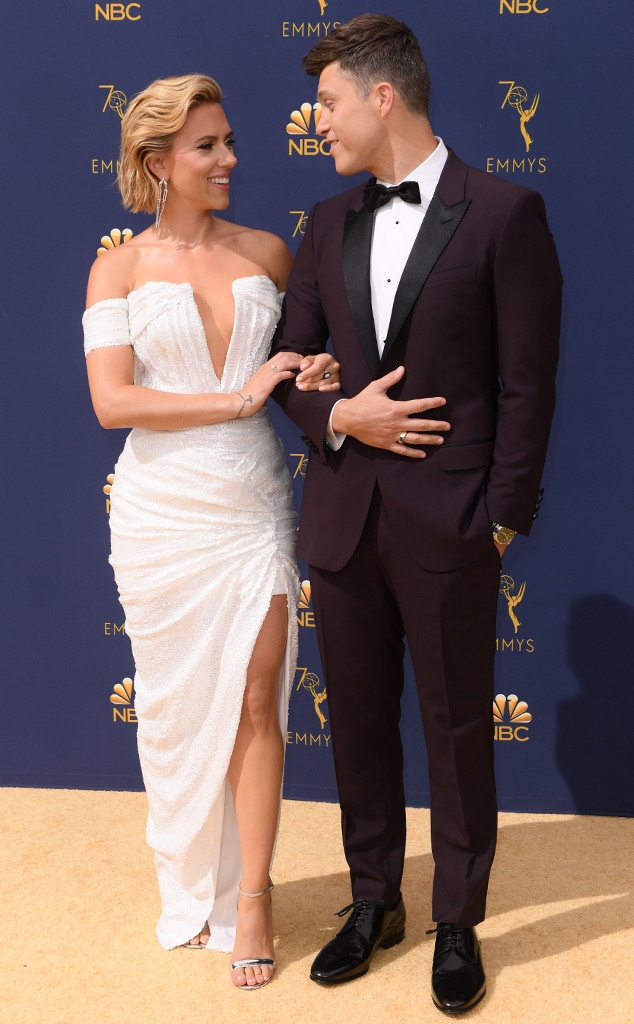 David Fisher/REX/Shutterstock
It's been only three months since news of Scarlett Johansson and Colin Jost's engagement broke; however, the 34-year-old actress and the 37-year-old Saturday Night Live star go way back.
The Avengers star recalled her first memory of her fiancé in an interview with The Hollywood Reporter published Wednesday.
It all started back in November 2010 when Johansson hosted SNL for the third time and appeared in a sketch that poked fun at the shows 16 and Pregnant and My Super Sweet 16. Jost had pitched the skit and impressed her with his confidence.
"It was some dumb parody that he had written, and he was in there partly directing this segment we had to do," she said. "That's my first memory of him. He seemed very confident at the time. I don't know if he felt that way, but in that environment, if you're not confident as a writer, your stuff just never gets produced."
Johansson was married to Ryan Reynolds at the time; however, they would announce their separation in December of that year. She then welcomed a child named Rose with Romain Dauriac in 2014 and the two tied the knot that same year. However, they broke up in 2017 and Johansson and Jost sparked romance rumors later that year. By the end of that year, the two had made their red carpet debut as a couple. They got engaged in 2019 and the rest, as they say, is history.
Zoe McConnell for <i>The Hollywood Reporter</i>
Despite all of the headlines, Johansson claimed the two are still able to protect their privacy and enjoy a life in New York with her daughter mostly undisturbed.
"I insist upon it," she said. "You have to carve out that life for yourself. I don't engage in social media. I'm a very private person. If you ever see a paparazzi photograph of me, know that I was definitely being harassed and having a horrible day, and my daughter was being harassed." 
Although, her daughter may still have a few questions about her mother's career.
"She knows that I'm a superhero, or that I play a superhero, or that that's one of my jobs," she said, noting that her 5-year-old child wants to dress up as Black Widow for Halloween. "I don't know if she thinks it's real or not, I'm not sure. She gets excited when she sees me on the Cheerios box." 
In addition to talking about her personal life, Johansson discussed her thoughts on Woody Allen.
Allen's daughter, Dylan Farrow, has accused him of sexual abuse. He has denied these allegations and has never been charged.
Allen also directed Johansson in a number of films, including Match Point, Scoop and Vicky Cristina Barcelona. When asked how she feels about Allen, Johansson took a pause.
"I love Woody," she then said. "I believe him, and I would work with him anytime."
Furthermore, the actress said she sees "Woody whenever I can" and "have had a lot of conversations with him about it." 
"I have been very direct with him, and he's very direct with me. He maintains his innocence, and I believe him," she continued. 
The interviewer then asked Johansson if her stance feels fraught to express today.
"It's hard because it's a time where people are very fired up, and understandably," she replied. "Things needed to be stirred up, and so people have a lot of passion and a lot of strong feelings and are angry, and rightfully so. It's an intense time."
In addition to talking about Allen, Johansson talked about the Time's Up movement, which she has supported since its early days.
"It was almost like you found something you didn't even realize you needed," she told the publication in regards to her conversations with colleagues about the movement. "It was when I first understood what the word 'triggering' actually meant. Now it's part of the zeitgeist, but it was like, 'Oh. Oh, the thing I'm feeling. That's what triggering means.' I didn't know. Suddenly, you didn't have to take it anymore."