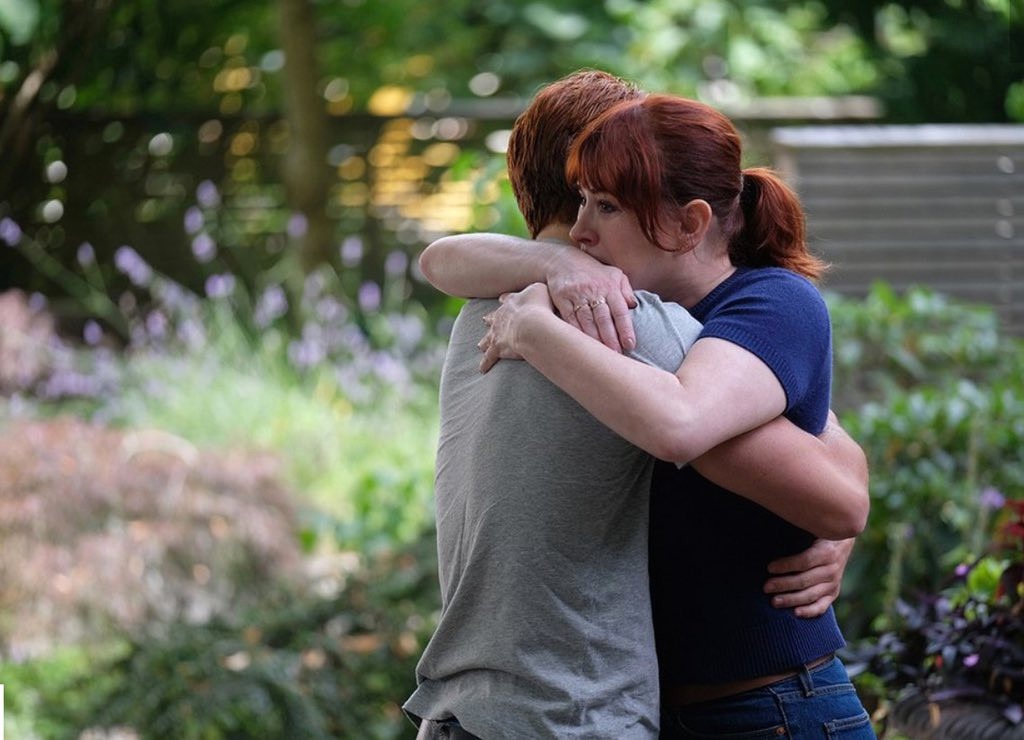 The CW
We're still over a month away from the season four premiere of Riverdale, and we're already in tears over a photo. 
Showrunner Roberto Aguirre-Sacasa tweeted the photo above of Archie (KJ Apa) hugging his mother Mary (Molly Ringwald), who appears to be in tears, along with the caption "No words." 
Aguirre-Sacasa has confirmed that the season four premiere of the CW drama will serve as a tribute to the late Luke Perry, who died after a stroke in March, and will address the actor's death onscreen with help from Perry's friend and Beverly Hills, 90210 costar Shannen Doherty. We can only assume that means the characters will also be mourning the loss of Fred, and we're in for a devastating season of Riverdale. 
The EP has described the episode as "really, really emotional." 
"I think it's a real tribute to Luke. I think it's a real tribute to Fred. I think it's very cathartic to watch it and I think everyone really came together, specifically to tell this kind of story, the honor Luke and honor Fred…It's a really simple—it's one of our…just beautiful," Aguirre-Sacasa said at the 2019 Television Critics Association summer press tour while promoting spinoff Katy Keene.
He also said that Doherty "plays a really important part and she plays it beautifully." 
Doherty herself said the experience of filming the episode was both hard and cathartic. 
"It was extremely hard in the sense of the emotions, but I feel really proud and honored, and extremely humbled, that they asked me and that I got to be a part of it," she said while promoting BH90210 at the TV Critics Association summer press tour. "I spoke to certain family members and they were behind it, Luke's manager Steve was very supportive, so I sort of went into it knowing that I was being supported by everybody that really mattered to Luke and knowing it was a show that he had been trying to get me on since day one. So, it sort of was like this really beautiful moment and that cast loves him—loves, loves, loves him. It was cathartic in a lot of ways and very, very hard and emotional."
While Perry died with three episodes left to film in season three, Aguirre-Sacasa and the writers made the decision to wait to address the loss in season four in order to give them time to decide how to do it, and to give the storyline time to resonate. 
"When Luke passed, it was such a shock, and it was devastating and we kind of have to deal with the emotion of that, and then you have to figure out everything that comes next," Aguirre-Sacasa told us. "And we'd already pretty much plotted out the rest of the season. We'd written a bunch of the rest of the season and it felt like rather than try to squeeze something—and for me, something that's so monumental and so defining...and we didn't know how we wanted to deal with it. You know, you're just reacting. So we thought rather than do it quickly or do it wrong, let's take our time, let's figure it out, and let's deal with it at the beginning of season four." 
The episode will air when Riverdale returns October 9 at 8 p.m. on The CW.