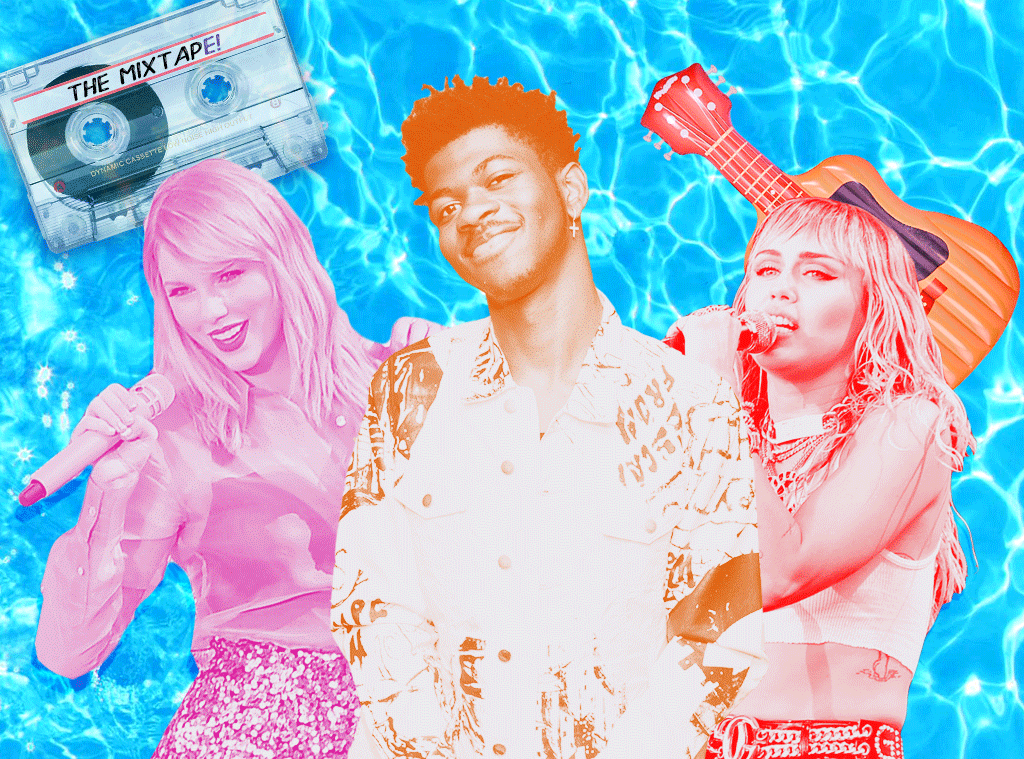 Getty Images; Melissa Herwitt/E! Illustration
We'll start with the bad news first.
Despite the still swelling temperatures across the country, Labor Day is here and the summer is, for all intents and purposes, officially over. But the good news is that the music the season brought into our lives—the bangers as big as the temps and the slow jams as steamy as the humidity alike—will live on forever.
And with the season coming to a close, it means it's time to talk about those songs. While the official song of summer may be a foregone conclusion—head on over here if you don't know what we're talking about—there's so much more to celebrate. From the heavyhitters that ruled the airwaves and playlist all summer long, like Shawn Mendes and Camila Cabello's "Senorita" and Taylor Swift's "You Need to Calm Down" to latecomer challengers like Normani's "Motivation" and Megan Thee Stallion's "Hot Girl Summer," this special edition of The MixtapE! is dedicated to them all.
The only rules to get included on our list? The song had to have been released between Memorial Day (May 27) and Labor Day (September 2). Oh, and it had to be great. But that goes without saying.
Lil Nas X feat. Billy Ray Cyrus, Young Thug & Mason Ramsey — "Old Town Road (Remix)"
Lil Nas X's inescapable breakthrough song came into the summer prepared to dominate it, and that's just what it did, sitting at No. 1 on the Billboard Hot 100 for almost the entire season. But before you cry foul about the song, whose first remix was released in April, breaking our rules, allow us to explain. The version of "Old Town Road" we haven't been able to turn off since it dropped in July was this one, featuring Young Thug and the Walmart yodeling kid, who somehow had the sickest line of summer when, in his verse, he declared, "If you ain't got no giddy up, then giddy out my way." Of the three songs in the Hot 100 top 10 to receive new remixes this summer, alongside Billie Eilish's "Bad Guy" (which added Justin Bieber into the mix before it unseated Lil Nas X at No. 1) and Lizzo's "Truth Hurts" (which just got an official remix with rapper DaBaby), this was the only one that resulted in something better than the original. (Sorry, Billie and Lizzo, but neither of your songs needed the men you put on them.)
Taylor Swift — "You Need to Calm Down"
A kiss-off to haters of all kinds over a slick beat. A music video event packed to the gills with celebrity cameos. A powerful call to action from one of the world's biggest pop stars. Taylor Swift's second single off her killer new album Lover checked off a lot of boxes. We haven't been able to get it out of our heads since our first listen. 
The Jonas Brothers — "Only Human"
We never thought we'd ever type the words "JoBros go reggae for one of the year's best songs" but here we are. 2019 is truly wild, y'all. And this song, the third single from the newly-reunited brothers Jonas, off their fantastic album Happiness Begins, is the sort of thing that dares you to sit still while you listen. But resistance is futile. After all, we're only human.
Miley Cyrus — "Mother's Daughter"
Miley kicked off the season with the release of her EP SHE IS COMING and ended it by dropping "Slide Away" out of nowhere, and while the latter has generated more headlines, arriving days after the revelation she'd split from husband Liam Hemsworth and somehow already referencing it, it's this track off the former that's our fave. Many a night this summer have been spent stomping around to this song, pretending we're anywhere near as powerful as its singer as she warns, "Don't f--k with my freedom." Swish, swish, motherf--ker.
Shawn Mendes and Camila Cabello — "Senorita"
What was more omnipresent this summer: Shawn and Camila's uncontrollable PDA or this sultry little duet? Trick question. They both were. Now, good luck getting this earworm out of your head anytime before 2020.
Beyonce, Jay-Z & Childish Gambino feat. Oumou Sangare — "MOOD 4 EVA"
When Queen Bey named her The Lion King companion album The Gift, she had to be referring to this standout track that finds her, the Simba to her Nala (Childish), and the Clyde to her Bonnie (Jay) all bringing their A-game. Really, though, it's all about the moment when she declares, "Why would you try me? Why would you bother? I am Beyonce Giselle Knowles-Carter." Mood forever, indeed.
Normani — "Motivation"
When Normani dropped this track, it left us breathless. (And the accompanying video, with its otherworldly choreography? Actually deceased.) And weeks later, nothing has changed. We're still wheezing over "Motivation." In every young pop star's career, you hope for that song that announces to the world a star has arrived. For Normani, this is that song. Fifth Harmony who?
Rosalia — "Aute Cuture"
If this track, a tongue-in-cheek ode to high society that practically demands you sing along, is any indication of what we can expect from the Spanish superstar-in-the-making's forthcoming third album, the LP can't come soon enough. Until it does, we'll keep this one on repeat and imagine ourselves a part of her Mystic Beauty Gang.
Megan Thee Stallion feat. Nicki Minaj & Ty Dolla $ign — "Hot Girl Summer"
A meme before it was a song, Meg's track had a lot of live up to. Luckily, her team-up with Nicki and Ty did not disappoint. And even though the season is coming to an end, the "hot girl summer" state of mind isn't going anywhere. Now where's the video?!
Katy Perry — "Never Really Over"
Breaking up has never sounded so euphoric. We've had the tongue-tying chorus from this track stuck in our heads ever since Katy released it at the end of May. We suspect it'll be there for months to come, and, frankly, we don't really mind. 
Chance the Rapper feat. Shawn Mendes — "Ballin Flossin"
The funky house beat with its throbbing bassline. Shawn's silky vocals. Chance's laid-back flow. There isn't a single misstep in this song off the rapper's debut album, The Big Day. Try not to get lost in this one the second it comes on. We dare you.
Sam Smith — "How Do You Sleep?"
This moody little dance track is exactly the sort of song that Sam ought to have been making all along. His peerless vocals are right at home on Ilya's twinkly production. And when that beat drops? It's damn near irrepressible. More of this, please and thank you.
Bonus Tracks:
Lauv feat. Anne-Marie — "f**k, i'm lonely": Lauv is quickly becoming the king of sad bangers. Here, trading verses with Anne-Marie about missing an ex, he's at his most infectious.
Kygo & Whitney Houston — "Higher Love": A new Whitney Houston vocal in 2019. That alone is worth the price of admission. But the way Kygo turns her forgotten cover of this classic Steve Winwood track into something so urgently modern is, well, a higher love indeed.
King Princess — "Prophet": Like Chris Isaak at his most sultry--think "Wicked Game" or "Baby Did a Bad Bad Thing"--if only he were a queer woman making music in 2019. King Princess may not be the future we deserve, but she is the future we need.
Tove Lo — "Glad He's Gone": On the lead single from her forthcoming album, Sunshine Kitty, Tove is the friend we all need when we're going through a break-up, reminding us we're better off without them while giving us something to dance to. What a pal.
MUNA — "Number One Fan": When you realize that lead singer Katie Gavin is singing to herself in the chorus this infectious electro-pop track, it all just clicks into place.