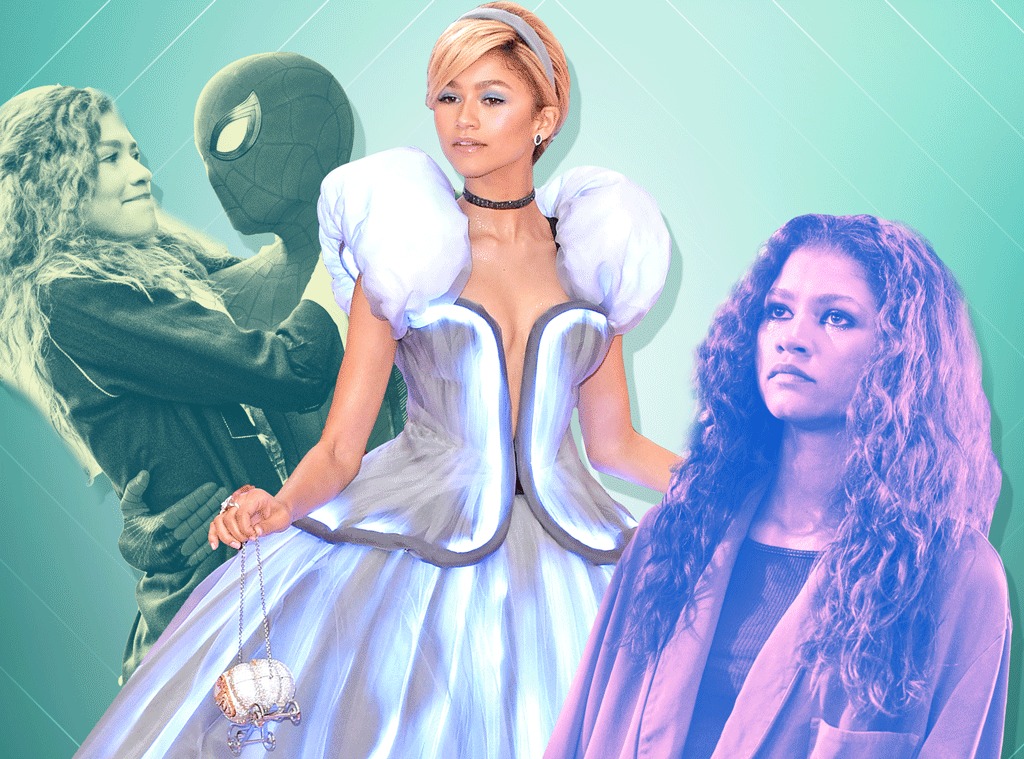 Sony Pictures; HBO; Getty Images/E! Illustration
It was only a few years ago that Zendaya found herself unsure of what would be next for her.
Upon completing filming on the back-to-back productions that would serve as her feature film debuts—Spider-Man: Homecoming and The Greatest Showman—the actress had no choice but to return to the place that made her a household name—The Disney Channel—and contemplate her next move. There was still work to be done on K.C. Undercover, her second show on the network that would eventually run for three seasons from 2015-18, but something had changed inside her.
"After shooting The Greatest Showman and Spider-Man, I went back to my Disney show, which is kind of like going to college and then having to go back and do the same grade over and over again," the actress, who earned her first producer credit on K.C. Undercover, told The New York Times in June. "Not that I didn't appreciate having a job. But it's like you turn a switch on and do it, and then you get turned off and go home. I wanted more."
As we saw this summer, she certainly got what she wished for.
From a fairy-tale appearance on the red carpet at the 2019 Met Gala to the lead role in HBO's buzzy new teen drama Euphoria, the record-breaking box office of Spider-Man: Far From Home (which saw her role in the franchise beefed up considerably) to nominations for The Female Movie Star of 2019 and The Drama TV Star of 2019 for both at this year's People's Choice Awards (held on Sunday, Nov. 10 only on E!), this year has given Z a lot to celebrate.
When K.C. Undercover wrapped production on its third and final season, Zendaya, who'd already made parlays into the world of fashion and music, as well as written a memoir, all before she'd turned 20, found herself in the same tough spot stars like Miley Cyrus and Selena Gomez had once been in, navigating a career post-Disney. "Having a Disney past sometimes makes it difficult for people to take you seriously," she explained to friend and Grown-ish star Yara Shahidi in a 2017 interview for Glamour, "so I have to pick the right projects, make sure I do the right things, take my time."
And then, along came the script for Euphoria. 
Created by Assassination Nation auteur Sam Levinson (and executive produced by Drake), the series, based on an Israeli miniseries of the same name, is an edgy slice of modern-day high school life, complete with sex, drugs, and plenty of trauma. The script immediately grabbed Zendaya's attention. 
"I fell in love with who Rue was," Zendaya told Paper in June, referencing her character, a recovering and relapsing 17-year-old addict. "It felt special because I don't like to read scripts, and for me to read through it faster than anything I've ever read before, obviously I connected with it somehow."
While Levinson had no doubt she could handle the gritty role, based, in part, on his own life experiences, despite the fact that she'd never done anything like it—"Sam Levinson told me, 'You were on my vision board' and I thought, 'You're joking,'" she told Paper. "There's no way he saw anything I did in the past and thought, 'Hmm, that girl could potentially play me'"—when it came time to film the show's first season, Zendaya found herself feeling all sorts of emotions.
"I finally felt like I was doing something that I could push myself [with]," she told the magazine. "But always you're still going to have that doubt, and [I'm] still in my head, like, Wait, can I do it?"
As she told The New York Times, "I was really nervous because I wanted to do well. It's like going from nothing to everything — there were no steps in between. That's why people think it's such a stretch for me to play this character. There's a lot of people who probably think I can't do it because they don't truly understand my personality. And I get it: I'm a Disney kid. There's a lot to prove."
She needn't have worried. By the time the show debuted in June, critics had begun praising her "powerfully understated performance" and the Gen Z audience was immediately hooked. A second season was ordered within a month.
And while a new hit TV show, one that effectively completes the transition from child star to simply star, full stop, would be more than enough for most performers, it's but one facet of the massive year Zendaya's had.
Dimitrios Kambouris/Getty Images for The Met Museum/Vogue
In March, there was her TommyxZendaya fashion show in Paris, introducing her capsule collection designed as a part of her role as Tommy Hilfiger's new global women's brand ambassador. The show featured an all-black cast of models ranging in ages from 18 to 70, including Beverly Johnson, the first black woman to grace the cover of Vogue, Veronica Webb, the first woman of color with a major cosmetics campaign, and the iconic Grace Jones, whose appearance in the grand finale sent the audience in the City of Lights into a fit of applause. 
"We wanted a crescendo," Zendaya's longtime stylist Law Roach told Vogue of the moment in June. "And I said, 'What about Grace?' And Z just looked at me for a second, and then she was like—'I would die.'"
Luckily, she did not. Instead, she and Roach went on to create a crescendo moment of their own when they hit the pink carpet at the 2019 Met Gala. Dressed as Cinderella in a Hilfiger gown, Zendaya paid homage to her Disney roots, but the real magic happened when Roach, serving as her fairy godmother, wand and all, gave a flick of the wrist and the dress lit up, going from a muted grey to the iconic blue we all know and love.
"Next year we're going to have to [either] chill out or come down from a helicopter like Diana Ross at the Superbowl," Roach told Vogue following the big moment. "When this goes off like it's supposed to, what else can you do!"
By August, Spider-Man: Far From Home had crossed the billion-dollar mark at the box office, becoming the first Spider-Man film to ever rake in that much dough. (The celebration was short-lived, however, when it was also revealed that Disney and Sony's unique partnership that had allowed for Tom Holland's Peter Parker to become a fully-fledged part of the Marvel Cinematic Universe had come to an end, leaving the webslinger's future—not to mention the future of love interest MJ, played by Z—temporarily up in the air. A reconciliation was made weeks later.) And, just in time to celebrate her birthday, Zendaya took a trip overseas to Greece, where sightings with Euphoria co-star Jacob Eloridi have started rumors that perhaps the two are more than co-stars, effectively ending the same rumors that used to follow her and Holland around.
Sony Pictures Entertainment
While the photos of the two visiting the Acropolis of Athens don't hint at any sort of PDA, and friends like Roach and Darnell Appling were also on the trip, an eyewitness told Us Weekly, "They looked like they were getting a little cozy. At one point, they were walking with each other and being a little flirty."
And while August also saw Zendaya briefly return to the music scene for the first time since her debut album was released in 2013, teaming with Euphoria's composer Labrinth for a reworked version of his track "All for Us" in honor of the show's season finale, don't expect any more new music from the actress any time soon.
Though she told Paper she one day hopes to write songs for others, "I think the [music] industry takes a little bit of passion away from you," she said. "It sucks you dry a little bit. What I thought I wanted, it's not what I want anymore, [especially] when I think about what I had to deal with in the music industry...If anyone asks my number one advice, for [the entertainment] industry in general but mostly the music industry, it's look over those contracts, every single word, and don't sign anything that isn't worth it to you. You are worth more than they will say that you are."
As for what is next for Z, aside from season two of Euphoria and a role in Denis Villeneuve's just-wrapped adaptation of Dune, she's seeking inspiration from fellow legends-in-the-making. "I can tell you, one celebrity whose career I think is interesting is Donald Glover," she told Vogue. "He's given himself permission to do...whatever. And whatever he does—he goes deep, you know?"
And as she prepares to take those next steps, she's doing so with several questions in mind. As she told Paper, she asks herself, "What kind of stories do I want to tell? What kind of opportunities can I give? How can I make the change, how can I add more voices? Am I going to want to direct, am I going to want to write it?"
"I'm in the phase of learning and watching and trying to absorb as much as I can," she added.
As she mulls over her next move, there's little fear that it'll be a misstep. But even if it is, it certainly won't be a half-hearted one. As Roach told Vogue, "Anything Zendaya does, she does it, you know?"
Oh, we know. And that's what makes watching her ascension so exciting. Euphoric, even.
(Originally published on September 1, 2019 at 9 a.m. PT.)