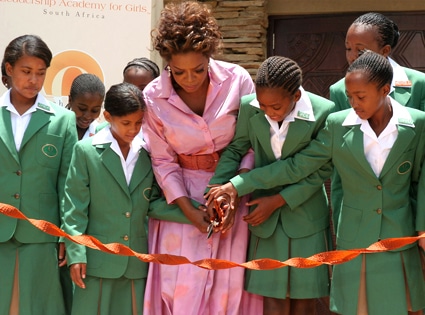 AP Photo/Denis Farrell
Is it time for Oprah Winfrey to book another flight to South Africa?
For the second time in two years, the talk-show titan's Leadership Academy for Girls is in crisis after seven students were suspended for "inappropriate behaviors" toward fellow classmates that purportedly included sexual misconduct.
Four pupils were expelled and three others were suspended over the incident, according to reports, after allegedly having intimate physical contact with fellow students in contravention of the school's code of conduct.
Academy spokeswoman Lisa Halliday has since confirmed the punishment but declined to divulge further details.
"Several students were expelled last week for violating the Leadership Academy's code of conduct. We consider this to be a confidential school matter," Halliday said. "Therefore, we will not confirm any personal information or disclose any details related to these expulsions."
Winfrey released a statement to E! News saying, "Indiscretions resulting in disciplinary action are common in schools all over the world. Unfortunately, because of my name these common infractions place the Academy in the media spotlight."
"As each of the girls enrolled, she agreed to adhere to the school's Honor Code and code of conduct policy, which values personal integrity and ensures an environment of shared trust and community."
The TV icon noted that she was disappointed by the girls' actions, but rules are rules.
"It's disheartening when any student has to be suspended or expelled and it's a process that involves serious review and consideration," added Winfrey.  "We will not tolerate a violation of school policy and dishonesty. We insist on maintaining a campus environment that commands mutual respect, fosters academic excellence and encourages learners to fulfill their best potential."
The boarding school, which is located in the town of Henley-on-Clip outside of Johannesburg, was rocked by scandal in 2007 when a 27-year-old dorm matron was arrested after being accused of assaulting and abusing six students and dismissed from her job.
This time around, however, it's the kids who are allegedly doing the violating.
According to South Africa's Afrikaans on Sunday newspaper, one 15-year-old was said to have "preyed" on a fellow student and bullied others into lying to investigators about the alleged incidents.
That prompted administrators to send one suspended girl's parents a letter explaining the punitive action.
"You have been found guilty of physical contact of a sexual nature with another pupil on campus, harassment, bullying other other girls on campus and of being dishonest by not telling investigators the whole truth," read the missive.
The Leadership Academy opened its doors in January 2007 after Winfrey poured more than $40 million of her own fortune into its founding. The school houses approximately 150 children in dormitories and will eventually educate up to 450 students.
(Originally published March 31, 2009, at 11:05 a.m. PT)