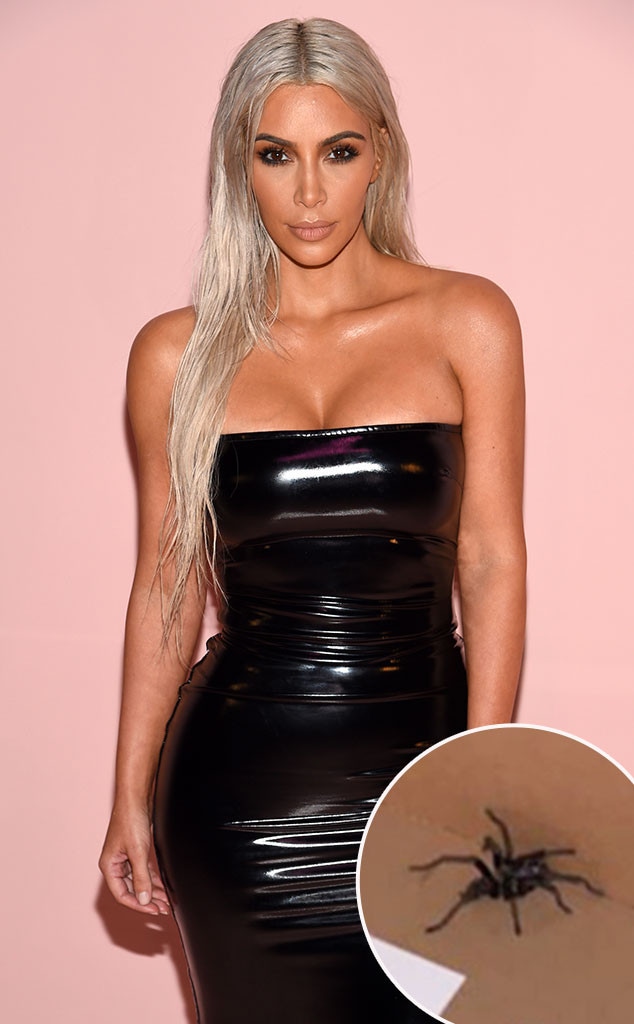 Dimitrios Kambouris/Getty Images for Tom Ford, Instagram
Sleep with one eye open, dolls!
As the hot summer months continue, Kim Kardashian found a few scary species roaming around her garage. Oh yes, we're talking about tarantulas.
"What in the actual f--k," the Keeping Up With the Kardashians star shared on Instagram Stories. "I won't be able to sleep tonight knowing this was in my garage."
And believe it or not, there wasn't just one tarantula roaming around! "So there were three tarantulas last night," Kim added. "It's mating season apparently."
The photos were so freaky that some sisters couldn't help but sound off on the unwelcome visitors.
"Kimberly's tarantula photos had me up all night long!" Khloe Kardashian shared on Instagram Stories. "I kept thinking there were tarantulas all over me @KimKardashian."
Watch:
Kourtney Kardashian's House Is Infested With Tarantulas!
Believe it or not, this isn't the first time a Kardashian's house has been invaded by mating tarantulas.
In a February 2018 episode of Keeping Up With the Kardashians, Kourtney Kardashian was trying to tan with her BFF Larsa Pippen when she received a spider surprise.
"Oh my god! Oh my god!" Kourtney screamed as the ladies jumped away from a tarantula wandering beneath their lounge chairs. "I called pest control, they came, they sprayed two times!"
"I just don't even know what to do," Kourt later said of the pest problem. "I swear we're outside like 50% of the time and I've already had the exterminator come out and spray. I just won't be able to sleep at night. I will not feel comfortable until these tarantulas are completely gone."
Perhaps they've moved on over to Kimmie's house?