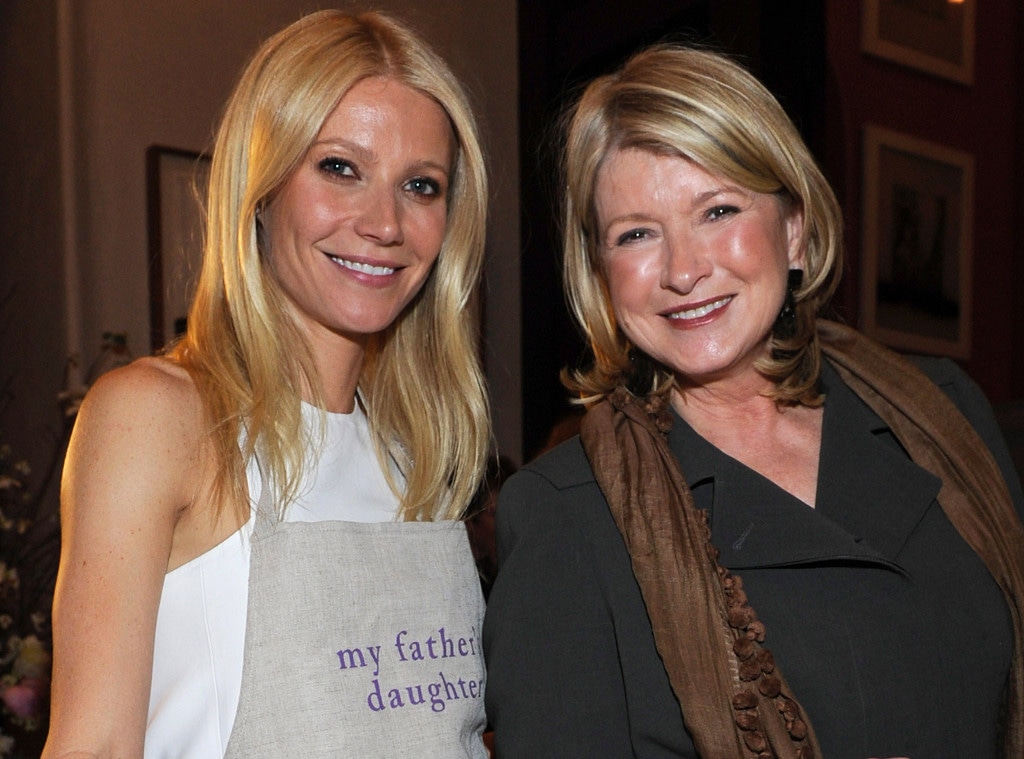 Kevin Mazur/WireImage
And I... [g]oop!
When it comes to Gwyneth Paltrow's wellness and lifestyle empire Goop, there's one celebrity who isn't a fan: Martha Stewart.
Chatting on the debut episode of The Corp season 2 with Alex Rodriguez and Barstool Sports, Stewart talked about growing her business in the lifestyle, cooking and publishing market. So it was only natural for the 44-year-old sports broadcaster and retired MLB player to ask how she felt about the 46-year-old actress' brand, Goop.
"How would you describe what Gwyneth Paltrow is doing today versus what Martha Stewart created years ago," Rodriguez asked the 78-year-old businesswoman. Her response? Well, it was seasoned with some salt and subtle shade.
"I don't follow Goop," Martha said point-blank. "Sometimes I look at products that she's selling... I wish every young entrepreneur well and I hope that there are many, many, many different kinds of entrepreneurs... if they're movie stars or hardworking women like I am, who are not movie stars."
She continued, "If they have a good idea, I want them to be able to succeed. So good luck, Gwyneth."
However, Stewart's comments don't come as a surprise to many. Pop culture fans may recall that the two have had a stormy history.
Watch:
Martha Stewart & Snoop Dogg Going Into Weed Business?
In 2013, the 78-year-old lifestyle guru commented on Paltrow's company during an interview with Bloomberg TV.
"Gwyneth, for example, has a book on the best-seller list. She must be doing something right. She's a charming, pretty person who has a feeling for lifestyle," Stewart said. "She wants to be a lifestyle arbiter. Fine. Good. I think I started this whole category of lifestyle."
Naturally, the Avengers: Endgame star reacted to the diss, saying, "No one has ever said anything bad about me before, so I'm shocked and devastated... I'll try to recover."
Adding more fuel to the fire, in 2014, Martha poked fun at Gwyneth over her "conscious uncoupling" term with a recipe tilted, "Conscious Coupling." A month later, the cookbook author slammed the 46-year-old actress, Blake Lively and Taylor Schilling in an interview with Net-a-Porter.
INFphoto.com; Rommel Demano/Getty Images
"She just needs to be quiet—she's a movie star," she said of Paltrow. "If she were confident in her acting, she wouldn't be trying to be Martha Stewart."
In 2017, Martha dissed Goop once more when she appeared on Andy Cohen's Watch What Happens Live. "Who's Goop," she joked, after a fan called in and wanted to know her thoughts on the brand's controversy about its alleged "deceptive" health claims.
Despite the cookbook author's small digs and subtle shade, it appears Goop is bigger and better than ever.