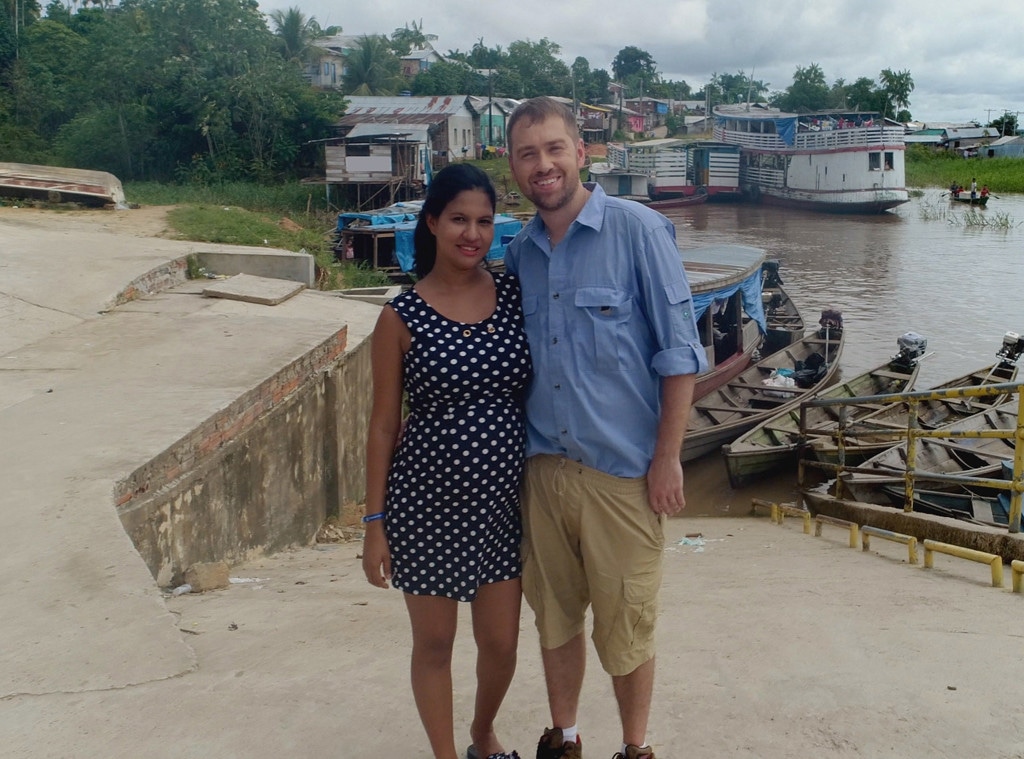 TLC
A pregnant couple, two feuding couples and a lot of uncertain couples were all on display on 90 Day Fiancé: The Other Way.
In the Monday, Aug. 26 episode of the TLC series, Karine and Paul continued to fight, Corey and Evelin addressed their fight, Laura and Aladin got ready for their wedding ceremony, Tiffany and Ronald announced some news and Deavan prepared for her trip to South Korea.
Down in Brazil, the saga of Paul and Karine took a turn. Following a fight, Paul stayed in a hotel. He returned to his home to find Karine had left with her mother to go to Manaus. In a previous episode, Karine discussed plans to divorce Paul for the sake of their child. But now, she said she was having doubts and said she wants her son to have his father in his life.
Paul traveled the five days by boat to try and work things out…but when he finally reconnected with Karine they began fighting about her talking to other men. Again.
Karine was waiting for an apology that never came. "I see that you are a jerk that won't change," she told him. "Seriously, I'm leaving." In a confessional, Karine said she was tired of what Paul does to her and "there's no more hope."
"I'm thinking of my son now," she said.
After their public fight, Karine returned home and Paul followed. He tried to apologize, but she didn't want to hear it.
"I think she hates me," Paul said.
Meanwhile…
Corey and Evelin
After their fight over exes, Corey spent the night in a hammock outside. He said he was extremely nervous to approach her and talk about their fight, but he put on a brave face and spoke to his girlfriend. Corey explained it's hard for him to let Evelin's mistake with her ex go, especially because her ex-boyfriend is still pursuing her and they regularly talk. However, if she were to stop talking to him and block him on social media, he said they feel like they can get passed it. She agreed. Can Corey stop focusing on the past and turn to the future?
Laura and Aladin
Laura received some welcome news: Her son, Liam, agreed to come to her wedding in Tunisia.
"Holy s--t, he's actually coming. I can't believe it...It melted my heart that he said he'll come," Laura said in a confessional.
She and Aladin traveled from Qatar to Tunisia to begin their three-day tradition ceremony. It was a happy homecoming for both, Laura explained she bonded with Aladin's family following the tragic death of his sister in a car accident. Is she close enough to like Aladin's mom spending the night with them? She's going to have to dela.
Tiffany and Ronald
Following their wedding, Tiffany Skyped with her mom to deliver some news: She's pregnant. Her mom understandably, was shocked, especially when she learned Tiffany and Ronald had planned it. "I don't think this was ideal," her mom said.
And Tiffany is committed to staying in South Africa to have the baby, even if it's making her feel conflicted feelings.
Deavan and Jihoon
About a month after Jihoon returned home to South Korea, Deavan prepared for her journey there. She decided to leave her toddler daughter in the states until she determines there's a life she's comfortable with there. Has Jihoon gotten his act together? Deavan is nervous because she said she's risking her entire life for a relationship that is completely untested.
90 Day Fiancé: The Other Way airs Mondays, 9 p.m. on TLC.