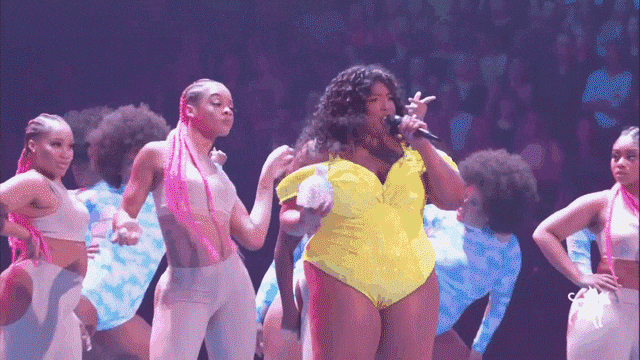 MTV/Giphy
You better believe we'll cheers to that performance.
During Monday night's 2019 MTV Video Music Awards, Lizzo was able to take the stage and perform some of her biggest hits including "Good as Hell."
If you thought you were having a good time watching the performance, imagine how the 31-year-old felt.
While performing "Good as Hell," Lizzo just so happened to casually grab a shot of tequila from a bottle designed by Sparkyle Studio. And before viewers could even ask what is happening, the singer downed it like a boss!
"Let me talk to you for a second. I'm tired of the bulls--t and I don't have to know your story to know you're tired of the bulls--t too," she shared halfway through her performance. "It's so hard trying to love yourself in a world that doesn't love you back am I right?"
She continued, "So I want to take this opportunity right now to just feel good as hell because you deserve to feel good as hell. We deserve to feel good as hell. So tell me how you feeling?"
Oh, we're feeling pretty darn good now!
During her performance, Lizzo also rocked a bright yellow one-piece with matching sneakers. Her glam was also on point thanks to makeup artist Alexx Mayo.
As for what she could win tonight, the singer is nominated for Push Artist of the Year and the Best New Artist award presented by Taco Bell. Guess who we're voted for after that performance?