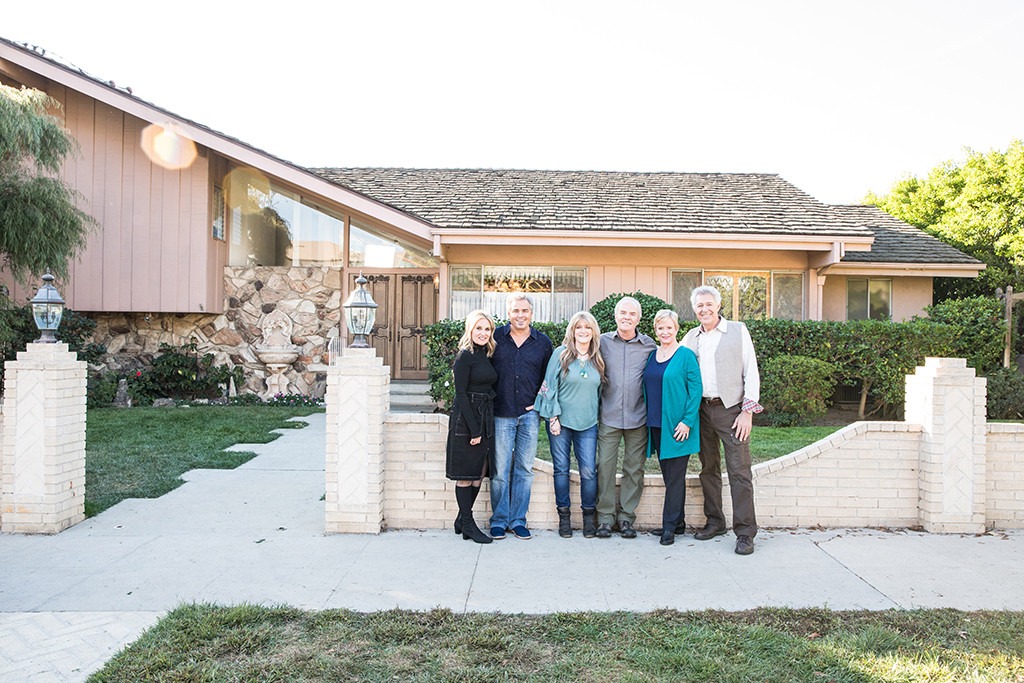 HGTV
Here's the story of a TV network that bought a house for its famous exterior, assembled a beloved sitcom cast, changed everything about the house's interior and filmed everything. It's the story of A Very Brady Renovation.
HGTV's new home renovation series reunited the Brady kids—Barry Williams, Maureen McCormick, Christopher Knight, Eve Plumb, Mike Lookinland and Susan Olsen aka Greg, Marcia, Peter, Jan, Bobby and Cindy—from the five-season sitcom The Brady Bunch and put them to work. They teamed up with HGTV talent such as Drew Scott, Jonathan Scott and Jasmine Roth to recreate the sets from The Brady Bunch inside the house that provided its exterior. It was quite the feat, one Plumb described as "astonishing."
Plumb, 61, said many of the Brady kids hadn't ever been to the house, so just being there was "so odd."
"But the end result is astonishing," she told E! News. "The end result is just like being on the set."
The cast spent weeks there filming, in different groups, with HGTV talent and it brought all sorts of memories back. "It's very strange, because we spent a lot of time in there now, filming, and then doing digital stuff and behind-the-scenes stuff. And it is, it's very strange. I think we're finally getting used to the fact that there's a fourth wall and a ceiling," she said.
A Very Brady Renovation was the first time in 15 years—that's what Plumb was told—that the six TV siblings had been in the same place together. "Certainly, we'd seen each other in different groupings over the years for one thing and another, but I think the last time that there was the confluence [Laughs.] of all six was about 15 years. The coven!" Plumb laughed.
Once the Brady "coven" was assembled, Plumb said it was "great" reconnecting.
"You know, we're all grown-up now, obviously, and we all get along like real people. And HGTV just offered us an extended family reunion," Plumb said. Even when cameras were off, she said they would share stories of times past and correct each other's memories. "Just like any family reunion, having different memories of different events," she said.
While A Very Brady Renovation is the first time the cast has assembled, there were attempts before. Years ago, a rumored feud between McCormick and Plumb reportedly put the kibosh on a talk show reunion. When asked about the alleged bad blood and whether she and McCormick had to remedy their relationship, Plumb was quick to shoot down any talk. "There was no—People like to say things. There was no remedy needed," she laughed.
The Brady Bunch ran for five seasons from 1969-1974, spawned a variety series, several TV movies and more than one spinoff, in addition to big screen adaptations. It's never truly been gone from TV—or the public consciousness.
"It's never really been off the air, in one way or another, but the reason that is is because they don't have to pay as residuals [Laughs.], so it's kind of cheap show to air," Plumb said.
The ubiquity of The Brady Bunch has to do with why it's so beloved. "It's very safe and friendly and nice. You know, it's a known quantity. When you go to watch The Brady Bunch, you know that a problem will be solved and people love each other and you can look at the old funny clothes," Plumb laughed.
Despite working consistently since the series wrapped, Plumb is still closely associated with and will probably always be known as Jan Brady. It's something she's more than OK with.
"It's been with me my whole life, so I've always been used to it," she laughed.
A Very Brady Renovation premieres Monday, Sept. 9 at 9 p.m. on HGTV.