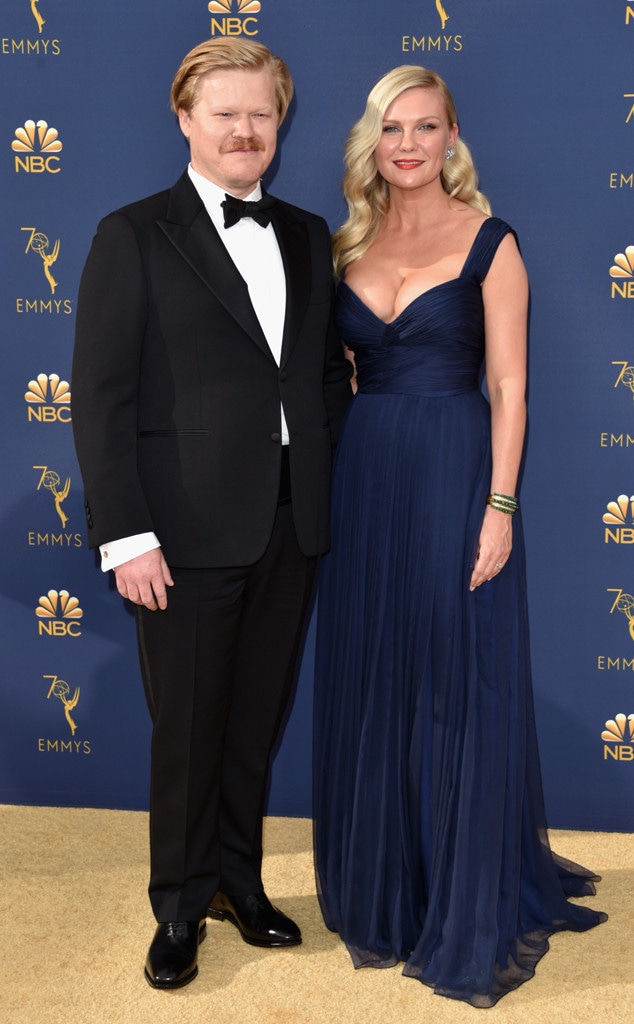 John Shearer/Getty Images
It's been three years since fans first learned about Kirsten Dunst's romance with Jesse Plemons. However, the 37-year-old actress still remembers falling in love with the 31-year-old actor like it was yesterday. 
The Marie Antoinette star opened up about their relationship to Net-a-Porter's digital magazine PorterEdit in an interview published Friday.
As fans will recall, Dunst and Plemons starred alongside each other on the FX series Fargo in 2015. The two played a married couple, and Dunst "knew he was going to be a soulmate."
"He's my favorite actor–the best I've ever worked with," the celebrity, who received an Emmy nomination for the role, recalled. "I just knew he would be in my life forever. I didn't know what capacity that would be at the time. When the show was over, I just missed him terribly. We didn't get together until a year later. We were both smart enough that we were wondering if the connection was just because we were working together. But it was real."
Reports started spreading that the two had formed an off-screen connection in 2016, and news of their engagement broke in 2017. They welcomed their first child—a son named Ennis—in 2018. However, it looks like Dunst's mother is eager for them to tie the knot.
"But we're about as married as you can get," she told the outlet. "We have a kid together. My mom was like, 'But when are you guys getting married?' And I said, 'Mom, I'm not going to get married when I'm pregnant. I want to have fun and have a drink. I mean, we're paying for this wedding. I'm paying for the bar! I want to enjoy it.' [My mom is] kind of old-school in that way. I thought I would have a hard time getting pregnant, but it was a surprise. If I hadn't met Jesse, I would have frozen my eggs. [But] it feels like I lucked out."
Kevin Winter/Getty Images
Shortly after giving birth, Dunst took on a new project—starring in and executive producing Showtime's On Becoming a God in Central Florida. 
"I cried to my mother-in-law in the second week," Dunst recalled to the publication. "It was the hardest job I've ever taken, right after five months off with a baby. I was so tired. I would bring home a tuna sandwich from the craft services table. I would take a bath, and then eat my sandwich in bed while I read the pages and learned lines for the next day." 
As hard as it was, Dunst knew she couldn't pass on the role. She also decided to hire her trusted friends to help bring the show to fruition.
"I wanted to surround myself with people I knew," she said. "I did feel kind of vulnerable going back to work this hardcore so soon after the baby."
Considering both Dunst and her Black Mirror fiancé were child actors, one has to wonder: Will their son follow in their famous footsteps?
"If you have a kid who's very cute, I get why people do it. Do a Gap ad and you can make your college money. It's the first time I kind of understand it," she said. "Ennis is so adorable, with two big dimples. He is such a happy baby, and I see why I might want that memento of him at this age, but we will probably just encourage him to do school plays." 
To read the full interview, head over to PorterEdit.