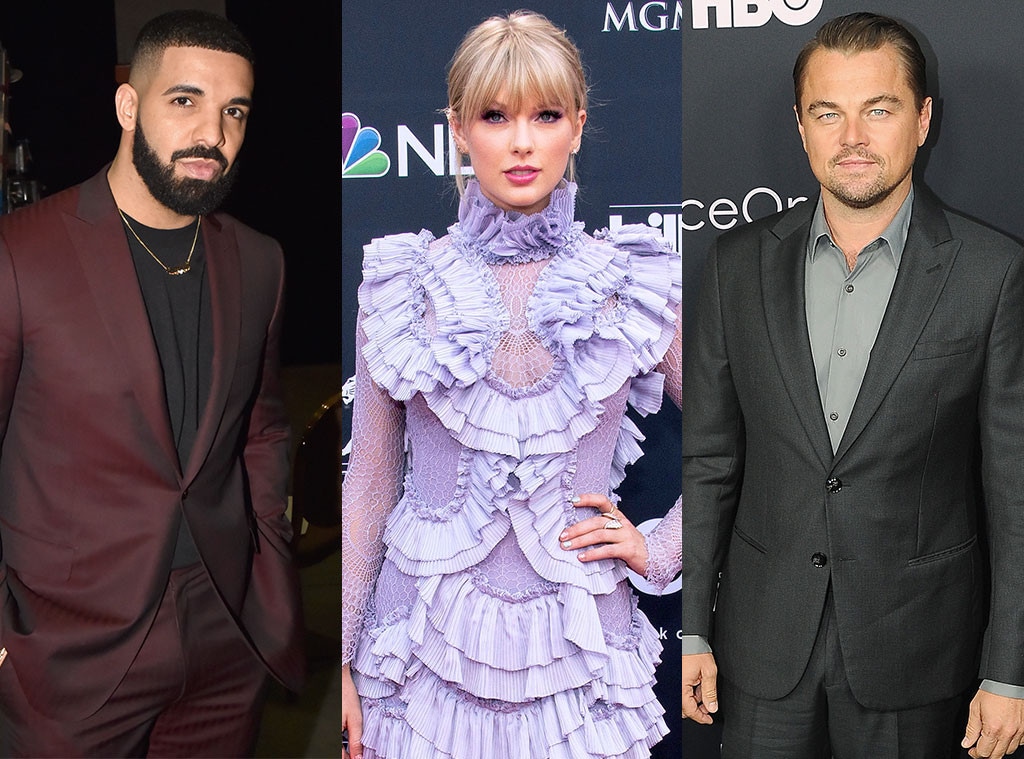 Getty Images, FilmMagic
Taylor Swift dropped Lover on Friday, and fans are sure to recognize a few celebrity references on the album.
On the first track "I Forgot That You Existed," for instance, Swift gives a small shout-out to Drake and referenced his song "In My Feelings." 
"And I couldn't get away from ya/In my feelings more than Drake, so yeah/Your name on my lips, tongue-tied/Free rent, living in my mind," she sings.
In addition, she mentions Leonardo DiCaprio in her tune "The Man."
"And they would toast to me, oh, let the players play/I'd be just like Leo in Saint-Tropez," she croons.
But that's not all. The 10-time Grammy winner also shows her Cats co-stars Idris Elba and James Corden some love in "London Boy." At the beginning of the song, Elba can be heard telling the late-night host the following: "We can go driving in, on my scooter—you know, just round London." Swifties note that the audio clip is from Elba's 2017 guest appearance on The Late Late Show.
The "ME!" star mentions Stella McCartney in the tune, as well. As fans are well aware, the artist recently teamed up with the designer to launch a clothing line inspired by the album.
"Stick with me, I'm your queen/Like a Tennessee Stella McCartney/On the Heath/Just wanna be with you, wanna be with you, wanna be with you," she sings.
In addition, she claims she's a fan of Bruce Springsteen. 
"I love my hometown/As much as Motown/I love SoCal," she sings. "And you know I love Springsteen/Faded blue jeans/Tennessee whiskey."
For a full deep dive on the album, click here.
Enjoy listening to the songs on repeat!