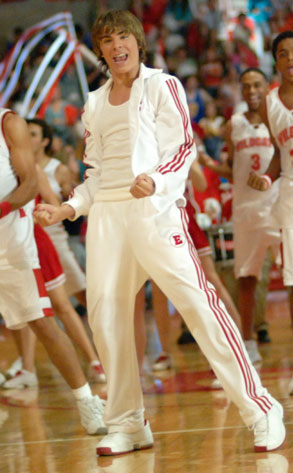 Disney Channel/Fred Hayes
See ya later, musicals.
That's Zac Efron's message to the world of song and dance.
Not only are there no more High School Musicals in his future, but he made international headlines last week when he pulled out of the Footloose remake.
"It doesn't mean no more musicals forever, but right now I had so much fun doing 17 Again that I think that's the direction I wanna head in," Efron told me at the Nickelodeon Kids' Choice Awards.
And it certainly sounds like he's taking another step in that direction with The Death & Life of Charlie St. Cloud...
It was just announced that Efron has signed on to the movie adaptation of Ben Sherwood's novel of the same name about a cemetery caretaker who communicates with his dead younger brother. Efron admits the premise "sounds very grim," but promised, "It's a fantastic story."
"It's a little bit more grown-up," the 21-year-old Efron said. "It deals with some heavy material."
Meanwhile, Efron's girlfriend, Vanessa Hudgens, told me we may not have seen the last of the original HSM cast. "It's really sad," she said. "We're trying to think of something to do that would be epic for our final farewell." (Maybe an HSM tattoo is in order—admiring one of the butterfly tattoos on the forearm of yours truly, Ms. Hudgens showed me a similar one she just got on the back of her neck. Unlike mine, however, hers is just temporary skin art.)
Corbin Bleu left for Montreal today to start shooting The Beautiful Life, the upcoming CW series headlined by Mischa Barton about a pretty group of New York models. "I'm playing a…struggling musician who does the modeling on the side," Bleu said. "I actually started my career modeling in New York when I was 2. I modeled for Tommy Hilfiger for a while, but it's been a long time."
And, just in case you missed it, below are some tweet highlights from my twittering on the Kids' Choice orange carpet:
* On my way to Kids' Choice. It is 80 degrees in L.A. Seems like every awards show now happens in crazy heat. 1:36 PM Mar 28th from txt
* Oh boy. Here we are. We (the press) are being held in an area like cattle. At least it's in the shade...off to the orange carpet now. 2:41 PM Mar 28th from txt
* Carpet has started...Carrie Anne Inaba...Pete Wentz...one of his fingernails has a "BX" written on it. Bronx, the baby. 3:23 PM Mar 28th from txt
* Jonas Brothers are here. Joe's hair isn't straight but rather wavy. 3:58 PM Mar 28th from txt
* Chris Pine...so hot...scruffy scruffy beard...cute...have ya seen the Star Trek trailer? 4:10 PM Mar 28th from txt
* Miley Cyrus...looking good. But she just told me she doesn't know who she is wearing...oops...I'll see her in Vegas next weekend for music awards. 4:32 PM Mar 28th from txt
* What the heck is Paula Abdul wearing?!? Looks like there's a dead bird in her hair. Demi Lovato in way high heels...ridiculous. 4:34 PM Mar 28th from txt
* Megan Fox...there really is something primal about her...uh oh, here comes Zac Efron... 4:39 PM Mar 28th from txt
* Vanessa and Zac, that is. Zac looks sweaty...His hair is getting long. ...Chris Rock and his whole family. 4:41 PM Mar 28th from txt
* Chris has one of his daughters in his arms..."Do u wanna go meet Zac Efron?" he asks her. She's too shy.  4:43 PM Mar 28th from txt
* Just spoke to Zac...supersweet...says he's through with musicals for now but not necessarily forever...whew! 5:03 PM Mar 28th from txt