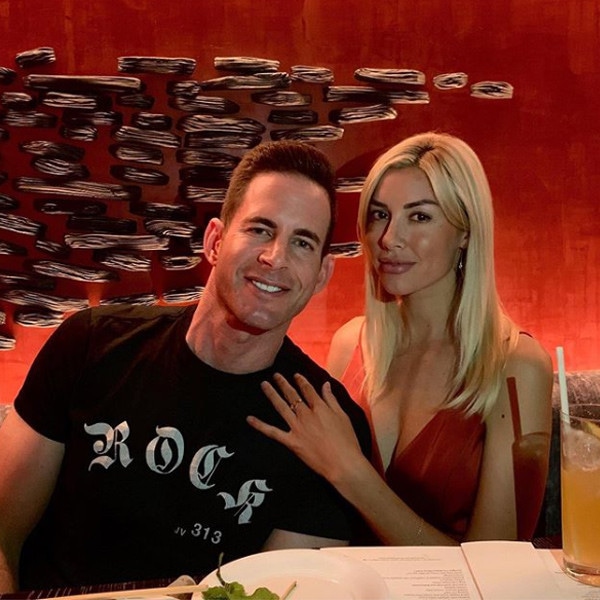 Instagram
It's about to be a flipping good year for Tarek El Moussa.
While celebrating his 38th birthday today, the Flip or Flop star was able to enjoy the day with his new girlfriend Heather Rae Young.
"Well...if you didn't hear...I turned 38 years old today!!" he wrote on Instagram. "The crew caught me and @heatherraeyoung with a surprise birthday song so I thought I'd share!! I can say this is the happiest birthday I've had in many years. I'm so grateful for everything I have in my life!"
Tarek added, "Thank you all."
On Tuesday evening, the realtor started the celebrations early by traveling to BOA Steakhouse in Los Angeles for a romantic date with Heather.
As seen on Instagram Stories, the pair was able to enjoy an intimate dinner before heading back to Orange County.
"Happy happy happy birthday @therealtarekelmoussa. Since you came into my life I haven't stopped smiling. When I'm with you the world stops," she wrote on Instagram. "So excited to share your special day with you."
Tarek would later comment saying he was the "luckiest guy alive!"
Earlier this month, the HGTV star confirmed on E! News' Daily Pop that Heather Rae was in fact his girlfriend. While she hasn't met his two kids he shares with ex Christina Anstead, it's clear the pair has developed a special bond.
"She's just, I feel really, really lucky to have met her. We have so many things in common. She's amazing," Tarek shared with E! News' Carissa Culiner and Justin Sylvester. "It's been a long time since I've started falling in love."
He continued, "I've been on my own for close to three and a half years now and to finally find someone again, it's a really big deal for me, because a few months ago if you would have asked me, I would say 'I'm gonna be on my own forever and I'm happy being alone,' and you know what, I realize what I was missing now."
Happy birthday, Tarek!