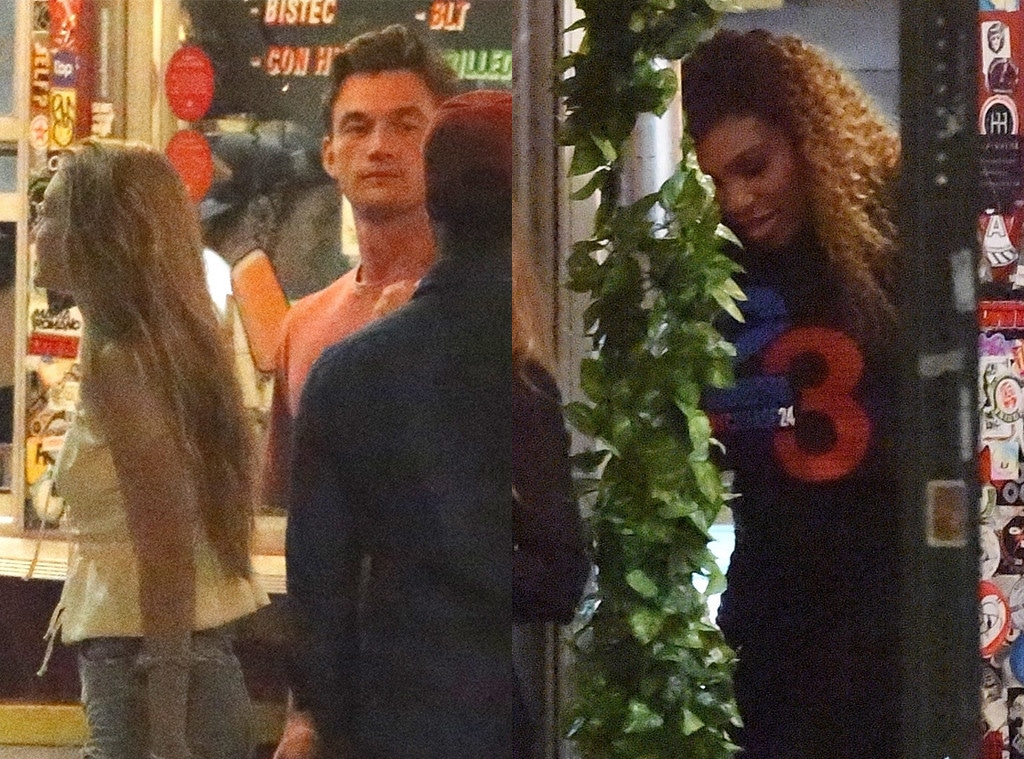 DARA / BACKGRID, @JosiahWPhotos / BACKGRID
Now this trio is a grand slam.
On Tuesday night, Gigi Hadid and Tyler Cameron grabbed dinner at NYC's La Esquina with none other than Serena Williams. Also in attendance: Caroline Wozniacki and Gigi's pals Cully Smoller and Kendall Visser.
The group met at the Mexican eatery around 9 p.m. for a "laid back" meal, a source tells E! News. "Everyone seemed comfortable together." Tyler, in gray shorts and a red tee, arrived before Gigi—she chose Ksubi + Kendall Jenner denim jeans and a white tank. She was then escorted over to the table by a friend who works at the restaurant. 

"They had a fun dinner," adds the insider. "There were there for about an hour. Everyone was in great spirits, laughing together and enjoying their dinner. It was very casual with everyone just hanging out and chatting." Later, when the group wrapped up, they walked out together before going their separate ways.
This is just another outing in an already lengthy list of public dates between Gigi and Tyler, who originally met on Instagram.
The pair were first seen together at Brooklyn's Dumbo House in early August. They've since hung out at Frames Bowling Lounge, Justin Theroux's new bar Ray's and, of course, her apartment. Tyler is often spotted making an exit the following morning. Not to mention they recently vacationed in upstate New York.
"The connection is there for sure," a source previously told E! News. "She looks really happy and calm with Tyler around. It's like she is herself around him, no pretense of act."
The feeling is mutual. "Tyler likes Gigi and definitely wants to keep seeing her," shared a second insider. "He wasn't sure if it would turn into something but they have are having a lot of fun and don't want it to end, that's for sure."
"They are seeing each other a lot and texting all day long," added the insider. "He's excited about her."
But for now, they're avoiding putting any pressure on their budding romance. After all, Gigi recently ended a serious relationship with Zayn Malik while Tyler is fresh off the Bachelorette—and, ICYMI, he spent the night at Hannah Brown's pad just days before seeing Gigi.
"They are both very into each other but Gigi has been really hesitant about getting serious with him," explained a Gigi source. "She really enjoys hanging out with Tyler and he has spent the night over her house multiple times now. Tyler makes Gigi laugh continuously while they are together, and it's been a while since someone has sparked her interest."
"They have a strong connection but are definitely just testing the waters right now," the source continued. "They both like to hang out with a few of their friends to make it seem more casual, but Tyler always ends up staying the night alone at Gigi's house."
Here's hoping this romance stays rosy.