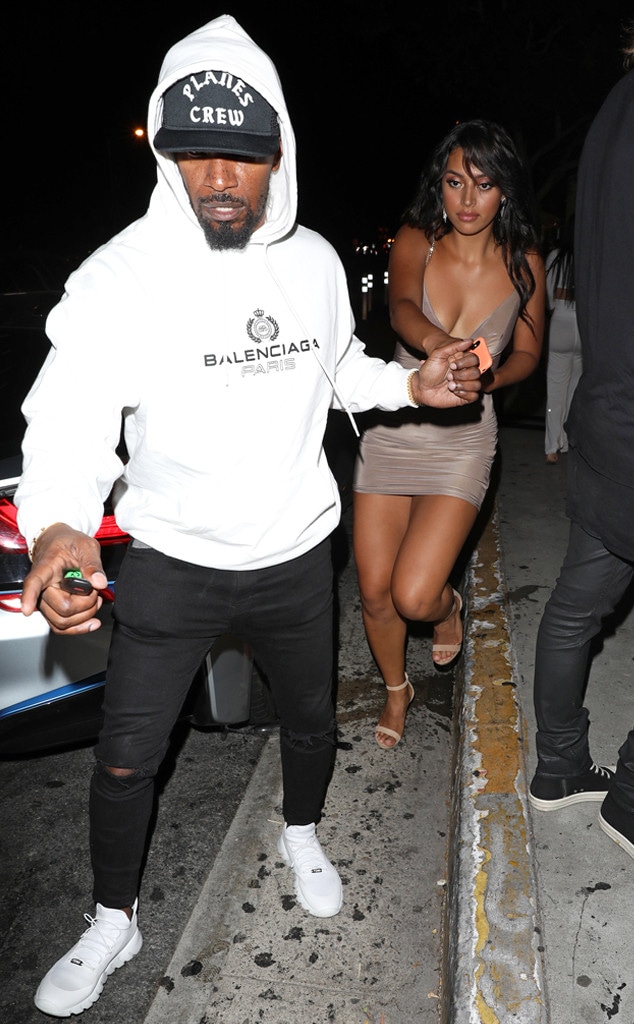 Photographer Group/MEGA
Jamie Foxx made headlines this weekend when he was spotted with an woman named Sela Vave outside a West Hollywood nightclub on Friday night.
The notoriously private 51-year-old actor, singer and record producer and the model and fellow singer attended Lil Pump's 19th birthday celebration at Bootsy Bellows. They were photographed holding hands as they left the celebrity hotspot around 2 a.m., according to TMZ. Fox wore a white Balenciaga hoodie and black jeans, and Vave sported a metallic mini dress.
Vave is Foxx's newest recording artist, a source told People, adding, "She's just a girl he's helping out, a young singer."
Foxx and Vave have not commented on their night out.
Also, on Saturday, Foxx went on Instagram Live, appearing in a boat with Vave and some male friends. The group listed to Faith Evans' "All This Love." Foxx noted it was important for all young new artists to know this song.
Meanwhile, Katie Holmes, who has been linked romantically to Foxx since 2013, was photographed walking in New York City. She appeared to be in great spirits.
Hollywood To You/Star Max/GC Images
They have never confirmed a relationship.
Vave has shared a few photos of Foxx on her Instagram page in recent months.
On June 30, she posted posted pics of her and Foxx sitting together by the water.
"I am so grateful to this man!" she wrote. "Thank you so much @iamjamiefoxx for everything you do and for believing in me. #feelingblessed."
Earlier this month, she posted pics of her and Foxx at the Apollo in the Hamptons benefit in New York, where the two joined Bon Jovi and other stars onstage as the band performed their hit "Livin' on a Prayer."
Tiffany Rose/Getty Images for Lupus LA
In late July, Foxx, Vave were photographed hanging out with film producer Adam Selkowitz at Michael B. Jordan's MBJAM event at Dave & Buster's Hollywood.
—Reporting by Spencer Lubitz