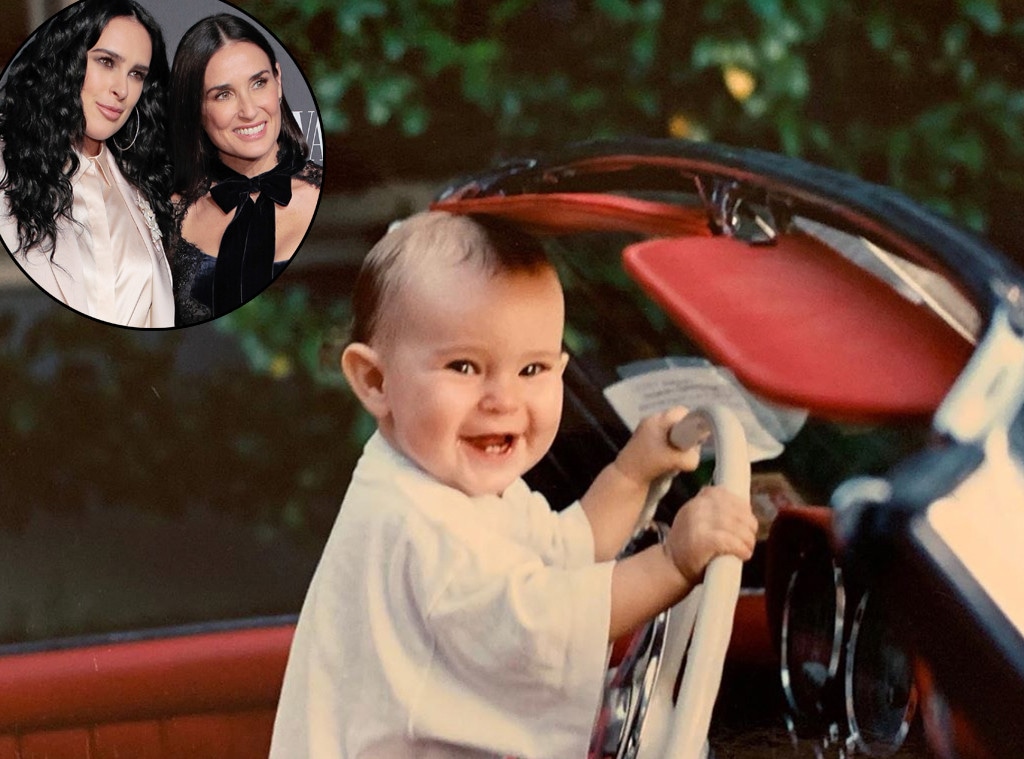 Instagram / Demi Moore; Getty Images
Happy birthday, Rumer Willis!
The Once Upon a Time ... in Hollywood and House Bunny actress and Masked Singer participant turned 31 on Friday and naturally, her mom Demi Moore celebrated the occasion publicly with some adorable throwback pics.
The 56-year-old star posted on her Instagram page late that night a photo of her and ex-husband Bruce Willis' eldest child as a baby, smiling and sitting in front of the steering wheel of a convertible.
"I am a few min late but YOU @rumerwillis my sweet first born came on your due date ready for action and have been in the drivers seat ready for this journey from the day you were born!" Demi wrote.
"Happy Birthday Baby Ru!" she continued. "Before you I didn't really know what love was! You continue to light the pathway of loving and I am honored to be on this ride with you my angel! Thank you for being a beautiful teacher and a magnificent being. I love you beyond measure!"
"I love you so much mama, honored to be yours ♥️♥️♥️," Rumer replied.
Demi also shared a second pic of her snuggling with then-baby Rumer on a couch.
"Heaven!" she wrote. "Happy Birthday and sweet dreams my sweet angel Rumer Glenn @rumerwillis."
Rumer had been feeling under the weather, physically and emotionally, in the weeks leading to her birthday.
She wrote on Instagram on Thursday, "I have been sick almost the entire month of August that started with food poisoning to then an unknown stomach problem where I haven't been able to eat because when I do it feels like my stomach is on fire to the flu that turned into a sinus infection."
She said that that morning, she felt "a little better" and was "by no means 100% yet but am getting there."
"It's my birthday tomorrow and i wanted to start my new year letting go of mindsets, beliefs and old stories that no longer serve me," she continued. "So I encourage you as you move forward with you day, week or even month allow yourself to let go of the control of the outcome, control of the expectations of how it should go or look, and let go of whatever story you are making up about yourself if it doesn't turn out the way you planned. It's all happening for you not to you.... Anyway for any that this resonates I hope it helped and if it's not for you love to you anyway."
In addition to Rumer, Demi and Bruce also share daughters Scout Willis, 28, and Tallulah Willis, 25.
The actor also shares daughters Mabel, 7, and Evelyn, 5, with wife Emma Willis.