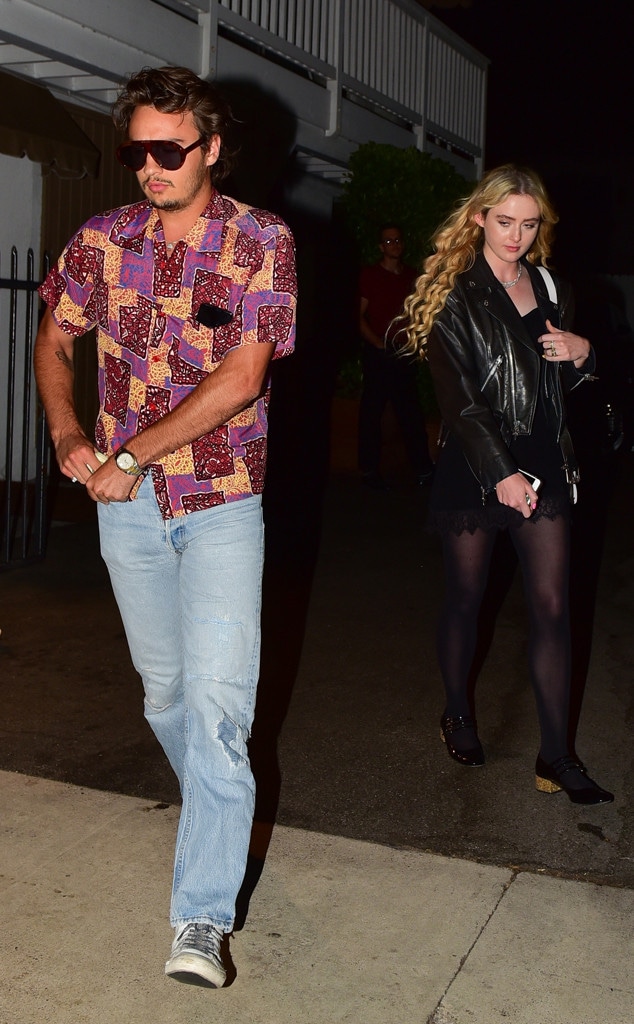 Backgrid
Could these two be The Hills' next "It" couple?
A source tells E! News that Brandon Thomas Lee is dating Big Little Lies star Kathryn Newton. "Brandon and Kathryn have been seeing each other and are really enjoying each other's company," the source shares. 
Pop culture followers caught a glimpse of the new couple while they were out and about in Santa Monica, Calif. It appears the two dined at the famed Giorgio Baldi restaurant before speeding off in Brandon's white sports car. For the occasion, the reality star wore holey light-wash jeans and an eccentric button-up, while his date sported a chic all-black ensemble.
It seems like the two first became acquainted with one another when they danced at the amfAR Paris Dinner on Fourth of July 2018. But since then it seems like work came between a reunion between the Hollywood stars. 
Not long after their Paris flirtation, Brandon started filming the MTV reality show and Kathryn has been busy working on sets for popular shows like Big Little Lies, The Society, as well as the Detective Pikachu movie. So it's easy to see how romance went to the back-burner for these two.
But now Brandon says he is ready to potentially tame his bachelor ways. In a recent interview with E! News, the celeb told Carissa Culiner and Justin Sylvester, "That's what I want. Just somebody to laugh at my jokes and watch TV on my couch. Literally, I don't want any craziness in my life." 
Nor does he care for the drama he was dragged into thanks to Brody Jenner. 
Although, he did kind of do it to himself. In an attempt to make light of a controversial situation, the reality star made a comment on Brody Jenner's Instagram post about him and Brody staging a fake kiss in order to one-up Miley Cyrus and Kaitlynn Carter. This backfired when Miley then clapped back with her own joke. 
Now the star has learned his lesson: Don't mess with Miley!