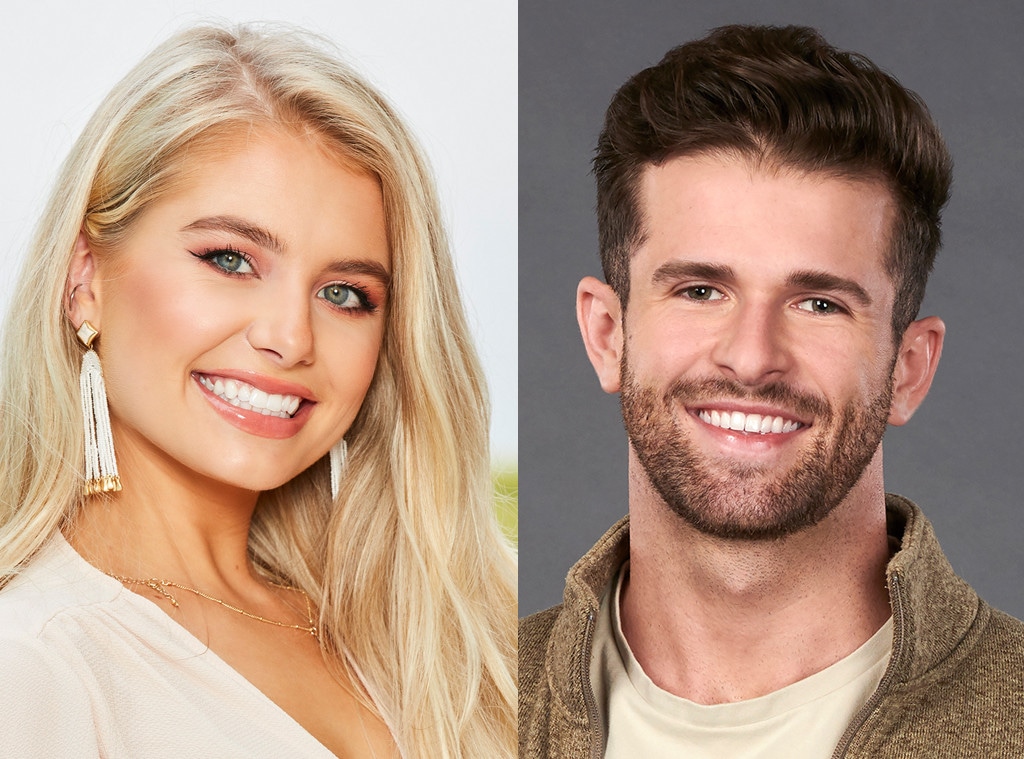 ABC/Craig Sjodin, ABC/Ed Herrera
Nothing like some Bachelor in Paradise drama off screen.
Like so many viewers, some members of Bachelor Nation can't resist tweeting and posting during a new episode of ABC's hit summer series.
It certainly was the case for Tanner Tolbert and Connor Obrochta who found themselves watching Tuesday night's episode. After witnessing Demi Burnett confess to Derek Peth that she was spending time with a woman before she arrived on the show, some saw similarities to The Bachelorette villain Jed Wyatt.
"I gotta throw this comment out there.... Demi has and is talking to a girl back home before she went on the show but Jed can't talk to a girl back home ....?!?" Connor shared on Twitter. "Neither are ok #BachelorInParadise."
Tanner would also post—and delete—a message pointing out that both Demi and Jed were dating people before they joined the show.
"Seriously Tanner. Bash the woman. It looks good on you. Demi was honest. Jed is a POS liar," one user wrote. Tanner replied, "To be clear…I bashed Jed too."
Watch:
Demi, Dylan & John Paul Tease "Bachelor in Paradise" Season 6
Ultimately, both contestants received some heat from fans about their comments. In fact, many replied to Connor expressing just how different the cases are.
"Demi didn't get engaged to anyone and lie about a serious relationship back home," one fan wrote to Connor. Another added, "Demi said they were not exclusive. It seems like she and her girlfriend were on the same page. Jed and his girlfriend were definitely not communicating and were on another level of commitment. Definitely a difference."
A third viewer replied, "Maybe because Demi was honest to the girl about what their relationship is but Jed told his girlfriend that he's just going for his music career and their relationship will be the same when he gets home."
Ultimately, Demi is receiving so much support from fans and co-stars alike after she came out to Hannah Brown.
"Honestly, Demi is so strong and I feel like if anyone in the franchise were to take being such a role model it's definitely Demi," Tayshia Adams told E! News while attending iHeartRadio's Real Street Festival at the Honda Center. "It's really beautiful to see her entire journey unfold. It's something we haven't seen and I'm happy to be a part of it."
Wills Reid added, "I love Demi and whatever it takes for her to be happy, I want her to be happy. Love is love is love is love and as long as she's happy and she's in love and she's found the person for her, kudos to her."
In addition, Ben Higgins addressed the comparisons on the latest episode of iHeartRadio's Almost Famous podcast. 
"The difference is Demi told Derek she was dating a girl back home coming into the episode and still has feelings for this girl," he explained. "Tanner comes out publicly and asks 'What is the difference?' Twitter reacted and said that the difference is that Jed was never truthful or purely honest with Hannah about his relationship back home and he hid it until the time they got engaged. Demi came out and talked about it in front of a long term commitment to Derek."
Bachelor in Paradise airs Monday and Tuesday nights at 8 p.m. on ABC.