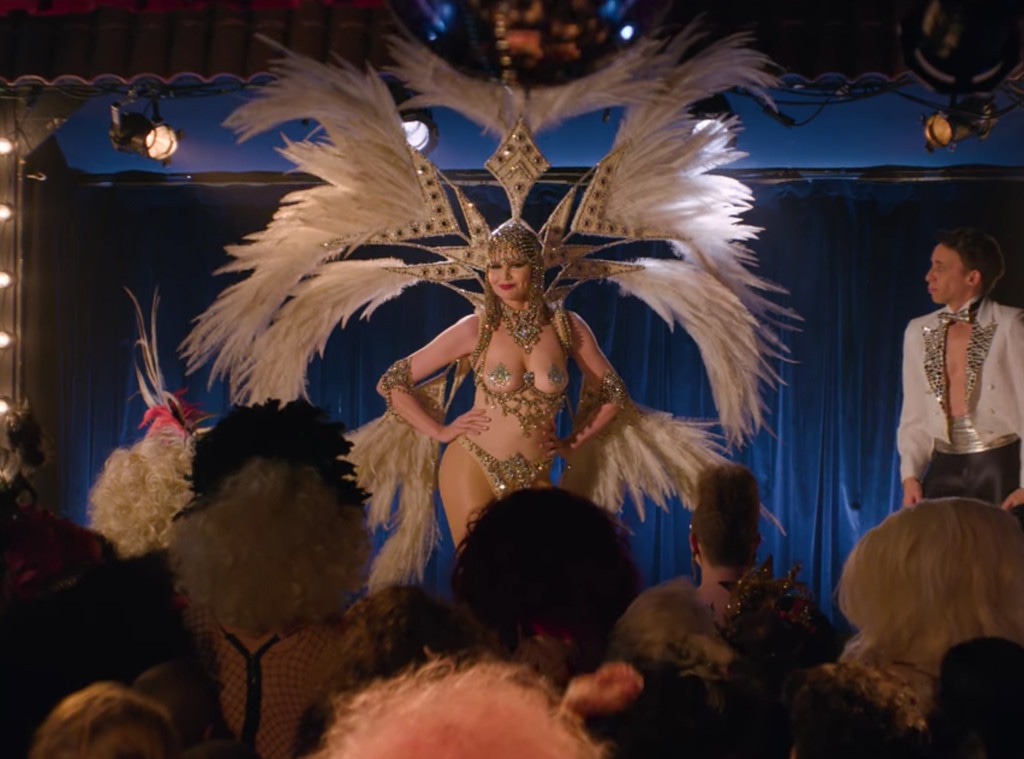 Netflix
In GLOW season three, Geena Davis, 63, strutted out in a scene decked out like a Las Vegas showgirl. The outfit left nothing to the imagination as she took the stage and sang during an AIDS benefit show as Sandy Devereaux St. Clair, a former showgirl and the entertainment director for the hotel the GLOW show calls home.
"I said to them right in the beginning when I found out she was a former showgirl, 'Please find some way to get me in a showgirl costume!'" Davis told EW. "And they did! I was so excited."
Davis explained she became obsessed with the costume from the start, even at just the mention of it, she knew it was the one for her before seeing it. Once on, she knew it was the one.
"My first thought was if I had to come up with a dream showgirl costume, it would have been that. It was perfect. I just loved everything about it. The other ones, there was always something that wasn't quite right or I didn't quite like about the headdress or the clothes. And this one, everything from the hat to the whole deal I just loved," she said.
For the Oscar-winning actor, it was not only a show-stopping moment—the extras didn't know she'd be there, let alone in the extravagant costume—but a true dream come true (despite how heavy and difficult to walk in it was).
"So now I feel like I achieved my dream, got it out of the way, I don't have to do it again! I'm satisfied with the experience in every way. I checked that off my bucket list," Davis told EW.
Davis appears in the third season in a recurring role after Bash Howard (Chris Lowell) takes GLOW from Los Angeles for a residency in a Las Vegas hotel. Warning, spoilers follow!
The partnership between Bash and Sandy hits a rough patch when Bash, flush with cash, starts making big changes to Rhapsody, the long-running show at the hotel. Things got even worse for the two when he announced plans to buy a TV network and return to California.
In addition to her acting work, Davis founded the Geena Davis Institute on Gender in Media. She started the research organization after consuming children's TV with her daughter and noticed the lack of female characters.
See Davis' show-stopping moment in GLOW season three, now streaming on Netflix.