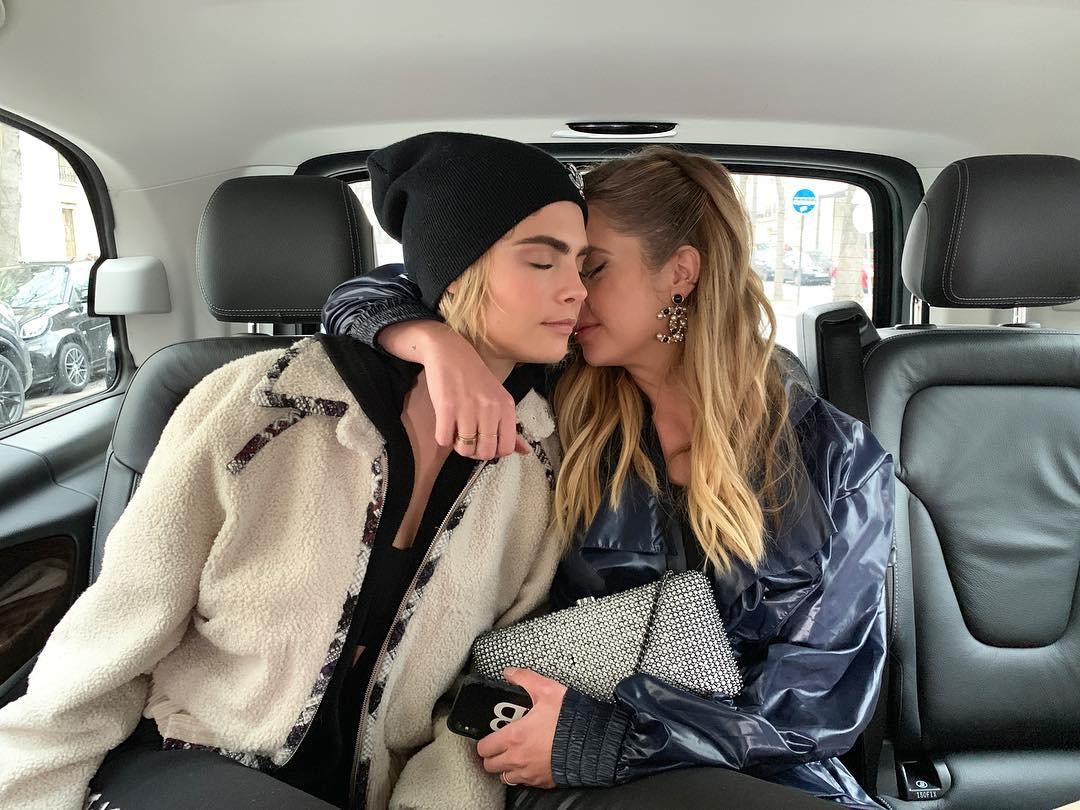 Instagram
Fans of Cara Delevingne and Ashley Benson as a couple got a real scare this month when a tweet unceremoniously popped up on Cara's account reading, "Me and Ashley broke up."
Happily, the tweet soon disappeared and it turned out to be the work of a hacker—and all was well.
But what a mind-boggling way that would have been to announce that their relationship of over a year had ended, right? And sudden, considering Delevingne had just told E! News in October that Benson made her feel like "the luckiest girl in the world."
"It's so nice to have someone in my life that supports me so much and loves me," the British model-actress said at the 2019 #GirlHero Awards. And Delevingne returns the favor every day.
In honor of her girlfriend's 30th birthday today, Delevingne took to Instagram to sing Benson's praises. Or "Sweet Cheek's" praises, that is.
"There is so much I could say but something I love and cherish most about us is that I don't need to because YOU KNOW and that's all that matters," Cara shared. "It's you and me which is my favourite. My safe place. You let me be silly, you let me be wild, you keep me free, secure and curious. I feel like I've known you my entire life and I am so proud of watching you grow into the woman that you always dreamt of being. I love you beyond words my sprinkles, choonchi, angel face, grumpy ass, sweet cheeks, never boring, buttmunch, Benson."
Well!
Watch:
Cara Delevingne Shared PDA Post to Celebrate "Year Anniversary" With Ashley Benson
But Delevingne has never been particularly shy about putting herself out there. Now it's just that she has a longtime partner to get all excited about.
The refreshingly candid model and actress lives life on her terms, being herself as much in public as she in private, according to both the naked eye and the many admirers who double as dear friends.
"She is truly herself while being in the public eye—not easy to do," pal Karlie Kloss shared with Vogue about Delevingne in 2015, when the Chanel muse was newly awash in movie roles, a few years after making her big-screen debut in Anna Karenina. Added Stella McCartney, "She has a fearlessness about projecting what she stands for, which is so rare."
Delevingne said that she loves to figure people out, "sitting down and learning about their loves and struggles and everything," and she herself doesn't shrink away from talking about intimate subjects, such as love, sex and mental health.
At the same time, however, the Carnival Row star was content to let certain important things just speak for themselves.
While they certainly weren't hiding anything, only in June—as they were approaching their one-year anniversary—did Delevingne comment publicly on her relationship with Ashley Benson.
First she shared a video clip in which they're kissing, a scene from the movie Her Smell, which they shot together last year. Cara captioned the post "#PRIDE" (it also being LGBT Pride Month in June, of course) and added rainbow and heart-eye emojis.
Asked why she felt the timing was right to officially reveal herself as half of a couple, Delevingne told E! News a few days later at the TrevorLIVE Gala in New York, "Because it is Pride, it's been 50 years since Stonewall happened and, I don't know, it's been just about our one year anniversary so, why not?" 
"I don't like the official thing," she added with a shrug and a smile, "but you know, it's a little something."
So she and Benson have now been dating for over a year and a half, and their relationship was already blossoming when the Pretty Little Liars star joined in the festivities for Delevingne's 26th birthday last August, a rollicking-looking night out that also included Suki Waterhouse, Zoë Kravitz, Sienna Miller and Margot Robbie. The pair also looked close in September 2018 at the Toronto International Film Festival at the screening of Her Smell.
Meanwhile, about a week before the birthday party, Cara and Ashley were photographed kissing at London's Heathrow Airport. True to form, Delevingne wasn't taking pains to hide her feelings, but she and Benson weren't shouting their status from the rooftops, either.
Besides, just as with any relationship in its early stages, why talk too much about it before you know what's what?
Benson has historically taken a more cautious approach to dating in the public eye, especially since she knows how easily rumors get out of hand.
"Relationships are so hard in this business," she told FASHION magazine in 2015. "I don't think I would be able to date a high profile actor the way Angelina Jolie has. Her and Brad have done a good job at keeping private but I'm sure that takes work. It's too much attention when two powerful people are together. Everything is heightened and exaggerated. The strangest thing that I've read is that I've dated all the male co-stars I've had on Pretty Little Liars. None of it is true. It's disgusting."
Her example hasn't aged well, but the sentiment remains the same.
Both Benson and Delevingne have had relationships with men in the past, but for the most part Delevingne has been seeing women since breaking up with an unnamed boyfriend after shooting the 2015 YA romance Paper Towns, in which she played an enigmatic teen who disappears, leaving the guy who fell hard for her frantically trying to find out what happened.
"I'm no Method actor," Delevingne told Vogue before the movie came out. "I've tried staying in character, and it's just exhausting. But after playing Margo, I broke up with my boyfriend in a totally Margo way. I wrote him a letter and left. That wasn't me, it was Margo."
By then she was in a relationship with Annie Clark, the singer-songwriter known as St. Vincent, and she said that being in love was "a big part of why I'm feeling so happy with who I am these days. And for those words to come out of my mouth is actually a miracle."
Delevingne also candidly talked about her battles with depression, anxiety and self-acceptance, the last of which didn't come easy once she realized she had feelings for men and women.
"It took me a long time to accept the idea, until I first fell in love with a girl at 20 and recognized that I had to accept it," she told Vogue. "But I have erotic dreams only about men."
At the time, she still sounded mildly wary of why she was drawn to women, saying, "Women are what completely inspire me, and they have also been my downfall. I have only been hurt by women, my mother first of all."
Delevingne added, "The thing is, if I ever found a guy I could fall in love with, I'd want to marry him and have his children. And that scares me to death because I think I'm a whole bunch of crazy, and I always worry that a guy will walk away once he really, truly knows me."
Later addressing some backlash from folks who objected to what they felt was a suggestion in the Vogue star that Delevingne's attraction to women could be temporary while she figured herself out with relation to men, the actress told the New York Times that she didn't see anything "malicious" in the article itself. But, she also assured that her sexuality was in no way "a phase."
"I am who I am," she said.
She and St. Vincent broke up after about a year and a half, but in the ensuing years Delevingne's understanding of her own sexuality continued to evolve.
"I know 13- and 15-year-old girls who are like, 'I don't know if I like a boy or a girl yet. I haven't decided,'" she told model Adwoa Aboah for Glamour U.K. in 2017. "And it's like, [imagine] if I was able to comprehend [that at their age]. I am very happy how sexuality has become easier and freer to talk about, especially for kids."
"Once I spoke about my sexual fluidity" she continued, "people were like, "So you're gay'. And I'm like, 'No, I'm not gay.' A lot of the friends I have who are straight have such an old way of thinking. It's, 'So you're just gay, right?' [They] don't understand it."
Some of her straight friends didn't really get it, Delevingne admitted.
"'I'm like, "Oh, I really like this guy'," and "[they're like], 'But you're gay.' I'm like, 'No, you're so annoying!'….Someone is in a relationship with a girl one minute, or a boy is in a relationship with a boy, I don't want them to be pigeonholed. Imagine if I got married to a man."
Delevingne and Aboah shared a laugh, envisioning how some people would accuse her of lying about liking women should she end up with a man.
Cara had also just shaved her head and, when asked if she did it for her role in the film Life in a Year, she replied yes, then joked. "No, I did it because I'm gay." She laughed. "I didn't. I'm not gay. I am. I'm not. I'm fluid! I like fluid."
Todd Williamson/JanuaryImages/Shutterstock
Delevingne told British Vogue in the spring of 2018, "When I first realized that gender is so much more fluid than 'masculine' or 'feminine' it was a breakthrough moment for me.
"Here's a secret for you. You know those fairy tales and romantic comedies we are brought up watching? They're not real."
Benson previously dated stylist Ryan Good and was spotted in October 2015 strolling hand-in-hand with Nat Wolff in New York—though she later said herself that holding hands is not an indicator of anything.
"The thing is, I have a lot of guy friends, and they are all, like, my brothers. I love to hold hands with people," the Spring Breakers star told Health in February 2016. "And my guy friends—especially [PLL co-star Tyler Blackburn—everyone's like, 'You guys are dating!' And I'm like, 'He is literally my brother.' I love him forever, but there would never be anything there."
Asked if she was seeing anyone at the time, Benson said, "Dating is so complicated. No, I'm not dating. I hate it. It's the worst!"
Asked what a guy had to do to make it out of the friend zone, Benson replied, "He has to make me laugh, 100 percent. Be respectful. Personality is key. Likes to travel, and… I don't really like guys who work out."
"I like skinnier guys," she explained. If there's a guy who's super in shape, out the door! Making me laugh is number one. And being adventurous, because I love to just do things last-minute. I've never been on a date, I don't think. I will never go on one."
Doubling down, Benson insisted, "I will never! A group date, hanging out one-on-one, yeah. But not, like, an actual date. I don't know what I would talk about! All my friends are like, 'Go on blind dates.' I'm like, 'No. Nope.'"
Photographed by Nicholas Maggio for Privé Revaux
Benson also opened up about suffering from anxiety and panic attacks, including one that she experienced on the PLL set that result in her fainting. Explaining why she never shared the episode on social media, Benson said, "If you've never felt it, you can't explain it.
"The person I was seeing at the time didn't understand, and my friends didn't understand, so there weren't people I could talk about it to. I felt crazy: Why am I feeling this way? I think a lot of people suffer from anxiety and have panic attacks. And I think it's good to talk about it."
It sounds as though she has found someone who understands in Delevingne, who told Vogue in 2015 about her mental-health struggles as a teenager. "This is something I haven't been open about, but it's a huge part of who I am," she revealed. "All of a sudden I was hit with a massive wave of depression and anxiety and self-hatred, where the feelings were so painful that I would slam my head against a tree to try to knock myself out. I never cut, but I'd scratch myself to the point of bleeding. I just wanted to dematerialize and have someone sweep me away."
While neither may have seen each other coming down the road, when they finally did meet, it just worked.
"We weren't looking for it," Delevingne told Marie Claire this summer. "It was really just very authentic and natural."
She made her debut on Benson's Instagram in May 2018, a blurry selfie of the two of them snapped in the car.
Though Cara's kissing post that June is considered their "debut" as a couple, the writing was on the wall (cyber-literally) in April when both she and Benson had some choice words for some Instagram trolls who objected to their relationship for various self-involved reasons.
"@TypeHeretoSearch You need to mind your own business," Benson wrote first, her reply captured by Comments by Celebs. "Stop making things up."
Then Delevingne added, "@TypeHeretoSearch @Rasleyyyp you are f--king disgusting! If you have a problem with true love then come and say this s--t to my face instead pathetically hating through Instagram. I genuinely feel sorry for you both, you are clearly not happy with your lives and have far too much time on your hands. Maybe get a hobby that doesn't involve being homophobic and hating others for being happy."
Sonia Recchia/Getty Images for RBC
Meanwhile, the actresses were busy happily moving in together in Los Angeles.
"They are living together and they have been for a little awhile," a source told E! News in June. "This is Cara's first real home in L.A. and they are really enjoying this time together. Ashley has never been in a relationship like this and is happier than she has ever been."
The insider added, "It's a different type of relationship [for both], with a lot of understanding, support and loving communication. They just do normal things like get coffee, walk the dog or go to the movies. They like to stay home together a lot and just chill. They are very sweet and loving together. They are always doing simple nice things for each other and it all comes very easy and naturally. They are committed to one another and very much in love."
Craig Barritt/Getty Images for The Trevor Project
Accepting the Trevor Project's Hero Award at the gala in June, Delevingne gave Benson, who was in the audience, a non-subtle shout-out.
"I also have another very special woman in this room to thank and you know who you are," the British star said. "She's one of the people who help me love myself when I needed it most and I really needed it. She showed me what real love is and how to accept it, which is a lot harder than I thought."
Benson filmed the speech for her Instagram Story, writing, "Love you. proud of you. Aww!"
Pride, indeed.
Dia Dipasupil/Getty Images
"Pride is love," Delevingne also told E! News at the event. "It's all about love and acceptance and forgiveness, and everyone coming together and learning from each other, instead of pushing away people—and suppressing people and repressing people that aren't understood.
"It really is all of us joining together so we can save this planet, and use love instead of hate...[Pride] should be at the forefront of every month."
And now she and Benson are just like any other celebrity couple—the subject of engagement and marriage rumors before their time.
The ladies were both sporting gold bands on their left ring fingers during a vacation in St. Tropez in July, but a source told E! News that a report in The Sun that claimed they had married each other in Las Vegas earlier this year was false. 
They did, however, have a casual "friendship ceremony" the previous summer—but it was nonbinding.
A little more permanent: the "CD" tattoo Benson had inked just off the outer side of her left breast, while Delevingne has an "A" in a corresponding location.
Like the ladies themselves, the tattoos aren't exactly the same, but they suit each other perfectly.
(Originally published Aug. 12, 2019, at 1:48 p.m. PT)