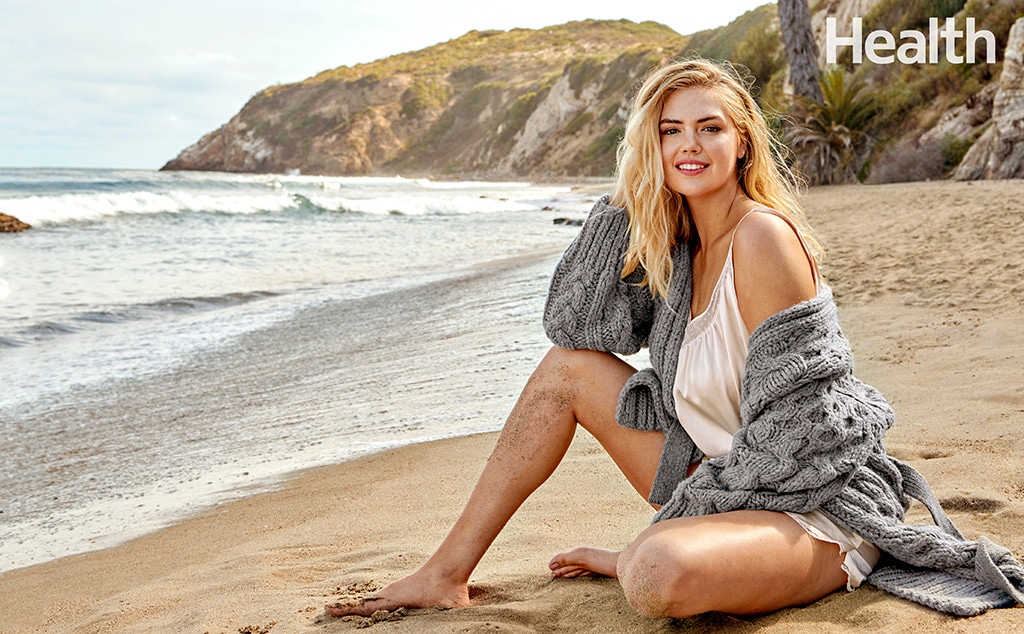 Yu Tsai
Kate Upton is reflecting on her health and fitness journey.
The 27-year-old supermodel, who started her career about 10 years ago, has launched an empowering new movement called #ShareStrong. Her mission? To give women a platform to talk about their struggles and lift each other up. Celebs like Jessica Biel and Behati Prinsloo have all joined in, sharing their stories with the world. Along with the hashtag, Upton and trainer Ben Bruno have created Strong4Me, a workout program that helps women build up their strength and confidence amid their busy schedules.
In her unretouched cover story for Health magazine's September issue, Upton explains that it's her own personal fitness journey that inspired her to start Strong4Me.
"There was a lot of trial and error over the past 10 years of my career," Upton, who welcomed her first child with husband Justin Verlander in Nov. 2018, shares in Health. "I had to figure out how to stay fit with all my travel and while going through so many life changes—like dating someone and getting married. I had to find a way to get everything in—work, travel, personal relationships, and workouts."
When Upton welcomed her daughter late last year, it "completely" impacted her fitness level.
"That was actually the hardest thing for me—going from being extremely strong to not even really being able to do a lunge," she explains. "I'm more than eight months post giving birth and am still not as strong as I was."
Upton credits her trainer, Bruno, for creating 30-minute workouts that she could do on the road.
"When I had my daughter, they really came in handy," she says. "I breastfed, so I couldn't really go anywhere. It was impossible to get to the gym, but I could do the workouts at home—it was great."
Together, Upton and Bruno have teamed up to create this program for women on the go.
Looking back on her career, Upton admits that she struggled with body confidence.
"I was a really confident kid. I grew up in Florida—we were always in bikinis, and it was nothing weird. So I never realized that I had a different body type, or that people would have an opinion on my body," she shares. "When I first started modeling, it was a different time. Some people thought I was too curvy. Now people forget that happened, which actually makes me happy because I think it shows how much the industry has changed. In a lot of ways, I think the industry really built me up and tore me down—and then I built myself back up."
"When I first started modeling, everything was about your measurements and what you fit into," Upton continues. "It would be like, 'Oh, you don't fit into those jeans.' You're shamed. And that's why it took me a longer time to get to a healthier place. That's why it's important for me to push out this different mind-set. I don't want anyone to have to be in that negative space where they think, 'Oh, no! I don't fit into that size 2 dress.' You know what, who cares? Buy another one!"
When asked how she got to that healthier outlook on life, Upton explains, "By finding good workouts, eating healthy, and putting myself first at some point during the day so I could block that noise out. I find that if I am in a good mental space, I don't let the bulls--- and criticism get to me."
Watch:
Kate Upton Opens up on Supporting #MeToo Movement
Upton also spoke to Health about her unretouched photos, explaining that retouching is "everywhere now."
"People are staging Instagram shots and retouching those pictures. That's the new norm," she says. "And then we believe that's how people actually look, and think we should look that way too. So, for me, doing an unretouched shoot is a step toward embracing real life. The goal should be to be the best you can be—not try to look like someone else."
For more details on Upton's fitness journey, head on over to Health.