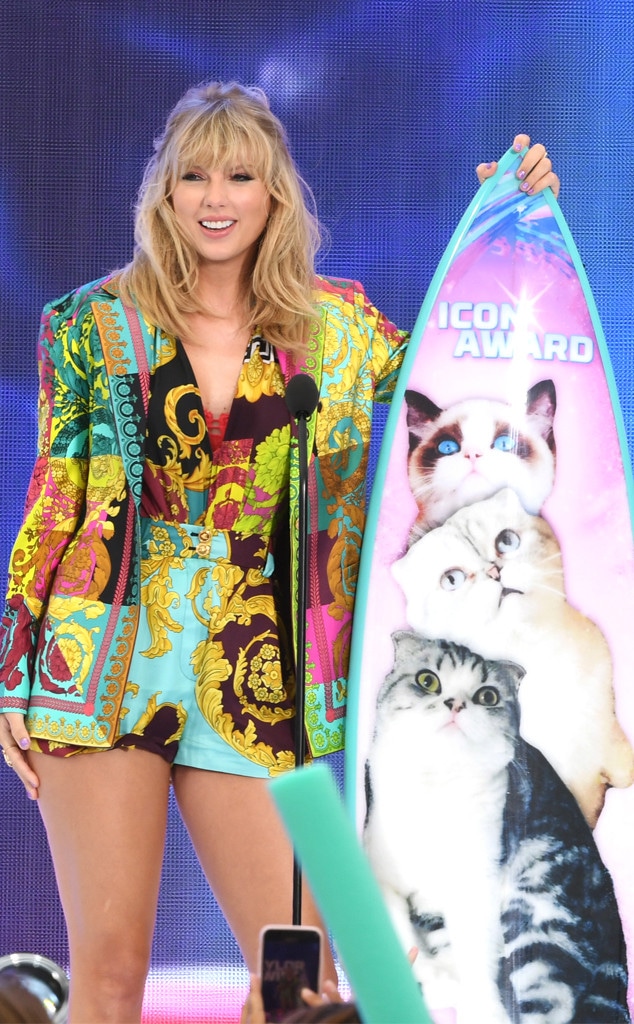 Kevin Winter/Getty Images
Taylor Swift is feeling nothing but love from teenagers tonight.
During Sunday night's 2019 Teen Choice Awards, the music superstar was in attendance to accept the first-ever Icon Award, which was presented to her by her gal pal and soccer player, Alex Morgan.
"Wow, okay," the "Me" singer began her speech, as she accepted the famous surfboard, which was decorated with cats that made her feel really "proud."
But before focusing on her win, the 29-year-old singer took a moment to highlight Morgan and her team's incredible fight for equality.
"While they were winning the world cup, they were also taking a historic stand in terms of gender equality [and] gender pay. Please, please, please support her and her teammates because this is not over yet. It's not resolved," she said. "It's happening everywhere, and they are heroes and icons for standing up."
During her speech, she explained she's "having a proud moment" over the award.
"I just want to talk to the fans for a second. You make me so happy, you make me laugh every day online. I love meeting you," she shared. "I love loving you. You are just the most amazing, generous people. Thank you for giving me the life that I have. Every single minute of every day, I know that you are the reason I have the life I have, and that I get to do what I love doing."
Kevin Winter/Getty Images
She continued, "If anyone is a teen out there, I think one thing I wish I would have known when I was a teen is that mistakes are inevitable. I just want you to know that if you are out there and you are being really hard on yourself right now for something that has happened, it's normal. That is what is going to happen to you in life. No one gets through unscathed. We are all going to have a few scratches on us."
Before leaving the stage, Swift dropped a major bomb. Her new song "Lover" comes out Aug. 16. Not to be confused with her seven studio album's upcoming title, which is of the same name.
"I also just wanted to tell you, there's so much that I'm excited about coming up in the next 12 days until my album comes out," she said. "The album comes out on Aug. 23rd, but I wanted to tell you guys tonight that on the 16th, on Friday, I have a new song called "Lover" that is coming out, and I'm so excited. I love you."
Until then, it's all about the Teen Choice Awards and a special award for an extra special artist.
"As one of the best-selling music artists of all time, with more than 50 million albums sold, Taylor Swift is a pop culture icon whose accolades and achievements go beyond topping music charts and selling out stadiums worldwide," Fox said in a statement. "Taylor is also one of today's biggest social influencers, using her voice and platform to inspire and create positive change."