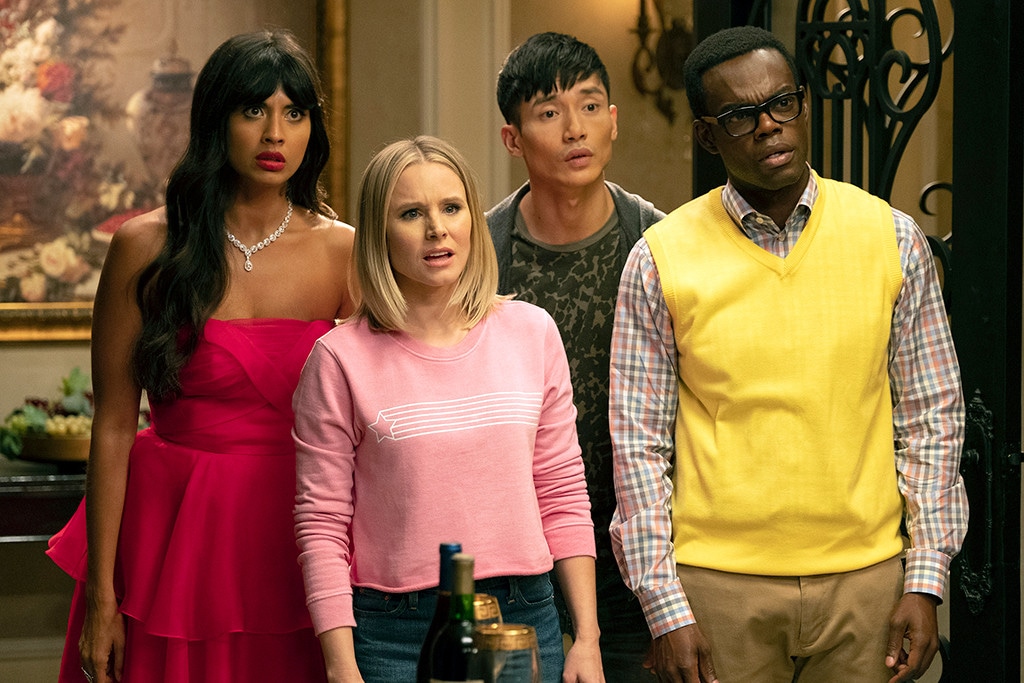 NBC
Get ready to go back to The Good Place one last time. 
The cast and creator of the NBC comedy came together for their final panel at the TV Critics Association press tour on Thursday to cry and talk about ending the show, which Mike Schur is getting to do on his own terms at the end of the fourth season. 
Star Kristen Bell said she was driving when she got the call from Schur, and she had a feeling about what he was going to say, so before he could say it she demanded he write her another show immediately after this one. 
"So I think it's legal, because you guys are writing it down," she joked. 
"He said, I've done a lot of thinking about this...I have found an ending that this story needs and I always made it my mission to trust Mike, and it has never backfired." 
Schur opened up on the panel about how his initial concept of the show, which was to define what it means to be a good person, has fully changed over the course of the series, which he'd also like everyone to know is incredibly edgy. 
"I pitched this show as an investigation of what it meant to be a good person and found over the course of working on it that that's even a more complicated question than I think I thought it was," he said. "I thought at the beginning that the show could if given the chance describe what it meant to be a good person. That was my hope....'Here's how a person can feel like he or she led a good life.' And at the end of the day I think that objective kind of shifted a little bit because what we found as we discussed it and wrote it and executed it is that some very very smart people over the last 3000 years have had a lot of very different opinions about that question."
"So what the mission of the show then became was to say OK, we're going to give you a bunch of options. You can be a good person this way, or you can be a good person this way, or this way," he continued. "We're going to give you a bunch of options, and there are even more options. But what's important is that you try one of them. That was my internal shift...the important thing wasn't being good, but the important thing was that you're trying. From my point of view, the problem is that not enough people are trying, and trying means failing, even the people with the best intentions will fail. We all fail all the time. This is a long-winded way of saying at the beginning I pitched it as what it means to be a good person, and at the end, I think I'd describe it as a show that makes the argument that we all gotta try harder than we are, and as long as you're trying, you're on the right path. Also edgy. It's also edgy." 
Schur confirmed that they were able to make every single episode exactly as they wanted to make it, and after the panel, he described the process of ending a show that is so very serialized to a smaller group of reporters. 
"Certain parts of [the ending] were talked about as early as the beginning of season two," he said. "So it was sort of a continuous process of adding on and changing and stuff, and then we had a pretty good idea of what it was going to be. By the time we were ending season three, we had a pretty good idea of what the series finale was going to be. And then a lot of the work early on in season four with the writers was nailing it down, because we felt like we really had to stick the ending with a show this serialized. It was a long, slow sandcastle build." 
On the panel, Jameela Jamil had revealed that her favorite Janet of the series was going to appear in the final season, but Schur said he couldn't give any further tease than that. 
"It's what amounts to a cameo, and it's one word, and there's no way to tell you the one word. It would ruin it. 
We'll be one step closer to finding out that one word when The Good Place returns to NBC on September 26. 
E! and NBC are both part of the NBC Universal family.